Puffed goodness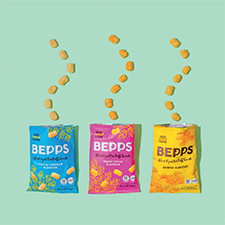 London-based startup, BEPPS Snacks are all about their pea, pulse and grain snacks, whilst hero'ing the black eyed pea. The UK-made snacks are vegan friendly, gluten free and always 90 calories or less per serving. There are five products in the BEPPS range, from the classically moreish Cheese Puffs (made with vegan cheese), Sweet Chili Puffs and the Salt & Vinegar Puffs to the newest selection, crunchy and light Popped Salt & Black Pepper Chips and smoky and sweet Popped BBQ Chips.
The brand is seeing amazing growth and has recently announced £400,000 investment from early-stage venture capital investors, Ascension Ventures, who seek to back entrepreneurs making healthy eating accessible to all with the 'Good Food Fund' (a fund also backed by challenger brand builders, Mission Ventures and Big Society Capital).
www.beppssnacks.com
The Taste Test team were highly impressed with the BEPPS and not surprised to learn that they were Great Taste Award Winners. "I started my bag of Salt & Vinegar with the intention of trying a few , but they were so moreish I easily polished off the bag!" said our tester . "But as they aren't calorie heavy, and have a good amount of protein, I didn't have any food guilt – just a yearning to try the other flavors in the range!"
Holy smokes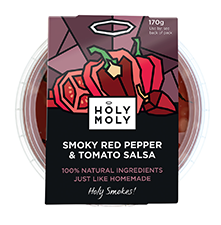 Dip company Holy Moly have released a new Smoky Red Pepper & Tomato Salsa just in time to warm up consumers as the chillier nights draw in. Whether drizzled on grilled halloumi, adding a twist to tofu, or a statement bacon sarnie, the Salsa is designed to elevate the taste of everything from mid-week meals and weekend faves to festive feasts!
A blend of tangy tomatoes, fierce fire-roasted red pepper, chilli, onions and black garlic, the dip includes a dash of lime and a pinch of sweetness from unrefined demerara sugar. The unique signature smoky infusion is thanks to a combo of natural spices – chipotle, smoked paprika, cinnamon and cumin.
As with all Holy Moly products, the salsa is crafted with the finest fresh, all-natural, clean ingredients with absolutely nothing artificial.
https://holymolydips.com/
The team loved the Smoky Red Pepper & Tomato Salsa, giving it glowing feedback, with the tester reporting it have the perfect level of smokiness, and a great balance of flavors. The chilli gave a nice degree of heat, and it was perfect as a dip or a topping.
Low carb indulgence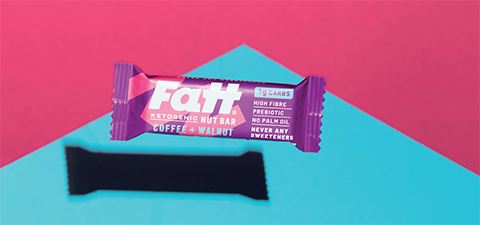 A brand new ketogenic and low carb snack has entered the market – welcome to Dark Chocolate Bites from Fatt! Described as a perfect low carb high nutrition (LCHN) choice when you're looking for an indulgent, but healthy treat, these tasty bites, each made with the finest vegan ingredients, are filled with an almond and cocoa centre, and covered in a dark chocolate coating. Not only do they taste good, but they also deliver on health. Packed with brain boosting unsaturated fats, very low in carbs (just 3g per 27g portion) and high in prebiotic fibre to feed your good bacteria, they are full of many vitamins and minerals, such as potassium, magnesium and vitamins A, B and E, and they are free from sweeteners, palm oil, GMO, fillers, dairy and gluten.
www.livefatt.com
"I was so impressed with the Fatt! Bites – they really did hit the spot when I wanted an afternoon indulgence," said our tester. "The filling was rich and creamy, the coating was smooth and intense, and I loved the two segments per pack. Without a doubt, one of the best low carb bars I've had!"