Tavern Restaurant Group keeps its menus 'sharp and fresh' with new offerings.
There are many restaurants and pubs, but Tavern Restaurant Group (TRG) sets its concepts apart with their offerings. Each of its locations features an extensive "beverage bible," founder and CEO Nick Sanders says.
Each "bible" spans 26 pages and offers guests an array of choices including craft beers. "[It] is a very comprehensive offering of top-of-the-line products and different than what you would find most everywhere else," he declares.
TRG's locations also set themselves apart with service. "We try to bring a European flair to our level of hospitality and the attention to detail we strive for in regards to guest service," Sanders describes.
A longtime veteran of the restaurant industry, Sanders founded the company in 1973 when he opened one of the first Long John Silver's franchises. "From there, I decided I wanted to create my own concept," he recalls.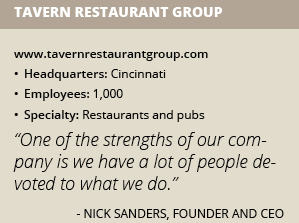 In 1981, he opened deSha's, an American tavern concept that has locations in Cincinnati and Maysville, Ky. Since then, he has added The Pub, an upscale British pub concept that has 12 locations, and Nicholson's Tavern & Pub, a Scottish-themed concept that has a location in downtown Cincinnati.
Attached to Nicholson's is the Horse & Barrel Bourbon House, a bar that features its Backstage Event Center, a 3,500-square-foot venue with two outdoor terraces. "We try to develop them in a unique and different way," Sanders says. "You have to do something to distinguish yourself."
That has included how TRG's concepts prepare their food. The Pub serves food that "is a cut above what typical pub food might be perceived as," he says, noting it is largely made from scratch with fresh ingredients.
TRG's restaurants also regularly update their menus. "All three have gotten a menu revision in the last three to four months," he says. "We do this on a regular basis to keep them sharp and fresh.
"We've also redone the beverage bible in The Pub in a big way," he notes. "[We've] added some bourbons and scotches to further differentiate ourselves since everyone is jumping on the beer bandwagon."
One of the Best
TRG has gained notoriety for being the first restaurant group in the United States to work with bourbon distilleries, Sanders says. "We worked with a master distiller to select our own house blend of bourbon specifically for our stores," he recalls.
Today, the company has its own personal selection of bourbon and has been lauded for its efforts. In 2008, Whisky Magazine named Horse & Barrel the Best Whisky Bar in the United States, a designation that earned it the right to compete for Best Whisky Bar In the World, which it won in a three-way tie with bars from Aberdeen, Scotland and Mumbai, India, Sanders recalls.
"It was the first time they identified a bourbon bar instead of a scotch-whiskey bar," he says, noting that he collected the award at a ceremony held in London. "We won a beautiful piece of crystal that's on display in the Horse & Barrel in Cincinnati."
TRG also has branched out into tequila. "Recently, we went down to Mexico to Hacienda Patrón and picked out our own barrels of Patrón," Sanders describes. "We keep our own selection of Patrón Reposado."
Looking for Partners
Sanders takes pride in TRG's team. "One of the strengths of our company is we have a lot of people devoted to what we do," he says. "It's a great team effort.
"It can be a little bit challenging to learn about all these great products that we have, so it takes some effort to study up," he says. "But we see how enthusiastically people respond to our products and [our] knowledge about the products when they're in our places."
TRG is considering building more pubs, Sanders says. "We are looking at the franchising of the pub concept on a limited basis," he says, noting that it plans to be careful when franchising the concept.
"We're looking for a very particular type of operator to be franchisees and stewards," he says. "We're not just looking to sell them on a street corner but to find some good franchisees that would be good partners with us to grow that concept in other parts of the country."