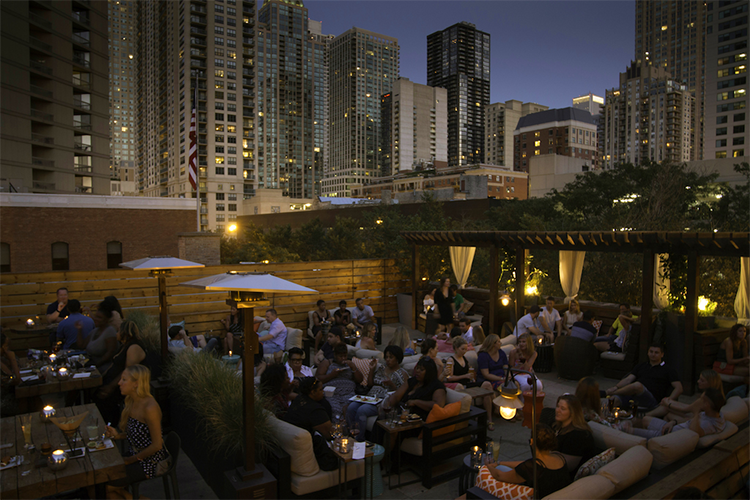 Tavistock Restaurant Collection
Tavistock Restaurant Collection offers a range of quality experiences with its different brands.
Tavistock Restaurant Collection brings a diverse range of dining experiences across the United States with its 16 dining brands. "We're a group of boutique restaurants," Vice President of Food and Beverage Steve Byrne declares.
Orlando, Fla.-based Tavistock has operated since 2003 and its concepts include Atlantic Fish Co., Joe's American Bar & Grill, and Abe & Louie's. "Each one of them are very well run," he asserts. "We have all the right pieces and people to be successful."
Byrne, who joined Tavistock a decade ago, is a seasoned veteran of the restaurant industry. "I started off busing tables and washing dishes at the Hard Rock Café in London in 1985," he recalls.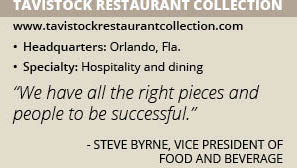 Today, he oversees food beverage and purchasing for all of the Tavistock concepts. "We have a great group of offerings," he says, praising their menus and wine lists. "Working for Tavistock Restaurant Collection has been an absolute pleasure for me for 10 years."
Hot Properties
Tavistock Restaurant Collection recently opened its latest concept, Chroma Modern Bar + Kitchen concept in Orlando. The small plates restaurant serves a variety of items designed to tantalize the taste buds and inspire connectivity. The company also opened Canvas Restaurant & Market nearby, which specializes in new American cuisine influenced by Florida's southern flavors.
"They're both in an up-and-coming area called Lake Nona that's developed by our parent company," Byrne says. Both restaurants have been designed to complement the surroundings. He is proud of Chroma's design. "Our vice president of construction design, Lisa Helmke, did a tremendous job on that."
M. Tucker, a distributor of wholesale restaurant supplies and equipment, also aided in its design. "The kitchen is open with large glass windows so our guests can see what the chefs are working on," he says. "It's a great feature that's been very well received."
Chroma's design also gives it flexibility to easily change its menu. "I could turn it into a fish restaurant without changing the kitchen," he says. "They've given us a versatility we didn't have before through design."
Byrne is also proud of the company's work on Cañonita, a Mexican restaurant in Las Vegas. Through a recent refurbishment process, "We've added a lot of color into the restaurant itself," he says.
This was accomplished through the help of its partner, M. Tucker. "They came up with some great products for us [such as] plates and glassware," he says. "We sent them images of the new décor in the restaurant and from there they helped us with fabulous selections on plate ware and glass ware."
None Too Many
Tavistock Restaurant Collection continuously streamlines its purchasing program, Byrne says. As part of this process, the company reduced its number of vendors. "We believe that working with the least amount of partners gives you the biggest bang for the relationship," he says.
Five years ago, the company had 40 different wine partners. "Today, we have 10 who control probably 80 percent of our menus," he says, noting that the company is applying this strategy to other areas of its business.
"We buy 80 percent of our meat products through U.S. Foods/Stock Yards," he says. "[Fewer] invoices coming in through the back door makes it easier for the operator. It also makes it easier to govern fewer partners."
Under Development
Tavistock Restaurant Collection is coping with changes in its industry. For the past year and a half, "The casual segment has been very tough," Byrne admits. "There are only so many restaurants and only so many guests to go around. You have to express points of differentiation."
But its higher-end restaurants, including Abe & Louie's, Atlas and AquaKnox, are doing very well. "They're not affected so much by the economy," he says. "We're putting a lot of focus on those. They're exactly where we want them to be."
He predicts Tavistock Restaurant Collection will add more restaurants in Lake Nona. The town center where Chroma is located is set for expansion, he notes, and will soon feature high-end shopping and additional restaurants.
In addition to developing Lake Nona, Tavistock also recently acquired Pier 66, an iconic hotel in Fort Lauderdale, Fla. "They will renovate Pier 66," he says.
But the land around the hotel may have strong potential for future restaurant space. "The restaurant group will get involved with that at some point," Byrne predicts.