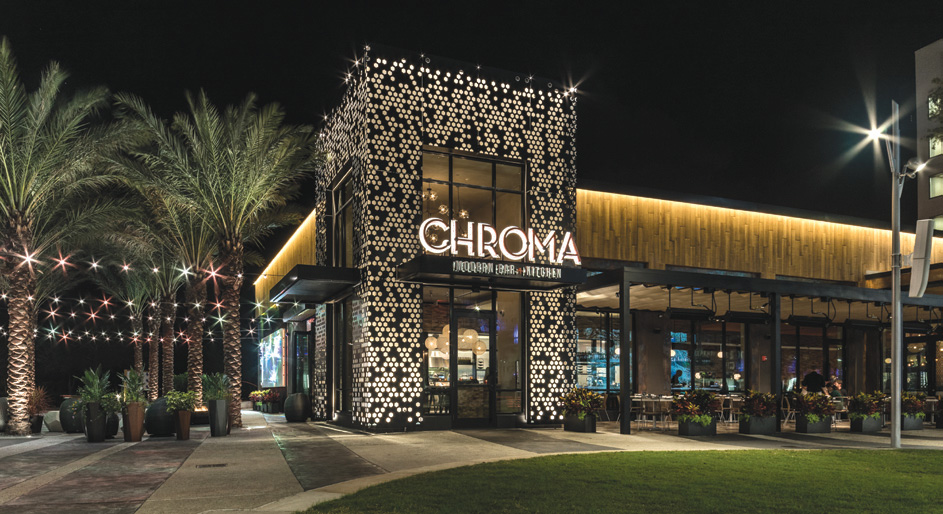 Tavistock Restaurant Collection
Strength in numbers
A rapidly growing, privately held company, Tavistock Restaurant Collection operates a network of some of the finest dining concepts located across the United States
Creating emotional connections with its guests. That is the goal of Tavistock Restaurant Collection (TRC), a family of upscale dining brands located throughout the United States. Said brands include Abe & Louie's, AquaKnox, Atlantic Fish Company, Atlas, Blackhawk Grille, Boxi Park, Canonita, Café del Rey, Canvas, Chroma, Coach Grill, Joe's American Bar & Grill, Napa Valley Grille, Park Pizza & Brewing Company, Timpano, and ZED451.
"TRC came together in 2003, following the acquisition of a particular West Coast brand, and since then it has really gone from strength to strength, adding around 30 restaurants to its portfolio in
the last ten years alone," begins Steve Byrne, VP, Food & Beverage for TRC. Originally from Dublin, Ireland, Steve boasts a wealth of experience in opening and managing restaurants around the world, and today leads TRC's food and beverage operations, alongside having system-wide responsibilities for purchasing.
With aspirations of being recognised universally as a world class hospitality organisation, TRC instils its core values of passion, integrity, leadership, work ethic and intellect across its portfolio, while at the same time attracting and retaining the best talent the industry has to offer. "Sometimes the word 'culture' can be thrown around somewhat cheaply, but I would certainly point to the thick culture that exists within TRC as being key to its prosperity," Steve continues.
"We believe that you have to be relentless in your pursuit of excellence, and this all begins with the great leadership team that we have, who are responsible for driving home our collective message each day within our various restaurants," Steve adds. "This ensures that each and every restaurant is working towards the same aim, which is to make each guest want to express what a great time they have had in one of our establishments. At the end of the day it is all about the guest, which is why every decision we make, be it above and at restaurant level, is made with the guest's best possible experience in mind."
While Steve is keen to state that TRC does not consider itself to be what he calls a 'systems driven group', there are specific processes and ways of operating in place that have proven vital to its success, and again these all begin with engagement with its people. "We hold daily meetings, twice a day, within our restaurants before service begins in order to make sure that everyone is on the same page with what is happening and with any changes that may be occurring," he says. "Another contributing factor to our growth is that we endeavour to include our people at restaurant level in the changes that we make, and this allows everyone to really buy in to what TRC is trying to achieve."
Exceptional blends
It will go without saying that the drive that TRC places behind its food and beverage offering has also proven critical in helping the collection to earn the high level of esteem it has within its peer group. "Every person involved, from myself and my team through to each restaurant's own chefs work tirelessly all year round to make sure that we use only the very best, and often the most unique, ingredients," Steve enthuses. "Each restaurant operates using a yearly calendar which influences changes to their respective menus, and our level of commitment to our food offering
extends right down to the plate ware we use. We are similarly immensely proud of our beverage offering, led by our fabulous Senior Director of Beverages, who I like to refer to as a 'master mixologist'."
This beverage offering includes an exclusive private wine label, referred to as the Tavistock Reserve Collection, a carefully curated selection of unique and exceptional blends created in partnership with respected vineyards and winemakers from around the world. "The Reserve Collection delivers a selection of wines that are not only of fantastic quality, but also of great value whichever price is paid, and that makes it an excellent asset within TRC's portfolio," Steve confirms.
When looking at what both the short and long-term prospects are for TRC, it becomes clear that in the coming months, at least, that Florida will be something of an epicentre of growth. In fact, at the time of speaking with Steve, TRC was a matter of days away from celebrating the opening of a new concept – Park Pizza & Brewing Company in the thriving community of Lake Nona. "We are very excited about this particular opening, which will give TRC what I honestly feel will be one of the best pizza restaurants going. We have also brought on-board a highly skilled Head Brewer, who will help us to brew our own beer to be served at this fantastic location."
New development
Lake Nona will also be the site of a major Tavistock project opening in December 2018, called Boxi Park. A dynamic 30,000 square-feet outdoor district constructed entirely of repurposed shipping containers, will host a mix of restaurants and bars, a live entertainment venue, dog park, kids' playground and beach volleyball courts. "Boxi Park's specially curated food and beverage options, including six food and three beverage concepts, 57will all be overseen by TRC, giving guests guaranteed quality, whatever their tastes," Steve reveals. "The Boxi Park concept, and the idea of overseeing all of the food and beverage offerings, is one that we know can be applied elsewhere and we are optimistic for what the future for it could hold."
There are also plans afoot for work to be carried out to improve TRC's existing portfolio of properties, with Steve confident that guests' appetites for TRC's restaurants will remain strong. "We will be putting in a lot of effort during 2019 to take what are already very good establishments and make them truly great," he concludes. "I think it is very much a case of the more work we put in, the more research we do, and the better we listen to our guests, the better we can collectively be. With that in mind, I think 2019 is going to be a very exciting year indeed."