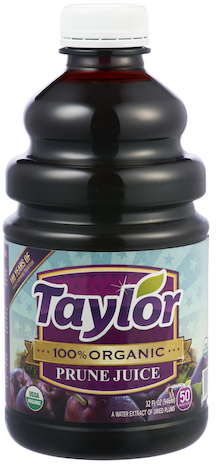 Taylor Brothers Farms is the world's largest producer and global distributor of organic prunes.
Taylor Brothers Farms knows how to grow the best prune possible. "We pride ourselves on harvesting at peak ripeness and processing our plums to very specific specifications to produce a great-tasting prune," President Richard Taylor says. "Our product is known for its taste because it's picked at the perfect time."
The quality of the company's products is the result of its owners' decades of experience growing, picking and packaging prunes. The third-generation family owned and operated company is the world's largest producer and global distributor of organic prune products.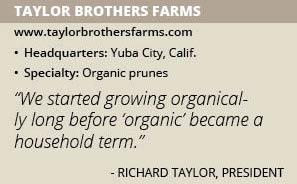 Though formally incorporated by Richard Taylor and his brother John in 1981, the company traces its roots all the way back to 1916, when the Taylor brothers' grandfather Earl started farming in Sutter County, California. Richard and John Taylor's father, George, continued the family tradition following World War II, when he planted a variety of fresh fruit including cherries, peaches and plums on a 90-acre farm.
As children, Richard and John Taylor helped their father with planting and harvesting. Richard Taylor joined the company full-time in 1974, followed a few years later by his brother. Shortly afterward, the two focused their efforts on growing the sweetest, juiciest California Prune (New Improved French) possible.
In 1990, Taylor Brothers Farms shifted its focus to organic growing. "We started growing organically long before 'organic' became a household term," Richard Taylor says. In the late 1980s, the Taylor brothers felt a growing concern over the use of manufactured chemicals and turned to their dad to find out how he farmed prior to the 1960s. They knew there was a better way and the brothers began replacing man-made chemicals with compost and cover crops in an effort to grow a healthier product they would be proud to feed their families.
Vertical Integration
The company grows and farms prunes on 1,500 acres of land in Northern California. Taylor Brothers Farms also grows organic walnuts, which it sells to other companies for processing and marketing.
Taylor Brothers Farms' facilities include a large drying plant in Corning, Calif., located roughly 85 miles from its headquarters and main processing facility in Yuba City, Calif.
Taylor Brothers is a global company. It sends prunes and other fruit, including cranberries, blueberries, apricots, figs, dates and dried cherries, to its facility in South Korea. The South Korea plant repacks Taylor Brothers' fruit for distribution throughout South Korea and seven other Asian countries, including Japan. The South Korea plant also co-packs prune juice, as well as other fruit juices.
The company's facility in Poland repacks and distributes fruit into markets in western Europe, the Scandinavian countries and the Middle East. A third-party co-packing facility in Poland processes prune juice on the company's behalf for European sales, Taylor notes.
Taylor Brothers Farms holds several domestic and global certifications including USDA Organic, California Certified Organic Farmer (CCOF), the British Retail Consortium (BRC), JAS (Japan) and KORC (Korean). Its products are also halal and kosher certified.
Sustainability is at the heart of Taylor Brothers Farms' operations. The company recycles the cardboard and wastewater generated from its facilities and meters the water it uses in irrigation. Its Yuba City plant and drying facility are also powered by solar. "We're very environmentally friendly," Taylor adds.
Meeting Demands
Taylor Brothers Farms' domestic customers include the organic food and organic baby food industries, for which it supplies prune ingredients. "Working with the organic baby food industry to develop products is our most recent development," he adds.
Other industries served by the company in the United States and Canada include the cosmetic and aromatherapy industries, for which it processes organic sweet almond oil.
To ensure the freshest and longest shelf life for its products, Taylor Brothers Farms processes and ships products within 72 hours of processing. "Efficiency is the name of the game – we pride ourselves on being on-time or ahead of schedule on all of our orders," Taylor says.
The company continues to expand its domestic and international customer base. Taylor Brothers Farms recently opened a sales office in Japan, which gives it a greater presence in the Japanese market. "We are seeing continued growth in the Japanese organic market," he adds. "More companies are looking for organic products. We want to be there to supply them."