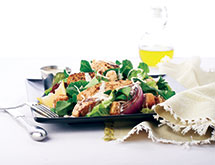 Keith Richards has come a long way from frying chicken, slicing tomatoes and making salad when he was 18 years old working for a café in the local Kmart. After opening his first restaurant in 1998, Richards now leads the rapidly expanding fast-casual chain that recently opened its 42nd location. "We create relationships with our guests and use the food as a tool to do that," he says. "Ninety-nine percent of our franchisees are customers."
Taziki's Café is the product of a long-awaited trip that Richards and his wife, Amy, took in 1997 to Greece. "We went there for about three weeks and fell in love with the people and the food," he says. "We wanted to do something for ourselves and create our own restaurant.
"Returning to Birmingham, [Ala.], with a taste for Greek cuisine, the first Taziki's opened in 1998," he adds.
The café brought a new dynamic to the restaurant market, offering freshly grilled meats, original sauces and healthy side dishes, as well as vegetarian and gluten-free options.
"We offer really fresh food," Richards says. "We use fresh lamb from Colorado and have no fryers or freezers. Everything is prepared to order."
The menu was developed from Richards' memory of the food the couple ate in Greece and from a few family recipes, which was served up to 76 customers on opening day. The restaurants' walls are adorned with photographs taken during their trip. "The restaurants have a lot of bright, natural paint colors and the photos take you away from the every day," Richards says.
Richards is Taziki's Café's chief development officer and has a goal of bringing his food to tables across the United States. "What makes us different is the flavor of our food," he says. "We prep more than 100 items every morning from our homemade Taziki sauce to our own aioli. We get up early and prep, prep, prep, and that sets us apart."
Keeping it Real
Taziki's Café became the first franchise to become Responsible Epicurean and Agricultural Leadership (REAL)-certified. "I've been REAL since the day I opened and we have been doing it for 17 years now," Richards says.
The goal of REAL certifications is to affect change in the food and foodservice industries by providing market-based incentives to increase the profitability of more healthful and sustainable food and beverage. To become certified, Taziki's Café had to go through an analysis of its restaurants, cooking processes, product souring and nutritional options.
"We are fresh-to-order and offer healthy sides," Richards says. "The certification ensures you are not putting a lot of extra ingredients that are unhealthy on the menu. We have no fryers, microwaves or freezers, and that's a big deal. We will keep our REAL status every year because that's what we do and I don't see that changing."
Taziki's Café partners with the Herbs Offering Personal Enrichment (HOPE) program that grows all the fresh herbs used in the café. "It's a program for special needs children and we buy from the HOPE garden as our vendor," Richards says. "When school is out, the children are paid to come out and tend to the garden."
The company also hires special needs students in many of its restaurants. Parents of the special needs students that Taziki's Café employs can find personal time while their children work in the restaurant. "It's important to give the kids attention and responsibility, and introduce them to a work environment," Richards says. "It's about the students, but it's also about the parents. Also, they never have a bad day; they're always smiling and happy to greet customers."
Organic Growth
The 42nd Taziki's Café opened last month in Franklin, Tenn. Taziki's Café finds its customers make the best operators. "A group from Clearwater, Fla., fell in love with the brand when they visited in Tennessee and opened a location in their hometown," Richards says.
The ideal franchisee is also someone who is ingrained in the local community and understands the lay of the land. "These are people who are passionate about the brand," Richards says.
Taziki's Café plans to have about 60 stores open or under construction by the end of the year and moving forward, expects to take an initial public offering and open 200 stores nationwide. "We want to franchise throughout the United States and keep the brand growing," Richards says. "I don't see us stopping anytime soon. We have a good, healthy brand."