Taziki's Mediterranean Cafe owner turns his dream into a franchise business.
They fell in love with Greece. But Keith Richards and his wife, Amy, had no idea that this trip would change their lives. Maybe it was the bewitching effect of the Mediterranean Sea. It could have been the wine. However, Richards suspects it was something in the Hellenic cuisine.
"We spent three weeks there tasting the food," he says. "After we came back, I told my wife that it's time to open a restaurant. She said I was crazy because we didn't have the money."
Richards had experience in the restaurant business. He began cooking in a K-Mart kitchen at a young age and his passion for food preparation eventually landed him a position as café manager at Birmingham's award-winning restaurant Bottega Café.
So when he wanted to open a Greek restaurant, his family rallied behind his dream. Family members chipped in and Richards built his first restaurant for $50,000. He called it Greek Fare. It was the predecessor to what would eventually become the Taziki's Mediterranean Café empire.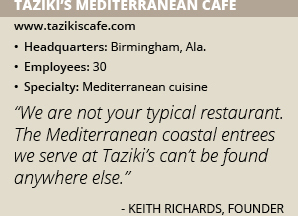 "On our first day, we did 78 guests and we haven't looked back since," says Richards, founder of Taziki's Mediterranean Café. Almost 20 years later, his empire includes 77 restaurants, 17 of them corporate, in 16 states. The Birmingham, Ala.-based Mediterranean café is especially popular in the southeast states such as Alabama, Tennessee and Florida but also has a solid presence in Colorado, Arkansas and Oklahoma.
What's In A Name?
When tossing around ideas for a restaurant name, Richards saw a photograph of his wife from their trip to Greece. She stood next to a menu board featuring the word "tzatziki." Served with grilled meats, tzatziki is a yogurt-based sauce mixed with cucumbers, garlic, salt and olive oil, and can also contain herbs like dill, mint, parsley or thyme.
It may be a beloved Greek sauce, but its name doesn't exactly roll off the tongue – especially for Americans living in Alabama. "We took out one Z and one T so that people in Alabama could pronounce it," Richards says, chuckling.
Taziki's Mediterranean Café was born. Inspired by the cuisine he tasted in Greece and a few family recipes, Richards cobbled together a Mediterranean menu peppered with lots of fresh vegetables, olive oil, grains, fish and meats like lamb and poultry.
Fresh Flavors
Recipes call for foods that are primarily plant-based, use healthy fats such as olive oil instead of butter and herbs and spices instead of salt. The Mediterranean-inspired menu, with a slightly southern accent, also features freshly grilled meats, healthy side dishes and original sauces. "We are not your typical restaurant," Richards says. "The Mediterranean coastal entrees we serve at Taziki's can't be found anywhere else."
Aside from its original sauces, some of the unique items on the menu include Taziki's Taco made with grilled tilapia, crunchy slaw, spicy herb sauce and diced tomatoes. The café also offers an assortment of gyros made with a choice of chicken, lamb, beef or grilled veggies.
"Everything is made fresh. No freezers. No fryers," says Richards. "It's a very unique menu." Some of the café's most popular menu items include a Mediterranean salad with grilled salmon, mixed lettuce, garbanzo beans, roasted red peppers, red onions, diced tomatoes, roasted pecans, feta cheese and Taziki's homemade balsamic vinaigrette.
Other house favorites are lamb gyros and Taziki's signature paste featuring penne pasta and grilled chicken, tossed in a homemade balsamic vinaigrette and topped with tomatoes, feta and fresh basil. "Alabama had never seen food like that before," Richards says. "It was new to the area. Our guests had never experienced it before."
The Mediterranean Way
Not only does Taziki's cling to the flavors, but the restaurant also embraces the Mediterranean way of life. The foods on its menu and the atmosphere in its cafes reflect a certain philosophy.
Encouraging a laid-back atmosphere, Taziki's seeks to offer its customers refuge from their busy lifestyle and the noise of the world. Stepping through the doors, customers can watch their meals being prepared through an open kitchen and enjoy relaxing music in an environment designed for conversation and community gatherings.
Taziki's goes even a step further. It offers advice. This includes encouraging people to adopt a healthy diet with lots of fresh vegetables, limit their red meat intake to only a few times a month, eat fish and poultry at least twice a week and drink wine in moderation with friends and family.
Potential Picks
Although some franchise owners are eager to collect their fees, Richards has been known to turn away potential franchisees. "When I pick our franchise partners, I make sure they are ingrained in their community, a pillar of their community," Richards says. "But a lot of it also depends on how we get along – because we are going to be lifelong partners."
In addition, the franchisee must have at least three years of restaurant experience, including management skills. The company charges a franchisee fee of $35,000 per location and an ongoing royalty fee of 4 percent. It also collects .75 percent of sales per month for local store marketing. The initial investment ranges between $318,000 to $821,000 depending on location.
A typical restaurant encompasses roughly 3,200 square feet. Taziki's unveiled a new design this summer that follows a "Mediterranean coastal" theme, centered around a sense of happiness that the Greeks call "eudaimonia." The design calls for shades of white and ocean blue throughout the restaurant. It features shiplap walls, wicker lanterns and community tables designed to promote conversation. Natural light pours in from more than a dozen windows and wooden beams in the ceiling are intended to mimic the experience of dining outdoors. The restaurants also have community boards with information on local non-profit events.
A franchisee will spend eight weeks at one of Taziki's training stores in Birmingham or Charlotte, Ala., or in Nashville. They will learn about company culture, operations and food preparation.
Franchisees receive assistance with site selection and architectural design and planning for opening day. Taziki's also provides a management training program, POS systems and technology, a variety of detailed operations tools, accounting assistance and marketing support.
Franchisees have access to Taziki's corporate team and receive regular technology advancement. After opening day, franchisees receive 12 days of in-house support and ongoing access to a franchise consultant.
"I hear from a lot of people who go into the franchise business, and their biggest complaint is that they don't get enough support from their franchisers," Richards says. "We give them support. We won't leave them on an island."
Big-Hearted Foodies
Taziki's places a high value on community relationships. Committed to making an impact, its restaurants are known to employ students and adults with special needs. About 10 years ago, Richards met a special education teacher who asked him if he would consider employing special needs students. "She brought in one of her students and he has now been with us for 10 years," he says.
Though he doesn't require it, he encourages his franchisees to do the same. "That's just a part of who we are," Richards explains. "God blessed me with four healthy kids and I was raised to give back."
In addition, Richards developed the Herbs Offering Personal Enrichment Project, known as Project HOPE. It's an outreach program that began when Richards developed a partnership with the Shelby County School system in Birmingham. It is a vocational study partnership that teaches special needs students to grow, harvest and sell fresh herbs.
Taziki's stores in Alabama buy the herbs from the students. "We buy from them like we would from any other garden," he says. "The plan is to expand the program to get other restaurants to buy them."