A passion for fresh food and imaginative recipes make Taziki's Mediterranean Café a success.
Keith Richards has been involved in the restaurant business since he was 18 years old. He always enjoyed the work, but did not develop a true passion for cooking until he worked for chef Frank Stitt. "I worked for 10 years in his award-winning restaurant and saw his passion for food," Richards recalls. "I said, 'I'm going to have that kind of restaurant.'"
Stitt is the owner and executive chef of Highlands Bar and Grill, Bottega Restaurant and Chez Fon Fon in Birmingham, Ala. He became a member of the James Beard Foundation's "Who's Who of Food and Beverage" in 2011. His love of cooking and running a restaurant were a large factor in Richard's decision to start Taziki's Mediterranean Café. A trip Richards and his wife, Amy, took to Greece was also an influence.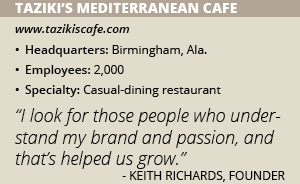 The couple envisioned a restaurant that was a combination of tasty Mediterranean markets and their mothers' kitchens, where simple ingredients and imaginative recipes would come together for a refreshing and original experience. They opened the first Taziki's Mediterranean Café in Birmingham, Ala., in 1998.
Today, Taziki's Mediterranean Café boasts 53 locations, including 34 franchise restaurants. Plans call for increasing that number to 71 by the end of 2016, Richards says. The restaurant has locations throughout the Southeast, as well as Colorado, West Virginia, the Carolinas and Oklahoma, he says. Expansion in 2016 will bring the café to Ohio and Louisiana, he says.
Franchising Success
Taziki's Mediterranean Café started franchising locations in 2008, and the move has been successful, Richards says. "I think it's gone great," he says. "What gets franchisees to come in the door is the segment we're in."
Indeed, choosing an appropriate sector in the restaurant business can be a difficult decision for new franchisees, especially because there are so many issues to consider before making a commitment. Richards, however, ensures that potential franchisees get to know him, his restaurant and the business plan before signing an agreement.
He starts his due diligence during telephone conversations with potential franchisees. He follows up with discovery day, during which he meets with people interested in running one of his restaurants. For Richards, the ideal franchisee is someone who is ingrained in the local community and understands the lay of the land.
"These are people who are passionate about the brand," Richards says. "I look for those people who understand my brand and passion, and that's helped us grow. I've got to get to know this person. I've got to trust this person to carry my brand forward." The company's largest franchisee operates six restaurants.
Diverse Menu
Taziki's Mediterranean Café's menu features creative twists on classic dishes. It features grilled and baked chicken, pork loin and lamb, along with an array of gyros, seafood, vegetarian selections and numerous choices from the Mediterranean deli. The menu is especially popular as more diners tire of burger restaurants and pizzerias, Richards says.
Yet the menu's diversity is only partially responsible for the restaurant's success. Preparation also is a key. "There are no fryers, freezers or microwaves," Richards says. "We make food to order. We prep by projection. Everything is prepared to order. We prepare more than 100 menu items a day."
The restaurant's first location in Birmingham brought a new dynamic to the local dining scene by offering freshly grilled meats, original sauces and healthy side dishes, as well as vegetarian and gluten-free options, Richards says. "We offer really fresh food," he says. The menu was developed from the Richards' memory of the food the couple ate in Greece and from a few family recipes, which was served up to 76 customers on opening day.
The food at Taziki's Mediterranean Café is not the only thing keeping the memory of Greece fresh for the couple, as the restaurants' walls are adorned with photographs taken during their trip. "The restaurants have a lot of bright, natural paint colors and the photos take you away from the every day," Richards says. "Customers can sit back, look at our photos and have a nice lunch."
Word-Of-Mouth
Richards says nothing trumps word-of-mouth marketing to promote his restaurants. The company relies on Facebook and Twitter to get the word out, but more often than not customers are the ones writing the posts. "Our food is our marketing tool," Richards says.
Richards says his primary responsibilities have shifted since the restaurant has grown. Initially, he spent considerable time working in the restaurants. "Now my team is built and franchisees want to do the work themselves," he says. Instead, Richards spends considerable time traveling and building relationships, he says.
When considering a franchisee, Taziki's Mediterranean Café finds its customers make the best operators. "A group from Clearwater, Fla., fell in love with the brand when they visited in Tennessee and opened a location in their hometown," Richards says. "We want managing operators with skin in the game."
Franchisees undergo eight weeks of training that includes a thorough preparation in both operations and food. Many franchisees have previous restaurant experience, but Richards has brought on newcomers as well. "I can teach it to a 'green' person," he says.
Moving forward, Richards expects to go public and open 200 stores nationwide within the next few years. "We want to franchise throughout the United States and keep the brand growing," Richards says. "I don't see us stopping anytime soon. We have a good, healthy brand. In the future, we're going to build a bigger brand."
Keeping it REAL
Taziki's Mediterranean Café became the first franchise to become Responsible Epicurean and Agricultural Leadership (REAL)-certified. The United States Healthful Food Council developed REAL to be the trusted, nationally recognized mark of excellence for food and foodservice operators committed to holistic nutrition and environmental stewardship. "I've been REAL since the day I opened and we have been doing it for 17 years now," Richards says.
The goal of REAL certification is to affect change in the food and foodservice industries by providing market-based incentives to increase the profitability of more healthful and sustainable food and beverage. To become certified, Taziki's Café had to go through an analysis of its restaurants, cooking processes, product sourcing and nutritional options.
Richards also created the Herbs Offering Personal Enrichment (HOPE) program, an initiative in which special–needs children grow fresh herbs used in Taziki's restaurants including basil, parsley, rosemary, cilantro and oregano. "We buy from the HOPE garden as our vendor," Richards says. "After school, children are paid to come out and tend to the garden."
The company also hires special-needs students in many of its restaurants. "These employees add a lot to our team and have taught me a great deal about work ethic and attitude over the years," Richards says.