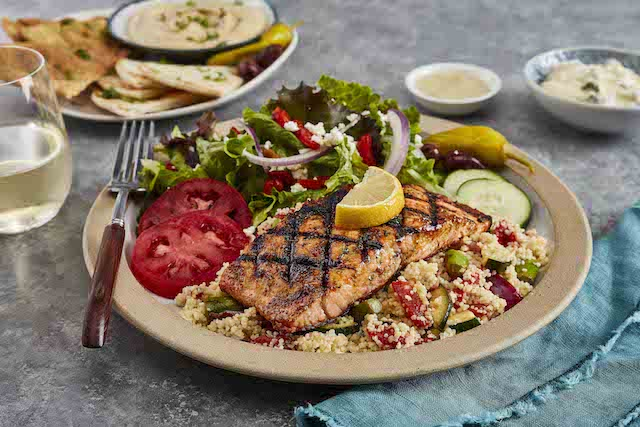 Taziki's Mediterranean Cafe
New CEO leads Taziki's Mediterranean Café as it celebrates its 20th anniversary.
Dan Simpson has been on both sides of the fence. He launched his career in the hospitality industry four years ago when he opened his first Taziki's Mediterranean Café franchise.
Although Simpson found success as a franchisee, he decided to take his career in slightly different direction. "I transitioned to Taziki's corporate side," Simpson says. "I went from franchisee to become the company's chief innovation officer."
He served in that role for almost two years, prior to assuming his new role as CEO in March. During his tenure as chief innovation officer, Simpson made revitalizing Taziki's brand a priority.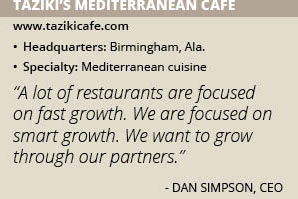 "The brand was 18 years old then," he says. "And like any maturing brand, you lose a little of the original focus. We wanted to go back to the heartbeat of what inspired the founders in the beginning."
Falling In Love
Taziki's, which is celebrating its 20th anniversary this year, is the culinary creation of husband-wife duo Keith and Amy Richards. The couple wanted to open a Greek restaurant after falling in love with Hellenic cuisine during a trip to Greece.
With their family rallying behind them, the couple turned their dream into a franchising empire. Today, Taziki's has 84 restaurants in 16 states. The Birmingham, Ala.-based Mediterranean café is especially popular in southeast states such as Alabama, Georgia, Tennessee and Florida, but also has a solid presence in Colorado, Arkansas and Oklahoma. Five new restaurants are expected to open this summer in Oklahoma, Indiana, Mississippi, North Carolina and Florida.
Simpson is working closely with Keith Richards on plans that include having 100 locations open by 2019. "A lot of restaurants are focused on fast growth," Simpson says. "We are focused on smart growth. We want to grow through our partners. Many of them have signed up for multiple locations so our first goal is support them."
Simpson estimates that around 20 new locations will open within a year due to existing franchisees who will open more locations.
The company charges a franchisee fee of $35,000 per location and an ongoing royalty fee of 4 percent. It also collects .75 percent of sales per month for local store marketing. The initial investment ranges between $318,000 to $821,000 depending on location. A typical restaurant encompasses roughly 3,200 square feet.
The Future Looks
Bright Simpson has been working with Taziki's board of directors and staff to form a clarified purpose, mission and brand values to guide the company for the next 20 years. Aside from revitalizing the company's brand and culture, the company is focusing on creating a new look for its restaurants and investing in technology.
"We worked with architects and all new stores are going to have a fresh new look," Simpson says. Plans also call for existing restaurants to gradually adapt the new look by 2020.
New design elements include exposed stone, wooden beam ceilings, hanging wicker lanterns, lots of natural light and white shiplap-adorned walls and shades of white and deep blue in interior accent pieces. Community tables are designed to create a welcoming environment for conversation. Community boards listing local nonprofit events are a part of the new design as well.
"This is the vision of Keith and Amy," Simpson says. "They want people to feel welcome and like family. That is the purpose of Taziki's. It is the bedrock."
Millennial Needs
Expanding Taziki's technology capabilities is another major focus for the company. That includes new app offerings, accessibility to ordering online and a new website.
Taziki's new app allows customers to order online and it integrated a widget on its Facebook page to allow for ordering as well. In addition, the company is launching a new website in May. It is more user-friendly with a redesigned menu that makes online ordering more accessible.
Later this year, Taziki's plans to launch TazRewards, a rewards loyalty program that works with the company's new app. Many of these enhancements spring from research that the company conducted during the past two years.
Simpson says that his research found that today's customers care about five elements when choosing which business they will patronize. They tend to like hand-crafted foods and items. Company culture matters to them. They want a sense of community and a company that supports a mission or a cause. Lastly, they want convenience. "There is a millennial hierarchy of needs," Simpson says. "It's changed how we operate."
Giving Hope
When it comes to being involved with its communities, Taziki's doesn't just talk the talk. The company's signature charity, the HOPE Program (Herbs Offering Personal Enrichment), has been helping children with special needs for more than 10 years.
"We are focusing more time and effort into the HOPE program," Simpson says, adding that franchisees are encouraged to participate.
The program is a partnership between Taziki's restaurants and schools across the country. It is designed to teach students with special needs all aspects of the herb business and skills that will transfer to other jobs.
Through the program, students are taught how to grow and maintain an herb garden. Their products are then used by the Taziki's restaurants. Fresh, locally grown herbs – parsley, oregano, cilantro, basil and rosemary – are used to flavor the restaurant's Mediterranean-style foods.
The HOPE Program began after Keith Richards decided to get more involved with special needs education. His restaurants had been employing people with special needs for a long time, but he wanted to do more.
There are currently eight existing HOPE programs throughout the country. They are in Chesterfield, Va.; Little Rock, Ark.; Nashville, Tenn.; Atlanta, Ga.; Morgantown, W.Va.; and in Huntsville, Dothan and Birmingham, Ala.
Fresh Concept
One reason behind Taziki's success is its focus on freshness and healthy food options. Its Mediterranean-inspired menu has a slightly southern accent and features freshly grilled meats, healthy side dishes and original sauces. Most of its dishes are original creations that can't be found at other restaurants.
The original chef-driven recipes are prepared daily from more than 100 fresh produce items as well as more than 60 herbs and spices flavoring the food.
Recipes call for foods that are primarily plant-based, use healthy fats such as olive oil instead of butter and herbs and spices instead of salt. Everything is made fresh. No freezers. No fryers. No microwaves.
Taziki's will be introducing a variety of new menu items this year. "Once a quarter, we will introduce a new menu item that pulls in a new flavor from the Mediterranean," Simpson says, adding that Keith and Amy Richards will be traveling to Greece this year and have been tasked with coming back with new flavor and recipe ideas. "We will continue to innovate our menu," he says.
Aside from its original sauces, some of the unique items on the menu include Taziki's taco made with grilled tilapia, crunchy slaw, spicy herb sauce and diced tomatoes. The café also offers an assortment of gyros made with a choice of chicken, lamb, beef or grilled veggies.
Some of the café's most popular menu items include a Mediterranean salad with grilled salmon, mixed lettuce, garbanzo beans, roasted red peppers, red onions, diced tomatoes, roasted pecans, feta cheese and Taziki's homemade balsamic vinaigrette.
Other house favorites are lamb gyros and Taziki's signature pasta featuring penne pasta and grilled chicken, tossed in a homemade balsamic vinaigrette and topped with tomatoes, feta and fresh basil.