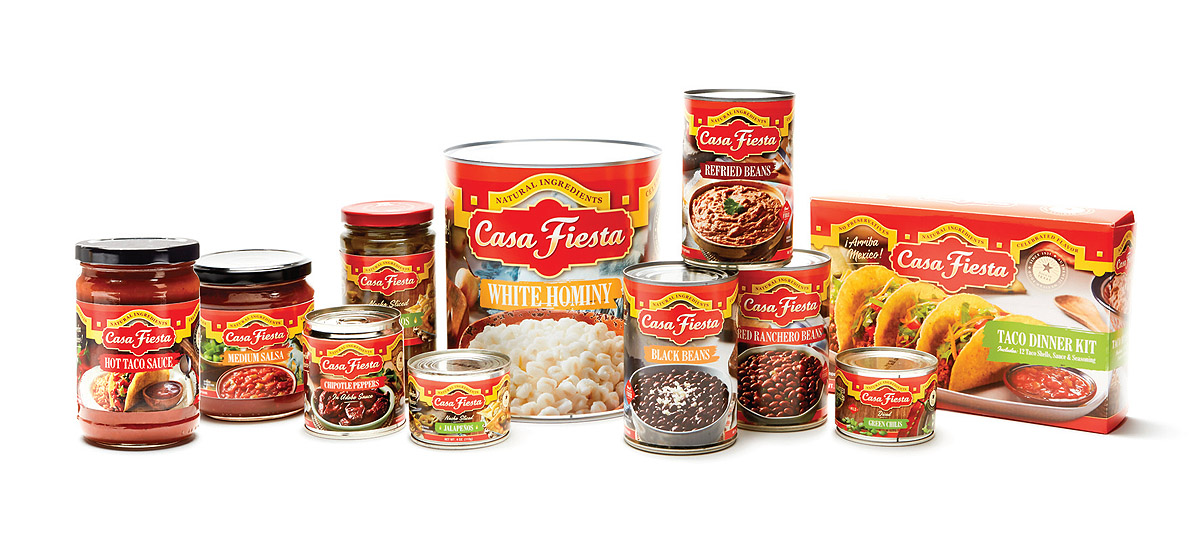 Funky fresh flavours
As Yvonne Conroy, Director, Marketing and Innovation began by explaining, Teasdale Latin Foods' diversified portfolio covers multiple categories, including beans and hominy, salsas and sauces, tortillas, flat breads and taco shells/kits, and peppers and seasonings. These are sold under a range of different retail brand names, serving a diverse customer base in all channels of distribution
across the US, as well as many international markets in Europe, Asia, Central and Southern America. Yvonne gives some more details about the brands: "The Casa Fiesta product line was created from authentic family recipes using the highest quality ingredients," she stated. "The portfolio includes beans (core, refried, specialty and organic), hominy, salsas and dip, sauces and seasoning, taco shells and peppers."
Teasdale Latin Foods' Jardines brand is embedded with a rich heritage, and includes fire-roasted, Texas Style salsas, taco sauces, hot sauces, seasonings, and BBQ sauces, but this line's unique selling point is the artisanal nature of the products: "Farm fresh ingredients are delivered daily to our facility in Buda, Texas, and this is where we hand cut our vegetables and cook small batches to give families the flavour and hand-crafted quality they crave," Yvonne noted.
Private label success
The brand portfolio also includes the popular Mexene Chilli powder, which hasn't changed its recipe for over 100 years; and Sontava! hot sauce, which features South American habanero peppers, harvested from fields in the rainforests of the Andes. "These are unlike any peppers found elsewhere in the world," said Yvonne. "Our peppers are hand-picked at peak potency and bottled on-site with a select few all-natural ingredients. The result is a thick, all-vegetable blend of fire and flavour that's a world apart from other, watered-down hot sauces."
Teasdale Latin Foods also produces beans and hominy under its own name, as well as the Margaritaville line of salsas and Dickey's BBQ Pit baked beans – plus the company has considerable success in the private-label market, where it has a well-established leadership position. Yvonne credits the quality of its products as one of the reasons trading partners rely on Teasdale Latin Foods to create their own ranges of sauces and salsas. "The company has built its reputation on being a high-quality producer of foods consumers know, love and trust. We take great care to ensure we fully understand consumer preferences so we can deliver on innovative solutions that drive growth," she added. "We are very appreciative of the many long-standing customer relationships we have, and we are grateful for the trust our customers have placed in us and we never take it for granted."
Authentic Tex Mex
It is clear that what unites the products so carefully created by Teasdale Latin Foods is the finest blends of ingredients, and a dedication to the authenticity of Tex Mex cuisine, as well as an innovative twist. This approach is perfectly illustrated by the new 'Bootleg' series of salsas from Jardines. Yvonne noted that this is an exciting development for the brand, and describes the new products as 'outlandishly fun and undeniably delicious'. "We are launching a line of unique, limited production salsas that put the 'fun' in 'funky-fresh flavour'," she revealed. "By blending our favourite seasonal ingredients with classic salsa mainstays, we've created a collection that includes flavours such as Twisted Pineapple and Mango, Chill Cucumber and Lime, Fiery Ghost Pepper and Pumpkin, and Cozy Cranberry and Orange."
Ranges such as the Bootleg salsas can only be created if there is a dedication to investment in new product development, and the right facilities with the latest equipment upon which recipes can be created. "Teasdale Latin Foods' manufacturing network has best-inclass capability, as well as being fully committed to the Global Food Safety Initiative -all of our facilities have attained the highest levels of certification," Yvonne confirmed.
As part of its determination to be a leading, full-line producer of Hispanic foods, Teasdale Latin Foods regards the bakery arm of its business as important as the sauces, salsas, beans and hominy, and over the past two years it has considerably strengthened its offering on this side through several targeted acquisitions, including Mesa Foods (an industry leader in the production of tortillas, flatbreads, taco shells, taco kits and chips) and Rudy's Tortillas. "Being able to be a one-stop-shop for customers for Hispanic foods is something we see as a powerful platform for continued success in the marketplace," Yvonne highlighted.
"We also know that winning in the marketplace takes winning in the workplace," she continued. "We are very proud of our employees, who work hard each and every day to deliver the finest products and always with outstanding customer service. Without their contributions, it would not be possible for the company to be successful. For that we are humbly grateful."
Proud of its heritage as a high-quality maker of Hispanic foods, Teasdale Latin Foods is equally excited about the future. "We look forward to helping our customers meet the increasing demands of today's consumers," concluded Yvonne. "We've underpinned all we do on a mantra of doing what we say, in a way that exceeds our customers' expectations for quality and service." Teasdale Latin Foods calls this approach 'Simply Especial,' and this admirable refrain underlies all of its activities, every day.