Fresh thinking
A winner of a GABF Gold Medal for its first ever beer, Terrapin brewery is building a unique reputation for delicious, innovative beers
This year, the Terrapin Beer Company (Terrapin) celebrates its 20th anniversary. Founded by John Cochran and Spike Buckowski in 2002, the company currently distributes across 16 US states, with plans to open in Puerto Rico. Now with two decades under its belt, Terrapin has forged a reputation for innovative thinking. In 2013, it became the first brewery in Georgia to offer cans, now the norm across the craft beer market, and the company also boasts a range of bold and exciting flavors, including its best-selling Hopsecutioner IPA, and its passionfruit orange guava IPA, Luau Krunkles.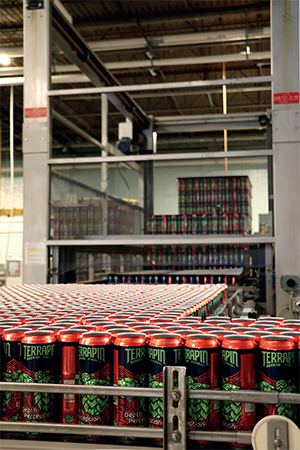 "Innovation is an ethos that drives us as a company, whether through the packaging, brewing, or in driving higher standards when it comes to sustainability," insists Jack Albanese, Vice President of Operation at Terrapin. "We're always looking to optimize our processes and bring out crazy new IPAs. We now have an extensive range of beers for people to drink, through which we can reach out and capture our audience. Recently, we opened a research and development brewery in Atlanta with a ten-barrel permit. We're using that to experiment with yet more fresh and exciting brands."
Returning to 2013, Terrapin had just the single product line when it first started pioneering the use of cans within craft beer. Since then, the range has grown substantially, and Terrapin is expanding its capabilities to match. "With our full range of products now going into cans, we're excited to build out our canning line and increase our capacity," Jack comments. "We are working with packaging machine manufacturer DMM, a company based in California, and partnering with a new cartoner in order to develop a more robust, operationally efficient line that's able to handle the increased throughput. Ultimately, we want to deliver more cans to more people."
For Terrapin, however, innovation isn't limited to the production line. The brewery is also taking great strides towards full-circle sustainability. "One thing we really pride ourselves on is our wastewater pre-treatment," Jack admits. "It's something we've studied and developed over the years, working with Zee-Loeffller to optimize the system. We're also about to begin some planting in our beer garden, using compost that we've created out of our processes. It fits with who we want to be as a brand, and it's something we're very excited about."
It's not all about the future, though. For Jack, the 20-year milestone is also an opportunity to reflect Terrapin's progress to-date – and what better way to do so, than with the return of the company's very first beer: Rye Pale Ale. "We came out of the gates with Rye Pale Ale way back in 2002," he says. "Now, to mark our anniversary, we're really trying to bring back some of those old beers that put our name on the map. As a winner of a GABF Gold Medal, Rye Pale Ale is exactly that. There's certainly a nostalgia about it, but a lot of those beers are still so relevant. It's a fun opportunity."
Like many independent breweries, Terrapin is a company whose roots lie close to the community. "One of the things we pride ourselves on is being local everywhere," Jack insists. "Wherever we have a presence, we work with local food banks and charities to give back. Members of our team help at a mobile food pantry in Athens, based in the city in which we were founded. It's a place where those in need within the community can come by to pick up food. By contributing our time, we're supporting the pantry in the delivery of their service.
"We're also trying to develop that in other states across the US," Jack continues. "I know that we've had success in Wisconsin, and we're always looking to do more. In every case, our key driver first and foremost is to consider what the needs are within each market. Then, we look at addressing that need, by providing and driving accessibility for the things that are in demand."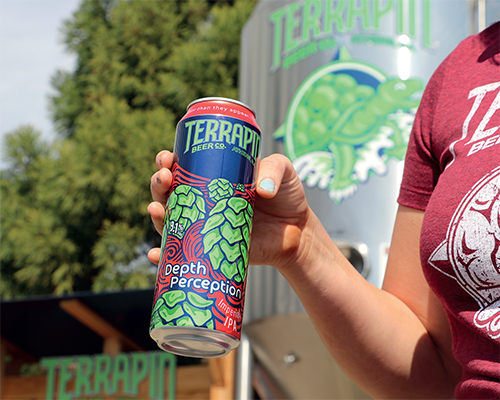 Higher standards
Given this impressive commitment to going the extra mile, it's perhaps little surprise that Terrapin – and its staff – have been able to navigate nearly two years of industry disruption, following the arrival of the Covid-19 pandemic in early 2020. "Obviously, we've experienced what have been difficult times for everybody," Jack notes. "Looking back, I'm very proud of the fact that we were able to keep everyone at the brewery employed. However, in the moment, I think we also did a very good job of creating a safe environment for our employees to work in.
"From the market perspective, everything was crazy, particularly in the early stages of the pandemic," Jack adds. "Our vendors closed, and we were forced to weather the storm. Now, we're coming out of it again. Businesses continue to open with each passing day. As a team, and as a brewery, that's part of what is making our 20th anniversary this year such a special occasion: it's the first time we've been able to gather everyone together for nearly two years. It's a testament to the work and dedication that the team at Terrapin has shown, and an indication of what we can do in the future."
Looking to that future, Terrapin recently announced an all-new product, known as 'Depth Perception'. "Our latest release is an all-year-round beer, and the first of its kind to be produced in our new and innovative 19.2oz package type," Jack says. "It's an Imperial West Coast IPA, also available as 12oz cans in a six-pack, twelve-pack and as part of our IPA Survival variety pack. It's a complex, three-dimensional product, and we're super excited to see it go to market."
Beyond 2022, the company is confident that it can continue to drive higher standards by establishing itself as a leading light within the industry. "Taking a five-year view, I would like to see an even greater focus on sustainability in the near future," Jack concludes. "At the same time, on the product side, we're going to remain true to our commitment to quality, even as we look to expand our volume and grow and develop our audience. Of course, we'll continue to innovate, and use that to build greater and greater expectations around our brand. It's a really cool time."