Nature's Eats builds partnerships with growers that can deliver quality and innovation.
In a market where consumers are becoming more conscious of what they put into their bodies every day, scrutiny over ingredients has never been higher. People want gluten-free foods made from natural components. While other food producers are scrambling to adjust, Texas Star Nut & Food Co., under it's Nature's Eats® brand, already has a strong lineup of products that match consumer preferences.
The company recently complemented its mix of healthy nuts and dried fruits with the introduction of Nature's Eats almond flour. Almond flour is a popular wheat flour replacement in Europe initially used for macarons that is only starting to become more common in the United States. Almond flour has fewer carbohydrates and is gluten-free, making it an ideal substitute for consumers wanting to replace carbs with protein. In addition to macarons, Nature's Eats Almond Flour is used for coating chicken, fish, protein supplement shakes, almond milk, cookies, pizza and even for healthier skin.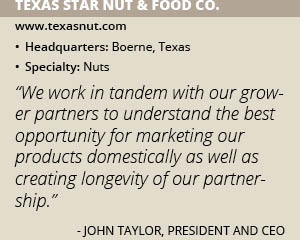 According to a 2015 Gallup poll, 21 percent of consumers actively include gluten-free foods in their diets, even if they do not suffer from celiac disease. "There's a big trend toward gluten-free eating," Vice President of Strategic Business Initiatives Matt Mohr says. "Almond flour is a gluten-free food. So for those people who are trying to reduce gluten in their diet it's a great way to do it." For more information on Nature's Eats almond flour go to natureseats.com
Nature's Eats almond flour has made a big impression on consumers and helped the company expand into a new market. "We are the No. 1 selling almond flour nationally, according to Nielsen," Vice President of Sales and Marketing Robert Henarie says.
Expanding Market
Although the company is relatively young compared to some of its competitors, founders John Taylor and Robert Henarie each have more than 30 years' experience in the nut industry. The two met in the 1980s while working for the nut producer owned by Taylor's father, Sunshine Nut Co. The company was sold to an outside buyer in the early 1990s, but the two stayed on until 1998 when they opened Compass Sales and Marketing. The sales and marketing firm was successful and lead to the opening of the Texas Star manufacturing facility in 2001, Texas Star Nut and Food Co.
"We're answering to our customers, the end-user and also our vendor partners," Mohr says, "but not to a big board of directors that only cares about the bottom line."
The company launched with only three products: dried apricots, dates and cranberries. From that modest beginning, the company has built a product portfolio that includes more than 200 SKUs, from snacking nuts to trail mixes and confectionery items. Products are sold through two brands: Texas Star is the company's regional brand for Texas, while the Nature's Eats name is meant to appeal to the entire country. Despite the different names, there is little difference in the product offering between the two brands.
Beyond expanding its market area, the Nature's Eats brand helped Texas Star change the mindset of consumers and its retail customers. Before, nuts were largely relegated to the baking aisle of the grocery store, but with Nature's Eats, the company repackaged its products to position them for healthy eating. "They're not just for baking anymore," Henarie says. "They're really good for you."
The company now sells to virtually every kind of food retailer, from local supermarkets and convenience stores to dollar stores and big-box shops. It even has private-label agreements with some of those clients.
Texas Star has gained traction in recent years as consumer trends have become more aligned with its business. The average American now consumes 2.6 snacks per day and 41 percent snack three or more times daily, according to industry surveys. Further, millennials are favoring ready-to-eat and food-to-go items that grant more convenience to their busy lives. Nearly everything Texas Star produces fits into that lifestyle – consumers need only to rip open a package to enjoy a handful of healthy nuts.
Quality First
All of Texas Star's products are produced at its facility in Boerne, Texas, a city northwest of San Antonio, and its offices are located just across the street, allowing executives to keep closer tabs on operations in the factory. "We're in the plant pretty much every day," Mohr says.
Because they are so close to the production process, Texas Star's leadership can ensure that factory conditions meet the company's standards – especially when it comes to food safety. The facility is entirely climate controlled, ensuring that food is handled in optimal temperatures from the field all the way through packaging. That results in safer, fresher products, giving both consumers and retailers greater confidence in the company's brands and private labels.
Additionally, every employee goes through SQF certification to learn the best practices for handling food and avoiding contamination. "Everybody understands it," President and CEO John Taylor says. "We don't have one person trying to manage a process everybody hasn't been educated on."
A clean facility is critical to ensuring a safe product, but Texas Star knows that offering high-quality products begins with the growing process. That is why the company strives to form strong relationships with its suppliers. "We work in tandem with our grower partners to understand the best opportunity for marketing our products domestically as well as creating longevity of our partnership," Taylor states.
Texas Star wants to work with suppliers that share its values for continuous improvement, SQF and innovation. "We have strategic partnerships with the direct growers on the main commodities," Henarie says. "That's what helps us stay competitive."
In the end, Texas Star believes the caliber of its products will win out over its competitors. "The continuing relationship with quality is really what drives the company," Taylor says.