Texas Tech University Hospitality Services
Thirty-nine years ago, Dr. Sam Bennett was a student at Texas Tech University, washing dishes and working other jobs to pay his way through school. Today, Bennett is the director of the university's Hospitality Services Department, and he says the experiences he's had on his climb up to the top have made him a more effective leader.
After working briefly as an accountant after graduation, Bennett re­turned to Texas Tech as a unit manager and three years later became an operations manager in the Hospitality Services Department, followed by promotions to assistant director and his current position – which he assumed 13 years ago. He says his experiences have given him a solid appreciation for the work the department does, and a strong mutual respect between him and his staff. "I've done every job in the department," he says. "And I've long said that from the standpoint of a manager, you can't just walk in and expect someone to do something you said if you haven't done it yourself."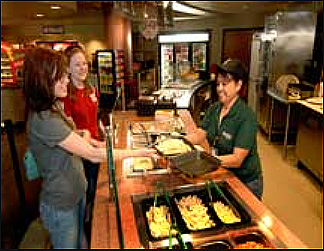 Bennett's understanding of the department and the more than 12,000 students it serves daily have helped him build the campus' dining services into a diverse, efficient and successful program. Unlike many other college campuses, Texas Tech's dining program is built primarily on the retail model, and Bennett says this has been the core of the program's success. Although the department still operates two all-you-care-to-eat residence hall dining locations, Texas Tech's campus abounds with quick-service options that include nationally recognized names.
Familiar Options
Bennett says the university made the decision to switch to a more retail-oriented dining program about 15 years ago, after noting that many students were dissatisfied with the options a traditional dining program offered them. After doing some research, the department opened its first food court location and added a 1,200-square-foot mini-market concept to a residence hall the university was building at the time.
That first mini-market has become the template for a series of Sam's Place locations throughout the campus, where students can grab a quick snack or put together a complete meal from one of the many a la carte concepts. The university's student union building features a Sam's Place, numerous retail outlets as well as a food court with Sbarro's, Chick-fil-A, Quiznos Express, Steak Escape and other concepts.
Bennett says the retail-focused approach works for the university as well as the student body. In particular, students prefer the ability to eat on their own schedule, rather than being locked into the hours kept by traditional dining halls. Bennett notes that many students today choose to "graze" throughout the day instead of sticking to three meals a day, and numerous of the campus' retail outlets are open until 2 a.m. "The advantage for the students is convenience," he says. "They get what they want when they want it."
For the university, Bennett says, the retail concentration has resulted in an improved bottom line. He says the school has been able to funnel all of its proceeds into improvements and keep the department's debt under control.
Growing and Changing
Continuing to offer the type of service students want is the department's biggest challenge, according to Bennett, especially as food prices continue to escalate. Beef and chicken prices have been rising steadily for the last few years, and Bennett says the department has been careful to match those increases with slight budget increases. He says the department enacted a 3 percent increase last year and expects to recommend an approximate 2.5 percent increase this year to add half-a-million dollars to the budget.
Even though the area around the Texas Tech campus is filled with quick-service and fast food options for students, Bennett says the university's Hospitality Services continue to remain competitive. "We still have a big draw for our student population," he says, noting that nearly 6,500 students are on the university's commuter dining plans.
Bennett says he has high hopes for the department's newest project, a standalone building that will include an Einstein Bros. Bagels location along with other concepts. If it succeeds, he says, the department will look to consolidate other operations into fewer buildings to increase efficiency.
Under Bennett's leadership, Texas Tech's Hospitality Services has effectively quadrupled in budget in the last 14 years, and he says the department believes it can continue to grow along with the university's expected enrollment growth.
"We're constantly trying to see what's out in the marketplace," he says.