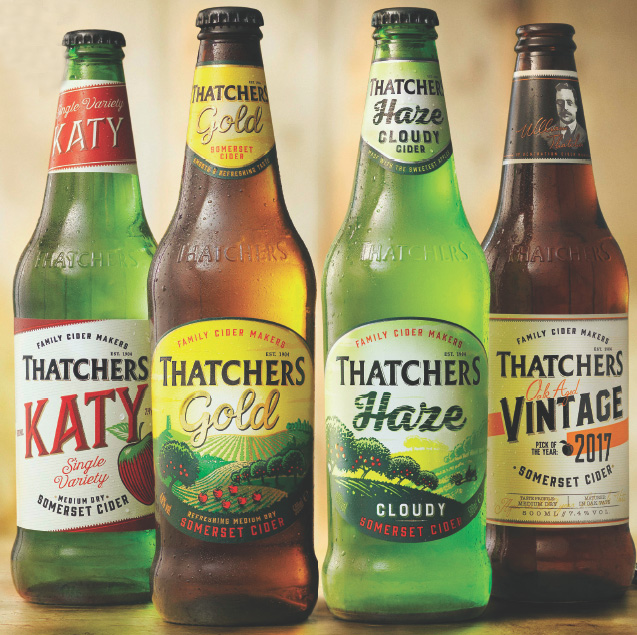 Thirst for knowledge
Through respect for history and recognised responsibility for the future, Thatchers Cider has become a byword for quality in the UK cider market
For four generations now, the owners of Thatchers Cider have been guided by the notion that each of them is just the temporary custodian of the business, carrying a responsibility to safeguard it and leave it in the healthiest possible condition for the next generation of the Thatcher family. Suffused with this overwhelming sense of duty displayed by its leaders down the years, the cider
making company has thrived for over a century now, spearheaded by visionaries with a genuine obsession for quality and ceaseless desire for improvement.
Established in 1904, Thatchers has grown exponentially under each generation, demonstrating willingness to create and embrace change when necessary, and adapting successfully to dynamic market requirements. "In 1970, John Thatcher, the father of our current owner Martin, took the business from his father and elevated it to the next level, in terms of making it more scalable and applying more advanced techniques in developing the orchards," begins Chris Milton, Off-Trade & Export Sales Director at Thatchers.
"From 1998 onwards, Martin has been at the helm and his shrewdness has helped us grow at an incredible rate since the beginning of the century. To back this claim with real figures, our turnover in 2006 was just about £6 million, while at the end of 2018, we achieved a turnover of over £100 million for the first time in our history," he continues.
"If there is a secret to the great taste of our ciders and to the success of the company as a whole, it really comes down to our aspiration to be the best in every single aspect of our work. We always make sure that we have access to apples of the highest quality, employ the best people, and operate the most efficient machinery. On top of that is our insatiable thirst for knowledge and commitment to learning everything there is to know about the process of making cider."
Sought-after ciders
Putting all these facets together, Thatchers has been able to repeatedly create world-class end products and Chris is convinced that the brand has now been stamped on consumers' minds as a synonym of uncompromising quality. "I can refer to Thatchers Gold – our best-selling cider, which continues to grow, even though it is already a mature product. The fact that it is still gaining in popularity is clear evidence that our brand is valued highly and has established itself as a staple in consumers' preferences."
Going on to review some other particularly sought-after ciders in Thatchers' range, he highlights Haze – a product introduced three years ago. "It is a cloudy premium cider crafted with Discovery, Falstaff, Gala, and Jonagold apples, with the juice of the latter bringing the naturally cloudy appearance to the cider. The whole concept has been very successful and we are experiencing considerable growth in demand both in the on- and off-trade segments. Furthermore, this year, we have introduced a brand-new Rosé cider for which we have already had an excellent initial uptake," he rejoices.
"Currently, the business is growing at about 15 per cent year-on-year, on-trade and off-trade combined, with the latter moving at a slightly quicker pace. Traditionally, brands in the UK that have gone on to become really successful, tend to have started on the on-trade, and then transferred this success to the off-trade segment," Chris explains. "With pubs being social environments associated with having a good time with your friends or family, visitors start to be keen on recreating these experiences at home. As a brand, we have done such an amazing job working in the on-trade, supplying the major pub companies and a lot of the regional breweries, that consumers want to be able to taste our products at home, as well."
Chris also predicts that Thatchers will remain a step ahead of the competition, thanks to the prevalent ongoing trend of premiumisation. "We are recognised for producing the best cider in the
world and customers are prepared to pay that additional amount of money to acquire our products, so we are already capitalising on this shift in preferences. In addition, there is an increased focus on provenance, as consumers today are aiming to establish a stronger connection with their brand of choice, placing emphasis on where a product comes from and how it is made. They want authenticity and this is exactly what Thatchers can offer them – we can draw upon our century-old tradition of making high-quality ciders, whilst employing sustainable and eco-friendly practices," he introduces a topic that has, in recent years, become central in the company's considerations.
"We are completely aware that we have a responsibility towards the environment. For this reason, in November 2016, we invested in an end-of-line packer for our new canning line that enabled us to get rid of all the plastic hi-cones, replacing them with fully recyclable card packs," Chris reveals. "It was a considerable investment, but we felt this was the right decision. We worked very closely with WestRock to develop the machine, which, to this day, remains the only one of its kind in the world."
Plans for expansion
Moving forward, Thatchers will be working hard to ensure it will continue its impressive growth. In achieving this task, the company hopes to draw the support of its growing export activities. Although export accounts only for three per cent of Thatchers' turnover at the moment, Chris is certain that international trade will develop fast in the coming years.
"The UK alcohol market is already quite mature. Besides, there seems to be a decline in overall alcohol consumption in the country, which means that we have to seek international expansion. We are targeting 20 markets that all differ from each other. There are the regions you can get into, like Spain, where a lot of British expats live and where millions of British tourists go on holiday every year. However, there is also China, which is a huge market, but where cider is not very well understood just yet," he analyses, adding that Thatchers knows it has to probe patiently in the next decade, trying to develop the cider market in some of its selected countries virtually from scratch.
Finally, Chris takes the time to accentuate the company's efforts in attracting, training, and hiring young people. "If we want to have a sustainable business, it is necessary to grow our own talent who understand the ethos of the company," he maintains. "Last year, our Apprenticeship Academy won the IGD Employability Award for the work we did with schools, colleges, and universities that culminated in us employing 14 youngsters in multiple 35disciplines across the business.
"We take pride in providing our apprentices and graduates with real opportunities that can be an ideal start to their career, and we are happy to observe the fabulous return we get from these talented individuals. We have just held our inaugural Careers Day attended by over 50 youngsters, along with their parents, and we are already working on the next intake of apprentices, which will take place in September," he concludes, airing his excitement for the bright future of the company.