The Apollo Group invests in talent and research to make cuisine a highlight of the ocean liner experience.
Even the most seasoned world cruise travelers probably don't know The Apollo Group, which over the years has established itself as a leader in the cruise industry, not only in culinary excellence and hotel services, but also in the fields of supply chain, logistics, and human resources.
Since 1969, The Apollo Group has contributed to the growth of many renowned cruise companies, such as Regent Seven Seas, Celebrity, Renaissance, Thomson and Oceania Cruises. It does not just operate as a concession but rather a silent partner, working tirelessly in the background ensuring the success of each client. The Apollo Group prides themselves on employing and maintaining a workforce that is dedicated, creative, and talented and in turn work passionately to provide the quality service and finest cuisine at sea, for which it is known.
Its world class culinary program is brought about by The Apollo Group's specialized culinary team, which is under the direction of Senior Culinary Director Eric Barale, who joined The Apollo Group in 2003 as the executive chef for Oceania Cruises and was promoted to corporate executive chef two years later with the responsibility of overseeing the entire culinary operation for not only Oceania Cruises but also Regent Seven Seas.
These companies have vessels that sail worldwide, calling on more than 370 ports across Europe, Asia, Africa, Australia, New Zealand, the South Pacific and the Americas. Cruises range from seven days up to 180 days (world cruise), so variety is crucial. The culinary team is innovative and very proficient at adapting the latest food trends to our classic elemental cuisine and designs menus that surpass expectations of The Apollo Group's savvy clientele. With a portfolio of more than 3,000 recipes in a standard 14-day menu cycle, guests are excited every time they sit down for a meal.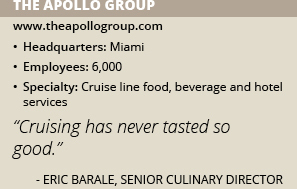 With more than 40 years of experience as the premier food, beverage and hotel management concession, The Apollo Group's adaptability has helped maintain an edge in the ever-changing and competitive cruise industry.
"We are a reliable company because we always update ourselves with the necessary skills and tools required to get the right product and the right service for our customer's success," Barale continues. "We customize our products and services so that they encompass the direct needs of our clientele in terms of specific dishes, menus or items. My role is to make sure that whatever the clients want we can do it and we can do it right."
The diverse operations and culinary expertise sets clients apart from all other major cruise lines that also travel to the same ports and whose passengers enjoy the same salty ocean air. The Apollo Group's adaptability helps clients maintain that edge from the competitive cruise industry with different amenities and experiences offered. "Everybody from the cruise line industry is constantly seeking what they can do that is different and cutting edge from the others to attract the clientele to their brand," Barale says.
The answer, Barale believes, is in the cuisine. Cruise lines have taken to marketing dishes from celebrity chefs on equal footing with their luxury accommodations and exotic destinations. Partners like The Apollo Group are needed to execute on the culinary component and bring innovative experiences to the menu. "We have no limit," Barale says. "We can do everything."
Cultivating Talent
The Apollo Group is responsible for hiring the entire kitchen, hotel, administration and beverage crew on all its clients' ships. The company has about 6,000 employees hailing form 52 nationalities. Maintaining that staffing level is one of Apollo's primary challenges.
Today, the food industry as a whole, whether land based or at sea, has been facing a critical shortage of qualified chefs over the past number of years and the situation is only deteriorating due to the rapidly expanding hospitality industry. This has become a worldwide problem, and everyone is competing for good staff. The Apollo Group has the added difficulty of not only sourcing out these qualified, well-trained professionals but also seeking out those who are willing to work at sea for a length of time.
The company's competitive pay also helps offset the idea of long periods at sea. "If we want to have the best of the best we have to give the best of the best," Barale says. "If we want good quality people we have to pay them well and inspire and map out their career development and growth plan."
To secure that talent, Apollo has developed partnerships with cooking and catering schools around the world. By drawing from well-regarded institutions, the company ensures its chefs meet the level of culinary luxury required by cruise ship passengers. "Our crew is trained in a certain way that everybody is looking for," Barale says.
The training can involve weeks of observation before a cook or manager is ready to contribute to the kitchen. Depending on the position, new hires spend their first several days as extras on board learning from the established crew. Those who stick with it can turn a tour of duty at sea into a career through frequent advancement opportunities.
Training can instill The Apollo Group's methods into its cooks, but follow-up is necessary to create consistency. The company has a traveling personnel team that travels from ship to ship year-round to check that standards are followed in every restaurant. Furthermore, each kitchen has a tablet where chefs can access a cloud-based manual that details the correct procedures for every stage of the operation and the precise directions for all of The Apollo Group's recipes. The manual is sorted by location and event – such as dinner – and can be updated on a daily basis to reflect new recipes or procedures.
"There is no room for amateurism," Barale says of The Apollo Group's constant drive for perfection. Although the company runs a tight operation with a solid foundation of rules, procedures and regulations, it also like to encourage, inspire and promote creativity amongst the teams by giving them the opportunity to showcase their talents by creating an exclusive event or dinner as a surprise treat for guests.
Tracking Trends
There is no doubt the move toward healthy meals and locally sourced ingredients is now a driving force in the industry, with an increasing number of customers requesting clean and healthy meal options without compromising on taste becoming somewhat trendy in recent years.
The Apollo Group is already serving a wide variety of cutting edge cuisine that utilizes only the finest premium high-quality sourced ingredients. As a result of this, seasoned guests don't feel like they have to search around for something new. Still, as new guests discover the cruising lifestyle there has been increasing interest in health-conscious meals, vegan food, lighter dishes and special requirements such as gluten free. To better explore those new dishes, The Apollo Group is building a 3,000-square-foot, fully equipped research and development kitchen in Miami that will allow it to better test new restaurant offerings. Construction of the kitchen is on pace for completion by the end of this year and the facility should be operational in 2018. "It's the best way for us to upgrade and improve the product we are running on board," Barale says.
The research and design kitchen will give The Apollo Group an advantage in creating customized menu experiences on its clients' cruise lines. "In our industry, everybody is doing an excellent job but what makes the difference in the food at the end of the day is the authenticity of our premium ingredients and the custom produced or farm-to-table raw merchandise that is offered," Barale adds.
Investing in facilities and capabilities will position The Apollo Group to grow with the looming expansion of the entire cruise line industry. According to the Cruise Lines International Association's (CLIA) 2017 State of the Industry Report, 80 new ocean ships are projected between 2017 and 2026, creating growth opportunities for support business. "By definition, if our industry is moving, everything has to move along too," Barale says.
Barale adds that he expects major changes within the next 3-5 years.