BELLY FULL OF AMBITION
The Biscuit Belly brand embodies the spirit of authentic, southern hospitality in many ways, but not only in the literal forms of its working culture or restaurant's menu. The brand name cooks up the image of a warm welcome that's complimented by relaxed, yet attentive service. A friendly and familiar face, behind which a fast-paced and fiery kitchen expertly prepares food for the soul – which also serves as the perfect visual metaphor for the company's operations and fastidious growth. Although still in its infancy, Biscuit Belly is quickly picking up momentum in the world of fast-casual restaurants.
Comfort food
Chad Coulter, CEO and Founder, and his wife, Lauren, gave up their careers as pharmacists in hope of scratching their entrepreneurial itch. They opened the door to their first restaurant venture in 2014, born from a painting and drinking concept conceived in 2011. As Chad details, the couple had benefitted from a chain reaction of success: "We started off with a concept in which you attend a class, with a painting teacher, and learn how to paint something relatively basic on a small canvas, ultimately whilst socializing and drinking with the group. With the success and sales volume of wine we were seeing, we saw an opportunity in a city that was almost exclusively craft bourbon and beer. LouVino, a small-plates restaurant and wine bar – with around 50 to 60 wines by the glass– was born. LouVino was extremely successful and popular and grew into five locations across three states, but it was missing a certain element.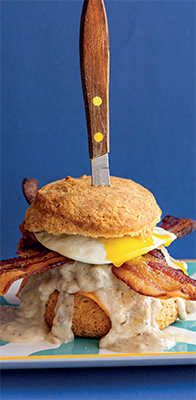 "It isn't a particularly scalable model and after five months of opening the first location, our executive chef, Tavis Rockwell, and I, started toying around with the idea of a biscuit restaurant," he continues. "Fast forward to 2018 and we committed to the concept and started working on all of the start-up elements. Tavis' knowledge and culinary skills were integral to the design of the menu and we worked with a couple of branding agencies. Then, to back it all up, Lauren and I were introduced to Chuck Schnatter, our sole partner – Chuck's brother John Schnatter was the founder of Papa Johns, and Chuck worked in the brand before it even had the name Papa Johns. He has seen real growth and is preventing us from making bad decisions. Our first unit opened the following year and by the year's end, we had a second in the same city."
Today, the established brand of Biscuit Belly presents itself as a fun, family-friendly alternative for those who are tired of old-style American breakfast restaurants. It offers a contemporary, southern twist on traditional menus, revolving around gourmet biscuit sandwiches. The company aims to offer its customers an elevated take on hospitality, as Chad explains: "It's a fast-casual breakfast/brunch concept. People stand in line to order at the counter but after that it's pretty much a full-service model. We run the food, and drinks and bus the tables, so there are more service touch points than in your average fast-casual. We like to have a good time and try to reflect our cheery atmosphere in our bright colors and upbeat music. We select staff that fit into our culture and want to be happy and smile while they provide their excellent customer service.
"In lieu of the traditional egg, bacon and cheese biscuit sandwiches, we're offering heavy, fried southern soul food. The likes of fried chicken with gravy and bacon or sweet pepper jelly with goat cheese. They aren't easy to eat while you're walking down the street, it's definitely a 'knife and fork' scenario. Besides our sandwiches and 'open-faced biscuits,' we run a range of other breakfast favorites, along with a full barista coffee selection and a list of breakfast cocktails. It's all very much comfort food, southern-based from a flavor and heartiness point-of-view, to fill both your belly and soul."
The business had to adapt its original model when the pandemic hit; it paused the process of acquiring several new leases and made the call to enter the home-delivery market. This is something that Chad had previously been completely against, on the grounds that the format lacks cohesion with the overall concept of Biscuit Belly. As he states: "We would never have done it, if it wasn't for the pandemic, but from a sales perspective we didn't have a choice. We were holding on to the experiential element of the food, we wanted it to be served hot and fresh straight to your table – however, to this day our online-ordering income makes up around 30 percent of our sales every week. We're now investing more into our digital side to accommodate it."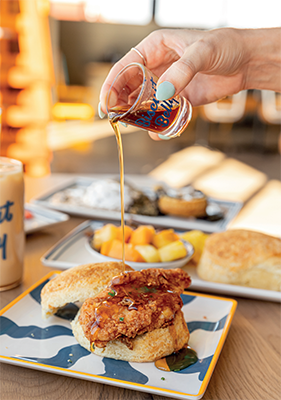 Thriving franchise
As restrictions were lifted, Biscuit Belly continued its endeavor to be a widely recognized brand within the restaurant industry. In October 2020, it made the necessary preparations to start franchising and in 2021, signed three major deals worth 15 locations across four different states. "Our unit economics were very enticing for potential franchise brands – everyone we have brought into the brand is experienced with multi-unit franchises such as KFC and Five Guys," Chad says. "For now, we are filling the pipeline with people that are like-minded, fit in with the culture and can be patient with a couple of growing pains here and there." We are also investing in people that can helpus grow to the next level. We are extremely top-heavy at our Support Center but we know it is needed and has already paid off huge dividends in our preparedness.
"Right now, we have six restaurants open – four corporate and two franchise locations. The two franchised units are in Lexington, Kentucky and the other in Acworth, Georgia. Then going forward into 2023, we will have two more units open in Lexington, two in Alabama (Huntsville and Hoover), another in Chesapeake, Virginia, one in Raleigh, North Carolina and hopefully another three in Georgia. We also have interest in Charlotte, North Carolina, Florida and several other Midwest and Southern states. Our goal by the end of the year is a total of 15 to 18 units, more than doubling our size in the space of 12 months."
In creating a wonderful place for employees to work and customers to eat, Biscuit Belly is directly increasing the appeal to potential-franchisees too. As Chad concludes: "We have a very strong value proposition in the unit economics, hours of operation and number of employees. Hiring and retaining staff is better than most in the restaurant industry, particularly with the more sociable hours of seven am until two pm and in such a thriving atmosphere."
www.biscuitbelly.com