The Bistro Group provides quality experiences in its TGI Fridays and McAlister's Deli locations.
After nearly 30 years, The Bistro Group thrives by having a local feel in each of its restaurants, even if those eateries are nationally known, such as TGI Fridays and McAlister's Deli. "We relate to [our communities]," Chairman of the Board Sean Conway says. "We're not this megabrand that doesn't understand you."
Conway's father, Bob Conway Sr., and business partner Karl Davis founded The Bistro Group in 1989. During the startup, the two bought two existing TGI Fridays locations and won the rights to develop three more in Kentucky and the greater Cincinnati metropolitan area.
The Bistro Group expanded its territories with TGI Fridays up until the early 2000s, Sean Conway says. However, "We needed a new growth instrument after 2001," he recalls, noting that the company then became a McAlister's Deli franchisee.
Today, The Bistro Group maintains quality within both franchises. "That's something we talk about every day," Conway says, noting that the company places a strong focus on how people impact its business.
"If you don't have a cook or a server that's properly trained, the whole customer experience is going to be a mess," he says, noting that the company's restaurants also avoid shortcuts. "It's easy to get tempted by it, but as soon as you start compromising your standards, you lose your hold on customers."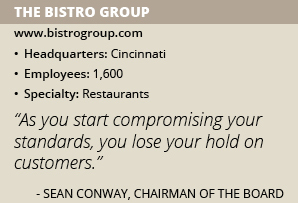 Fresher Images
The Bistro Group has 25 TGI Fridays restaurants and five McAlister's Delis, but it will add another McAlister's in Cincinnati next year. It also is in the process of remodeling its sites. "That interrupts your cash flows, but it's important to be updating your locations," Conway says.
"You need to give it that fresher image," he says. "From a maintenance standpoint, [you should] make everything look nice again, making your customers feel like this is a premium establishment."
The Bistro Group has added LED lighting during this process. Not only does this give its locations better light, but "it has great savings as far as our electricity, which is great for the environment," Conway says. "We find our customers are appreciating what we do to become more sensitive to that."
The restaurants also updated its point-of-sale systems to support chip credit cards, and added online ordering for TGI Fridays. "That really has been particularly helpful for us on the McAlister's brand, but we're looking to grow [Fridays]," he says.
"We feel there's a lot of opportunity to there, so we're making a lot of our efforts this year," he says, noting that The Bistro Group has already seen strong results. "Fridays is doing better each week, but we're not going to see its capabilities until the second half of this year."
A Changing Market
TGI Fridays casual dining market was a rapidly growing area for a long time, but it has since matured, Conway says. "The capacity has plateaued, but you still have more units coming into the market," he says.
"It's made holding onto market share a big challenge," he admits. "You can see all the brands are having challenges, even maintaining sales, much less growing them."
Like others in the industry, The Bistro Group strives to cope by staying innovative with new products that customers want. "It's a challenge of finding them and executing them properly," he says.
The franchisors also look at ways to appeal to millennials. "How you reach your customers and how they socialize is a lot different," he says, noting that TGI Fridays was originally developed for baby boomers.
But McAlister's Deli, which was developed more for the millennial demographic, is experiencing healthy business. "We've had very strong same store sales growth over the last eight years or so," he says. "That brand has been really thriving for us."
Strong Support
The Bistro Group promotes teamwork in its locations. "The Fridays brand really emphasizes teamwork and a lot of our training is really centered around how we work as a team," Conway says.
"If you're not working together, everyone's going to have a bad day," he says, noting that his philosophy promotes more fun in the workplace. "It's a very supportive environment."
He sees growth for The Bistro Group. "We'll continue to look for opportunities for both brands," he says, noting that it will particularly focus on McAlister's Deli. "We're going to open one in 2018 and just continually improve our operations."