The Chopping Block provides a positive outlet for its chefs as well as its students.
Shelley Young founded The Chopping Block with a greater purpose in mind than just becoming her own boss. "The impetus around it was related to what I was seeing in the industry at large," she says. "It wasn't so much a passion to create The Chopping Block per se as much as it was to create an environment where people can thrive.
"When I looked at the service industry, in particular foodservice, I noticed people were not treating it as a career," Young adds. "In Europe, being in the service industry is thought of as a career, but in the United States, it's thought of as something you just do during college, and I didn't understand that. I wanted to know why that is, and found out that people feel that there's no opportunity to grow, no job security and they're unable to express the things they feel they can contribute to their employers."
Giving her employees a career path and allowing them to grow through training and enrichment programs has been a focus of Young's since she started the company in Chicago in 1997. Before starting the company, Young had worked in the culinary industry for 17 years. She moved to Chicago from San Diego after taking a job as a private chef; shortly after relocating, she also took a job as a chef in a French restaurant.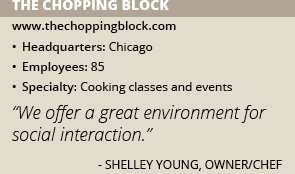 While still working in both of those positions, Young started The Chopping Block as a small antique cookware shop and cooking school. Today, the business has retail spaces in two locations and is one of the busiest recreational cooking schools in the country, as it offers roughly 350 recreational cooking classes and private events each month. "We do as many classes in one month as most schools do in a year," Young says.
'Igniting a Spark'
Each location of The Chopping Block has three kitchens to accommodate students. The company is in the processes of remodeling the kitchens to make them more inviting for students. "People appreciate being in a place that's beautiful and well cared-for, and renovating also allows us to address deficiencies in our work spaces," Young says.
The majority of The Chopping Block's instructors are chefs who teach for the company exclusively, though it occasionally uses outside industry experts for specialized classes such as wine, mixology and nutrition. "Our instructors come to us as professional chefs, but not as teachers, so we provide them with training," she adds.
The Chopping Block's classes attract students ranging in age, skill and experience. Classes include courses in specific techniques such as knife skills, as well as hands-on classes. Hands-on classes give students the opportunity to prepare a meal with a chef's assistance, and then enjoy that meal after it is prepared.
"For us, the best class is when you can respond to your audience and give them what they want," Young says. "A lot of our customers don't enjoy cooking, but if we can ignite that spark in them that makes them enjoy it more, that's very fulfilling for us."
Unique Experiences
The largest revenue stream for the company is corporate team building events. For The Chopping Block, adding the unique aspect of cooking to a company's outings, team buildings or client entertaining has been widely popular. The company is uniquely equipped to accommodate large groups up to 200 people or as small as 1 person. Wine and spirit education and service provides a full service experience to a private event, the company adds.
"Events are a huge part of our business. We offer a great environment for social interaction," Young says. "At our events, people get a very unique experience."
The Chopping Block's events and classes have earned positive reviews from students. "We know how to train, develop and pick our staff, so our quality of education is very high," Young says. "Having employees who are happy in their positions and really want to be here allows them to create an environment that is enticing for our customers.
"A lot of our customers, after taking a class, tell us they want to work here, and that is perhaps the biggest compliment we can be paid," she adds.