Christie Cookie has been meeting the needs of its clients for 35 years.
When someone bites into an item from The Christie Cookie Co., they can be confident in the fact that their treat was made with made with the best ingredients possible. These range from 100 percent real butter to Madagascar bourbon vanilla to chocolate chips from sustainably farmed cocoa beans.
"Everybody is looking for good, quality ingredients in their product," Senior Vice President of Foodservice Sales Mark Budd says. "We're filling a big void, especially in the cookie category."
Christie Cookie, which is celebrating its 35th anniversary this year, offers its signature cookies, brownies and frozen dough pucks in various sizes. Founder Christie Hauck started the company in 1983 with a single store in downtown Nashville, Tenn.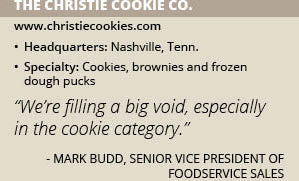 Today, Christie Cookie operates from a production facility in Nashville's Germantown area. The location, which employs a staff of more than 100, bakes more than 100 million cookies annually. Nevertheless, each batch is hand measured before it leaves the plant.
Budd notes that Christie Cookie serves a customer base that includes the fast-casual market, in-store bakeries and hospitality clients, including Hilton Hotels & Resorts. In fact, the company creates the DoubleTree cookie for Hilton's DoubleTree chain. "That's a large part of how we grew our foodservice sector," Budd declares. "We're grateful for our partnership with Hilton and the cookie we're able to provide them."
Making it Easy
Christie Cookie offers a frozen dough line, which its clients use to bake products, and a pre-baked line of items. The latter, Budd notes, are particularly popular with fast-casual clients.
"They're all looking for some consistency in product and consistency in ease of service on products," he explains. "Our pre-baked items are easily able to help them out, because they just thaw and serve.
"We're seeing a huge uptick in that category for the many customers we deal with," he says, noting that Christie Cookie also provides convenience by including sealable cookie bags and stickers with each shipment.
"They take the cookies out, put them in a sealable bag that's included in the case and put the stickers on them," he explains, noting that this makes them ready for sale. "It's a relatively easy process for our customers."
Flying High
Christie Cookie recently formed a partnership with American Airlines. "They were looking to upgrade their domestic first class and business class dessert," Budd recalls. "We were one of many companies they looked at, and we're honored to have come out on top."
American Airlines appreciated the quality of Christie Cookie's products, and now serves its pre-baked chocolate chunk and snickerdoodle cookies. "It's a great company to be aligned with," he says.
Boosting the Brand
Christie Cookie is focused on growing its brand. Recently, the company added a cookie kiosk in the Bridgestone Arena where the Nashville Predators play, Budd says.
The company also participates in Nashville's Music City Food + Wine Festival, where it debuted its Nashville Hot Cookie in collaboration with Hattie B's, "which has been very popular," Budd says, noting that the chocolate cookie features cinnamon and spices. "It's got a little kick at the end, which gives it a flavorful twist." Christie Cookie regularly partners with numerous Nashville-based restaurants and chefs who use its product to create signature desserts.
Christie Cookie also has created its own catering division to serve Nashville. "We deliver catering trays, coffees and muffins directly from our plant to local Nashville businesses, parties and catering events," he says. "We've seen a demand for our product in Nashville and our catering division provides the city with tasteful, fresh-baked treats for its catering needs."
A 33-year veteran of the food industry, Budd joined Christie Cookie nearly two years ago. "It's a tremendous team and a great company to be a part of," he raves, noting this is largely due to the leadership of owner and President Fleming Wilt. "He's created a fantastic atmosphere for workers," Budd says. "Fleming provides the opportunity to make decisions and take the company to a different level now. It's a very positive, team-oriented environment."
Budd also praises COO Ken Wilson. Although Christie Cookie's plant has not undergone any recent changes or additions, "He's been able to manage the increased demand of our product and additional SKUs," Budd says. "He's done a fabulous job in making sure that we've kept up production and kept up pace with what customers are looking for."
He predicts that Christie Cookie will continue providing the best products in its category and continue to grow organically. However, "Customers are always looking for something unique and different," Budd says. "We're going to continue to strive to provide those innovative flavors. We're also going to continue to look for things that are not necessarily flavor-related, but can help our customers react to some of the operational challenges they face every day."
Local Muse
The Christie Cookie Co. takes pride in its home of Nashville, Tenn. "On these legendary sidewalks, you'll hear three-string chords floating through open doorways as local troubadours warm up for the first set of the night," it says. "Weathered bricks of famed auditoriums testify; it's the good stuff that lasts," Christie Cookie says. "Anything is possible in this place. "With conviction, we cross the doorframe to our own little piece of Nashville authenticity – the Christie Cookie bakery," the company says. "We tie on crisp white aprons, honored to prepare the signature cookies our customers crave." Nashville locals also don't have to go to stores to get a taste of Christie Cookie. Its headquarters features a bakery storefront where they can buy cookies, brownies, muffins, gift tins, coffee and branded merchandise. "Nashville's our muse, our home, our way of life – we wouldn't have it any other way," the company says.