The Club at Ibis has become a thriving social community that surpasses its members' expectations with personalized service and continuous innovation.
The Club at Ibis in West Palm Beach, Fla., averages a new home sale and membership every three days because of its unparalleled amenities that offer a luxurious lifestyle that is second-to-none. "We pride ourselves on setting industry trends, not following them," Director of Operations Sharon Meirav says. "We are constantly innovating, trying to come up with ways to enhance our level of service for the members. What we did last season was great, now let's figure out how we can build upon that to make it even better for next season."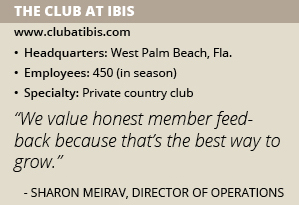 As the third-largest private country club in Florida, The Club at Ibis includes more than 1,800 homes in 33 distinct communities on about 2,000 acres. The club offers villas, condos, single-family and estate homes with the average cost of a home being $491,000. "Ibis is a mandatory membership club, meaning members must own a home in the community," Meirav notes. "Ibis has a distinct winter season, but we are fortunate to be busy all year. More than 55 percent of our members reside at Ibis year round and for the other half, this is their second or third home."
Membership diversity is key in developing a thriving social community, Meirav says. "Ibis offers an incredible array of activities for our members. An example are the dozens of 'clubs within the club' that provide an opportunity for our members to connect in a way that is unique to the traditional social setting," he adds. "We never settle for the status quo. One of our core values is innovation. We live that daily by seeking new ways to cater to our members so they can have a dynamic experience with their families. At the end of the day, it is about building a community and supporting that vision in a unique, wholesome and family-oriented way."
The Club at Ibis is the only country club that offers three 18-hole Jack Nicklaus-family designed golf courses, as well as 16 Har-Tru hydrogrid tennis courts, four pickleball courts, an innovative fitness center, resort-style pool, lap pool and spa facilities. The club offers four restaurants and prides itself on personalized service, because every amenity at the club is considered an extension of its members' homes.
Improving Service
The Bistro, The Atrium, The Pub and Panache are the four restaurants in The Club at Ibis. "One of the ways we provide personalized service is by recording member preferences," Meirav says. "We pay attention to the details and take the time to learn our members' favorite drink, dietary needs, wedding anniversaries, and special requests. All of the information is logged into our point of sale system. The next time a member dines with us, we are one step ahead and able to make every dining experience memorable."
The Club at Ibis' staff, which consists of 450 team members in-season, is responsible for customizing experiences to each member. The club ensures its people are trained and continuously educated and assessed throughout the year. "Our service training focuses on the importance of forming sincere connections with members. We encourage employees to bring their personality to the position. Our members enjoy getting to know the employees, as much as we enjoy getting to know them. It builds an emotional connection that enhances our level of personalized service. This is their home, so that is exactly the type of environment we want to create," Meirav explains. "Assigning employees to a "home" restaurant, instead of cross utilizing them among all dining outlets, gives them the opportunity to really establish that connection with the members who frequent the restaurant."
"At the end of every meal, servers present members with a tablet that includes their check and a new questionnaire each month. Partnering with Humm Systems, The Club at Ibis management receives on-premise, real-time feedback from the tablet. We can ask the members for feedback on anything from their engagement with the hostess, to the food presentation and quality," Meirav says. "If a score falls below 80 percent satisfaction, the restaurant manager receives an alert on his/her cell phone so he/she can approach the table and handle the situation immediately."
The Club at Ibis prides itself on being a "green club." It recently installed an EcoSafe Food Digester in the kitchen that works 24/7 to turn food waste into harmless grey water. "Ibis is very proud to be a 95 percent recycling facility. We have completely eliminated the use of Styrofoam club-wide and are utilizing a single-stream recycling system," Meirav notes. "In addition to reducing our environmental footprint, these changes are saving the club money by dramatically decreasing our waste hauling charges and improving the safety and overall appearance of our loading dock. It's a win-win for members and our staff."
Continued Enhancements
The Club at Ibis recently expanded its clubhouse by 60 percent. "The Pub is the favorite spot for members," Meirav says. "It has a real sports bar feel with close to 20 televisions, featuring live sports games. The Pub seats 80 inside and another 80 outside on the covered terrace that overlooks the Legend Golf Course. Our members enjoy it year round. In addition to the new dining outlets, our ballroom was expanded by 25 percent. We can now accommodate 550 people for a plated-dinner event."
The Chef's Table is a new feature in the kitchen of the club's fine dining restaurant, Panache. The tableside dinner show and wine tasting offers members a rare opportunity to watch as Executive Chef Jerome Nicolas and his team create a memorable dining experience for them.
The Club at Ibis is also in the process of a $5.5 million renovation of the Jack Nicklaus signature golf course that is expected to open in the fall. The course is being redesigned by Jack Nicklaus. In the future, the club will look to build a possible parking garage to accommodate more members, an additional restaurant, and a multi-purpose room.
Moving forward, the club expects to grow by 300 memberships and has 45 lots still available on the property. As more members join every day, The Club at Ibis will continue to focus on personalizing service while enhancing its offerings. "Twice a year, we do a survey to check in with our members on their satisfaction with the club's services and facilities," with results of 92 percent overall member satisfaction and 97% service satisfaction. Meirav says. "We value honest member feedback, because that's the best way to grow."