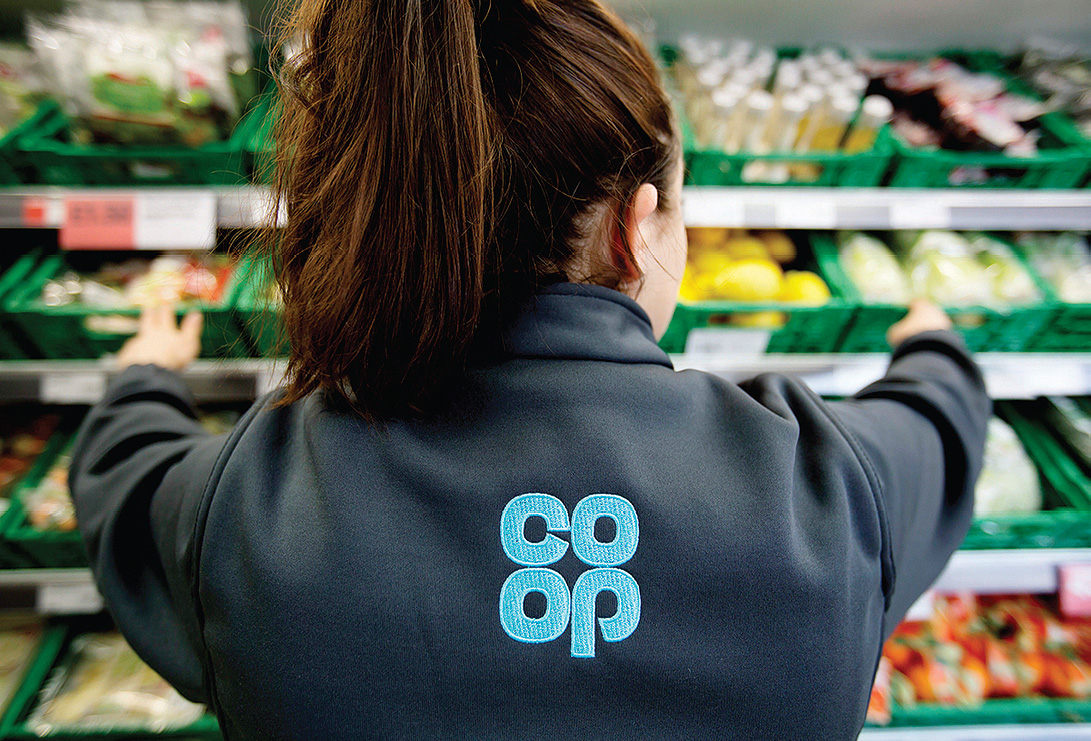 Locally sourced, locally loved
Whether it is through promoting local British produce, engaging its members or working with thousands of good causes, The Co-op is all about making a positive, lasting difference
While it is understandably proud of its history, which it can trace back to the Rochdale Pioneers in the mid-1800s, The Co-op is clearly focused on its future, moving forward with a clear purpose
and momentum. "In recent times, we have invested considerably in The Co-op brand, its businesses, colleagues and communities," begins Divisional Managing Director, Tina Mitchell. "In the last 12 months, we have relaunched our Co-op Membership scheme and returned to our iconic clover-leaf logo design. While this work is ongoing, results are already positive as we continue to outperform the convenience market with latest annual results showing a 3.5 per cent like-for- like sales increase."
Operating at the heart of communities, The Co-op identifies what it calls the 'Co-op Difference' as being what sets it apart. "Our members have a say in how we are run and our membership is continuing to grow," Tina – whose responsibilities include the community retailer's 160 convenience stores in Wales – continues. "The Co-op now has some 4.5 million active members UK-wide, and our ambition is to have around 400,000 members in Wales by the end of 2017. Our national television campaign included the message 'Great things happen when we work together' and coincided with over 4000 local good causes UK-wide sharing more than £9 million to make a difference to local lives in their communities.
Local champions
"This is money that has been raised by our members. Every time they swipe their membership card when buying Co-op own-branded products and services one per cent benefits local good causes. In Wales, all of that has added up with some 300 local organisations sharing around £500,000 in April 2017 to make a difference in their community. We have also raised £6 million for the British Red Cross, and our charity partnership will continue to work to confront the issues of loneliness and social isolation in local communities across the UK, reconnecting thousands of people with their local communities."
The term 'local' is also a cornerstone of The Co-op's food strategy, where it is committed to backing British. It knows that quality, trust and provenance are key themes for its customers and it is always working closely to champion, 42support and celebrate smaller, local producers. It is their traditions, passion and innovation which makes their products loved locally, and as a community retailer The Co-op is committed to giving these products pride of place in its stores. A further example of this came in May 2017, from which time all of The Co-op's own-branded fresh meat is to be British, adding to the British-only beef, chicken, ham, pork, sausages, duck and turkey that it already sold. It also only uses British meat in its own-label chilled ready meals, pies and sandwiches.
"Our work with local suppliers extends across all categories," Tina states. "For example, 11 smaller-scale Welsh breweries, which supply 23 Welsh ales, won contracts to supply the Co-op last December, while we have just given a first retail listing in Wales to a sports nutrition drink called Pro Iso. This was developed by performance nutritionist Jon Williams and former Olympic sprinter Darren Campbell, together with the Powys-based Radnor Hills Mineral Water Company. Our commitment to backing British agriculture will this year also see the Co-op offering record levels of Welsh beef and lamb. We have also teamed up with the Q Awards to search for the 'Small Producer of the Year', where we will work with finalists to give them a listing at their local Co-op."
Growth opportunities
The Co-op has been described by industry analysts and commentators as the fastest growing convenience retailer, and it is continually looking for opportunities to grow further still. "In 2016," Tina describes, "we opened more than 100 new stores UK-wide and we plan to open a similar amount throughout 2017, and in subsequent years. In Wales, the goal is to open up 12 new food stores in 2017. Our objective is for them to deliver a compelling, convenient and co-operative shopping experience locally, offering the right range in the right location, while working to become a local hub and an asset in the local community."
The first new Co-op store in Wales of 2017 opened in Rossett, near Wrexham, while others are planned for Bryn Road, Swansea, Cwmbach, Rhayader, Monmouth, Radyr, Pembroke, Llanelli and Machen. Meanwhile, a number of other stores are also benefitting from major makeovers, including stores in St David's Park, Old Colwyn, Holyhead, Talgarth and Barmouth. In total, The Co-op's multi-million-pound investment in its Welsh stores is estimated to create up to 250 new retail jobs.
"As we take such pride in giving back to the lives of our members and communities, the way we work with those members, our suppliers and each other will remain a key focus for years to come," Tina concludes. "We have to look for all opportunities to build and expand our reach for the future, to grow our business and our membership. We want to be the best convenience food business that we can possibly be. Serving our members and customers with the products and services that they need, when and where they need them. We have a proud and pioneering past, and by working together and being close to what our members, customers and communities care about, we can keep making that Co-op difference for another 170 years."