The Dinex Group brings Chef Daniel Boulud's vision of high-quality experiences to both fine-dining and quick-service restaurants.
Some days, Brett Traussi feels more like the general manager of a baseball team than the COO of a renowned restaurant group. "I'm managing incredibly talented people," he says. "I feel like my job is to know a little bit about a lot. I have so much respect for our chefs, general managers and sommeliers who know so much about their areas of expertise."
Every person plays an important role in Traussi's lineup, but the cleanup hitter is Chef Daniel Boulud, the founder and driving force behind The Dinex Group. "He is so passionate" Traussi says of Boulud. "Everything starts with the food, then the customer experience."
Dinex's food-first focus means it is often ahead of trends in the industry. Take for example the fervor in recent years for local sourcing, sustainable and organic foods. "That hasn't been part of our story over the years because we always took that for granted," Traussi says. "Our customers began to ask us about that. It kind of caught us by surprise because it's what we've been doing all along."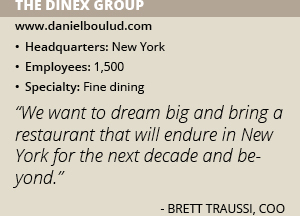 High Standards
The formation of the Dinex Group in 1998 as the holding company for Boulud's restaurants signaled the beginning of the company's expansion period. In the nearly two decades since, Dinex has grown to encompass 17 restaurants staffed by 1,500 employees. "I like to say 'It's always easier to run a restaurant from the office,'" Traussi says. "Meaning, it's so essential to be in a restaurant and be part of the customer experience and the problems that can occur. But by the same token, it's important to plan my time so that the entire operation can move forward."
The company is centered in New York City, where it operates nine restaurants. It also has restaurants in Boston, Miami, Washington, D.C., Palm Beach, Fla., Montreal and Toronto. For its overseas locations, Dinex has partnered with Sands Resorts in Singapore at DB Bistro & Oyster Bar and Mandarin Oriental at Bar Boulud in London, which stand for quality and share its commitment to excellence.
Dinex's restaurants serve a range of tastes from the fine dining elegance of Daniel to the classic French-American cuisine at Café Boulud to the foie gras-stuffed gourmet burgers at DB Bistro Moderne. Although they serve different dishes, each of Dinex's concepts share a sense of culinary excellence and integrity of ingredients.
Some of the restaurant group's best-known dishes include its braised short ribs cooked in red wine for 20 hours and its charcuterie programs, which was developed with Gilles Verot, a third-generation charcutier from Paris. "The business just continues to move in a more and more casual direction," Traussi says. "We have made our reputation in luxury – even our casual restaurants hold a very high standard for a product and service."
The company's newest concept is Epicerie Boulud, a quick-service restaurant featuring artisanally baked breads, pastries, soups and sandwiches, house-made sausages, and an oyster bar. The first Epicerie Boulud opened across from New York's Lincoln Center in 2011 and two more locations have followed in the Plaza Food Hall and the recently opened World Trade Center Oculus. For those who can't make it to an Epicerie Boulud location, the restaurant offers catering and ships gourmet gift boxes nationwide.
Customers are more demanding than ever. An innovative beverage selection has become just as much a part of a restaurant's identity as its signature dishes. To meet those expectations, Dinex continues to source wines from biodynamic producers and is focusing more on its mixology programs.
Some of those drink programs involve serious time investments. Wine director and James Beard award-winner Daniel Johnnes moved to Lyon, France, for a year to investigate new products for the group's restaurants. "The inspiration, education and exposure we get by allowing Daniel to be in France is well worth what we give up by [losing] his physical presence," Traussi says.
Such programs help Dinex build relationships with suppliers and find inspiration for new dishes and pairings. That extends to its food suppliers as well. "Our reputation allows us to have farmers, fishermen and ranchers come to us to experience and showcase their products," Traussi says. Chefs are encouraged to meet regularly with distributors and farmers and the company has a food purchaser and culinary communications director who oversee those relationships.
"A big part of the job is sharing that information across all of the chefs," Traussi explains. "So if we get turned on to a special fish in one of the restaurants, we're able to use it in another operation as we feel appropriate."
Believing in Midtown
Keeping the guest experience fresh is crucial to continued success and relevancy in the restaurant industry. New dishes can breath life into a menu and ensure guests can enjoy surprising flavors every time they visit, but it's equally important to keep the look and atmosphere of a restaurant up to date.
Two of Dinex's restaurants will see design changes in the next year. Planning is already underway at DB Bistro Moderne in Miami to refresh the design and tweak the cuisine in a more Mediterranean direction. Bar Pleiades in New York, a chic bar with seasonal cocktails located adjacent to Cade Boulud, will also receive a facelift. The concept will remain the same, but the original designer, Lauren Rottet, will update the décor.
The company's most exciting project is the addition of its newest New York restaurant, which will be located in the $3 billion One Vanderbilt building now under construction in Midtown. The 11,00-square-foot restaurant will be located on the second floor and is expected to open with the tower in 2020. An Epicerie Boulud will also be built at the ground level of the building.
"We're very excited," Traussi says. "The building is absolutely gorgeous in such a vibrant part of New York City right next to Grand Central Terminal." As a bonus benefit, One Vanderbilt is located about three blocks from Dinex's headquarters. "We can really be on top of the construction and the operation," Traussi adds.
The main restaurant in One Vanderbilt, which has not yet been named, will be an upscale French concept on par with Café Boulud while the Epicerie will have a contemporary design in harmony with the building. "We want to dream big and bring a restaurant that will endure in New York for the next decade and beyond," Traussi says.
The new restaurant will add to the dining resurgence underway in Midtown. The area has seen new restaurants under development from Chef Daniel Humm as well as The Major Food Group, and Dinex's own DB Moderne has been operating in Midtown for 16 years. "We believe in New York," Traussi says.
The Epicerie in One Vanderbilt will be the fourth location for the concept. All of the Epiceries are served by a commissary located near DBGB and Dinex has already taken measures to ensure the addition of another location can be accommodated.
When the third Epicerie opened in the World Trade Center last October, the company saw a 30 percent jump in activity at the commissary. To accommodate its future growth, Dinex has invested in large-scale kitchen equipment that will be able to meet the demands of four restaurants.
Supporting Careers
Restaurants that survive for decades often have one trait in common: consistency. Dinex understands that experience breeds success, which is why the company values longtime employees. "I think our company represents a very good balance between a mom-and-pop operation, but we have a good corporate structure," Traussi says. "Daniel [Boulud] is an extremely loyal and compassionate leader."
Many of Dinex's chefs and corporate staff have been with the company for more than 10 years – some in the restaurants have been with Boulud even before he founded Dinex. Daniel's General Manager, for example, started off as a back server. "We do everything in our power to train and promote from within," Traussi says.
But before those promotions can occur, Dinex wants to ensure its employees are prepared to take on bigger roles. The company strives to give its employees the tools and skills needed for the next level so that when a position opens up they are ready to pursue it. Sous chefs must master purchasing, scheduling and payroll before they become executive chefs just as busboys must become familiar with the menu and customer interaction before they move up to waiters.
New managers start off working on the floor and are trailed by a trainer throughout the restaurant. Dinex's corporate office checks in with its managers on a monthly basis at first, and then quarterly as they settle into the role. Those interested in middle management can also attend open training sessions held six times each year at one of Boulud's restaurants. "When a position becomes available we want to make sure we can move very quickly," Traussi says.
Dinex takes its employee's career goals into consideration as it promotes personnel. Traussi says there are some sommeliers that would rather stay in the wine world than go into management, while some managers prefer working in their gastronomic restaurants versus a more casual concept. Having good middle management communication helps Dinex identify those employees with potential and put them on their desired career path. "It's important to understand people's goals are," Traussi says.
"I'm so proud to see all the people who have come through our doors and gone on to do great things all over the country and all over the world," he adds.