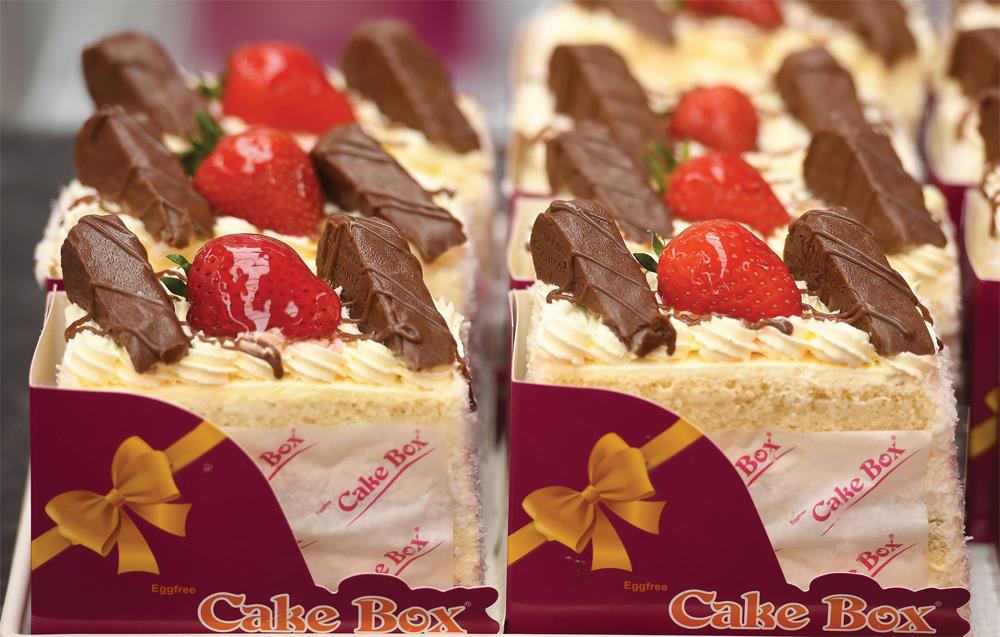 Treats for every occasion
The Egg Free Cake Box's one-of-a-kind proposition in the cake market has enabled the company to become a much-loved national brand in just a decade with excellent prospects for future growth
Back in 2008, the inability of Sukh Chamdal to source an eggless cake for his daughter's birthday, who is a lactose-vegetarian, prompted him to produce a recipe of his own. With the help of a Government grant and the South Bank University, a recipe was born. Coupled with the use of fresh cream, The Eggfree Cake Box was established, in turn creating a whole new market.
"We effectively created a whole new market segment," the company's CEO, Sukh Chamdal, exclaims. "Our approach is nothing short of exceptional across the retail sector, because we are capable
of offering our customers the convenience they want. Nowadays, we are all so busy that we do not want to wait for anything. This is where The Egg Free Cake Box is winning in the market – we give our customers the flexibility to either just pop in at one of our stores, order a cake and get it personalised on the spot for no extra charge, or order online and collect in a hassle-free fashion."
He gives an example inspired from the company's own experience to back his claim: "One of the peak times during the year for us is when the GCSE and A-levels results are announced. Parents and relatives do not know for sure what their children have achieved, but once they find out, they hasten to get a cake with a personalised message and we are able to do that for them in no time."
An eggless cake may sound a bit unusual at first, but Sukh insists that the taste of The Egg Free Cake Box's products is so skilfully developed that no one really misses the eggs or even detects their absence. "While it is impossible for me to reveal the secret to the sumptuous taste we achieve, I will say that we certainly put in extra tender love and care," he smiles.
"We couple this with exceptional customer service, giving our clients exactly what they want. Without our customers we would not exist, so we make sure we satisfy their demands, and the greatest reward for our efforts is seeing that all of the cakes in our range are extremely popular with people," Sukh enthuses. "There is no way I can pinpoint one particular cake that stands out, but our fresh fruit-topped and chocolate cakes are certainly among the best sellers. I should also note that our slices are quite large, which means that we offer very good value for money."
At The Egg Free Cake Box, R&D never stops. The company is constantly working on new products and it has just introduced its version of a red velvet cake with natural beetroot colour. "What is more, we have also launched a variety of loaf cakes – lemon drizzle, mixed fruit, carrot, and almond and cherry. We are also just about to release a range of vegan loaf cakes, as well as eggless French macaroons," Sukh reveals.
Due to its phenomenal early success, The Egg Free Cake Box adopted a franchise model only a year after it launched and it has taken the company only ten years to become a nationwide business. Today, The Egg Free Cake Box has a total of 116 branches all over the UK and its immediate goal is to take this figure to 250. "We are planning to open two shops per month and once we meet our objective, we will sit down and reassess it. There are lots of opportunities for us in the market, in places like shopping centres and supermarkets in the future," Sukh comments.
"As a company, we provide our franchisees with a turnkey package and unlike other franchisors we do not levy any management service charge or marketing fees. In addition, our strong senior management team offers full training and ongoing guidance to help our franchisees run the stores successfully. Crucially, the opportunity allows them to strike a much better work-life balance. Our franchisees are happy people who are committed to building the business, but who also value the quality of their life outside of work," he discusses.
"In general, we attract a lot of female franchisees and shop staff who make up the majority of the approximately 1000 work force across the whole estate of The Egg Free Cake Box and who feel empowered by the opportunity to work for themselves," Sukh adds. "Furthermore, we also have a lot of professionals like accountants and pharmacists who are willing to undertake a career change, in order to improve their work-life balance."
The Egg Free Cake Box's continued expansion has led the company to purchase two new warehouse and distribution centres in Coventry and Bradford, which will help support the company's future growth. Sponge production at the new centres will enable the company to reduce its distribution costs and provide a backup to its existing production facility in Enfield. The new warehouses Sukh notes: "The new facilities help support our disaster recovery plan as we grow, because if something happens in one depot, we will be able to react from another without disrupting operations. Our business is also committed to the highest standards of CSR and the opening of these facilities means that no shop in the country will be more than 90 minutes away from our depots. This will cut mileage and reduce our environmental impact."
Going forward, Sukh envisages more of the same for The Egg Free Cake Box in the years to come. "New products, new working methods and, ultimately, the continued growth of the business are definitely on the horizon. We regard our products as a treat and we will continue to pamper our customers, complementing their special occasions," he concludes.