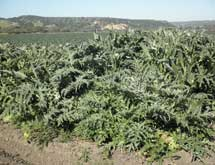 Salinas, Calif. – the salad bowl of the United States made famous by novelist John Steinbeck in "East of Eden" – used to be as overflowing with food brokers as a well-tossed Caesar salad. Family owned companies or ones like The Fresh Network, which is owned by three partners who started the business 25 years ago, are the norm now in Salinas.
"Bigger buying groups have their own transportation companies, loading docks and consolidation docks," says Celeste Settrini, sales team member with The Fresh Network. "We're just a small office with a core group of people buying and selling every day, still doing our thing and being successful at it."
Family owned farms are consolidating, and large corporations are increasing their investments in food production. These are the suppliers to The Fresh Network, which sells roughly 80 percent to food services like restaurants and cafeterias. Settrini estimates the rest of the company's sales are to a mixture of wholesalers and to companies that supply retailers.
The Fresh Network deals in a full range of fruits and vegetables, everything from standard items like lettuce, broccoli and cauliflower to more specialty items like zucchini, Napa cabbage and some Chinese vegetables. Organic products include spring mixes, baby spinach and celery. Strawberries, tree fruit and citrus highlight a full range of fruit offerings as well.
Sources of the food include farms in the Salinas and Coachella valleys in California, Yuma and Imperial valleys in Arizona, and Mexico. Distribution is primarily in the United States, especially in the Midwest and along the East Coast. The company also distributes in the Cincinnati area – where Castellini Co., The Fresh Network's silent partner is located – Texas, Arizona and in parts of Canada. Its farthest customer is in Holtsville, N.Y.
"We will load on Monday or Tuesday, and it will be there by the end of the week," she declares. "The farmers have perfected things. The best produce they always keep to send the furthest. We've got some of the best broccoli we're shipping to New York. We have customers here in California you would send produce that might be a little more mature."
Less Competition
Settrini remembers when more food brokers were in business in Salinas. "When I started 19 years ago, there were all kinds of brokers and shippers around," she recalls. "If you didn't like your job, you could quit, and in another couple days, you'd have a job with another produce company. Now it's not like that."
The Fresh Network used to have offices in other states and its own company that would broker transportation for it and other customers. But Settrini says they were spreading themselves too thin and now concentrate on sales. "We found that was the best route to go, and it's working for us, so we just keep plugging along," she says.
The Fresh Network uses shippers instead of its shipping department. "Personality plays a big role in things," Settrini says. "When you have good relations with the shippers you deal with and good relationships with your customers, I think that's huge."
Facing Social Media
Marketing opportunities for food brokers are opening up at low cost with social media.
Settrini says many major produce companies have their own Facebook pages, which is an easy outlet for free advertising. "I think we need to get a Facebook page – I'm a real big Facebook junkie," she says. "I'm always trying to get them to do more fun marketing stuff."
The advantage of using food brokers is the personalized services they provide their customers. These include using The Fresh Network's flyers with their own letterheads and being able to pinpoint the best crops. For instance, if a customer wants the best load of broccoli currently available, The Fresh Network can tell him or her where it is.
"We subscribe to a service that is out in the field looking at the product," Settrini reports. "We have people who look in the field and say, 'Today, you want to buy company A's broccoli, because theirs is superior to everyone else's,'" Settrini says. "We get reports and we can send those out as well. That's another added benefit we try to do."