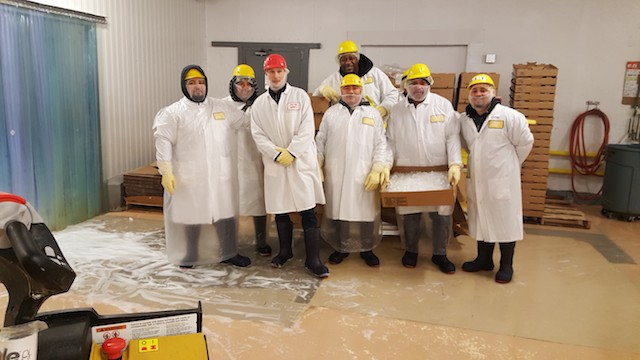 The Fulton Market Company
The Fulton Market Company makes the right moves to be a complete protein and produce solution for foodservice and grocery stores.
In March of 2016, this family owned meat packer relocated from its famous 939 Fulton Street address in Chicago's West Loop to its new processing and distribution plant on Chicago's south side. It also acquired one if its major competitors, renamed itself and made significant investments in equipment and technology, giving it greater capabilities to deliver on the promise of "excellence in quality, value and service… second to none." The Fulton Market Company is now one of the Midwest's very few USDA-inspected food distributors that processes both red meat and poultry.
Originally known as Economy Packing, the company was founded by Joseph Lustman in 1932 in the Fulton Market area of Chicago. The 16 city blocks of Fulton Street between Halsted and Ashland was known as one of Chicago's most famous wholesale produce and meatpacking districts. From this location, the company processed and shipped prime and choice steaks, fresh grinds and burgers, along with pork, veal, lamb, poultry and seafood to the finest restaurants, clubs and grocery stores for close to 84 years.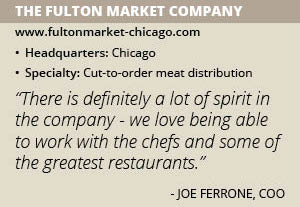 When the company moved to its new location on the city's south side, Economy Packing became The Fulton Market Company, but maintained its dedication to quality and service.
'Demands of Excellence'
Today, Fulton Market is run by the third generation of the Lustman family – President and CEO Jim Lustman – leading an operation that is well known for delivering quality, center-of-the-plate proteins to big-name restaurants and hotels in a fast, ever-changing marketplace. Since the company's relocation, it has made a major push to exclusively market and distribute organic, farmer-owned, local and certified humane protein companies, which has made Fulton Market a leader in serving the high-end foodservice operators and grocery stores. Additionally, this helps its customers distinguish themselves in the competitive Chicago food scene, and helps independent groceries compete against the corporate stores.
"In the last 10 years, we've have grown significantly by working closely with some of the world's finest meat packers and farms, all right here in the Midwest, companies that are going above and beyond to meet the demand for healthy, quality products that are organic, antibiotic-free, certified humane, all-natural products," COO Joe Ferrone says. "Creekstone, Greater Omaha, Grass Run Farms, Berkshire Heritage Pork and the Compart Family Farms are just a few of the premium beef and pork packers we work with closely."
Last year, Fulton Market started distributing two premium brands of poultry, Shenandoah Valley Organics and Mary's Poultry from Iowa. "These family-owned companies are leaders in the industry offering Step-3 certified organic, pasture-raised chickens both for retail and foodservice," Ferrone explains. "They are the fastest-growing category by far."
To back up these quality products, Fulton Market remains dedicated to service, which is the prime goal of its loyal, hardworking staff, Ferrone stresses.
"Our sales staff has been with us more than 10 years on average," he says. "Jimmy, our CEO and president, has been here since he was a kid. There is definitely a lot of spirit in the company – we love being able to work with the chefs and some of the greatest restaurants and dealing with their demands of excellence with the products we bring in and source for them. It can be very fast-paced, but we enjoy it."