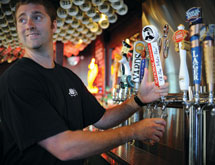 If it's Tuesday, it must be the American Heart Association, the Am-erican Cancer Society, a local charity – or all of the above, and more – that is being helped by one of the 33 Greene Turtle casual dining restaurants/sports bars. As part of the popular Maryland-based chain's Funds for Friends program, individual restaurants team up with local organizations or local branches of national organizations, select a specific benefit date and donate 10 percent of that day's total sales to the organization in exchange for the organization having encouraged members, friends and family to patronize the location on that date. The Greene Turtle has donated more than $1 million since the program's inception to help more than 500 local organizations and community partners.
Being involved in the communities it serves is more than just a way for The Greene Turtle to say thanks to local residents for patronizing its restaurants. It's reflective of the company's overall philosophy.
"This isn't just a business tactic – it's a state of mind for everyone at The Greene Turtle," President and CEO Bob Barry explains. "We also do a program every Christmas that is really unique called Tips for Tots. Our staff donates the tips they receive on a certain day during the holiday season. Then each store takes whatever they receive that day – one store last year raised over $5,500 from tips – and goes out and buys toys to donate to Toys for Tots."
Another way that The Greene Turtle maintains its neighborhood feel is through its famous Mug Club. "People come in and purchase a mug for $40, and it's theirs for life," Barry explains. "You get discounts on drinks, invitations to monthly Mug Club parties and other members-only exclusives. Many mug club members have mugs in multiple locations, and some are so attached to their mugs and to The Greene Turtle that they've stipulated that they be buried with them. We feel that they almost have a sense of ownership, because they own that mug that is in that bar. That's something we feel is very unique."
Hare Today, There Tomorrow
Like the tortoise that beat the hare, The Greene Turtle is winning at the casual-dining competition by making sure but steady progress in expanding throughout the East. The company was founded in 1976 in Ocean City, Md., and grew slowly for several decades. More recently, the chain has been accelerating its growth, in part by attracting sophisticated, well-heeled investors who can – and will – open multiple units over a relatively short period. Recent deals for five units in Fairfax County, Md., by one such group, and for at least 10 in New York by another, are positioning The Greene Turtle for significant growth in the next few years. By the end of this year, the chain will have 36 locations. Two more are scheduled to open in the first quarter of 2013, and approximately two dozen additional units have already been sold and are awaiting development.
"Our plan is to have 50 opened and operated by 2015, if not sooner," Barry predicts. "By 2015, we should have another 50 sold. That's our game plan." He expects a total of 100 locations to be open by 2017.
Approximately 60 percent of The Greene Turtle's current locations are franchise-owned. Barry expects that figure to be closer to 80 percent by the time 100 locations are opened. "We're getting smarter and better thanks to the addition of several franchise groups that may also have other concepts or that bring a lot of business and market savvy as well as a local angle to the party," Barry explains.
A Fresh New Menu
The Greene Turtle's food offerings go way beyond the traditional burgers, wings and pub grub. The chain is known for its satisfying array of regional favorites, specialties of the house and comfort food standards. On the beverage side, the chain is participating in the craft beer movement, with an average of 24 tap handles at most locations. The Greene Turtle enjoys an above-average percentage of high-margin beverage sales as a percentage of overall sales.
This summer, as it does every year, The Greene Turtle introduced a new menu with many new items, including a number of lighter food options.
"We've certainly put a focus on lighter options on our new menu – especially with salads and fresh foods – but we have enough options to satisfy all family members," Barry emphasizes.
Vendors and a consulting chef helped develop the new menu. "We work extremely closely with our vendor partners," Barry stresses. "We use their resources and ask them what trends they're seeing.
"We have a person on staff who clearly is in charge of the menu development, Jeremy Larkin," he continues. "This year, we also hired a consultant chef, Bobby Jones, to bring in a new set of eyes and introduce some unique flavors we hadn't had in the past."
The company made significant changes to its latest menu. "This menu is about 65 percent new," Barry calculates. "We also changed plateware, which was a big move for us. We went to white plates in different shapes. We had colored plates before. We feel it makes the food pop off the plates."
Except for the small-scale but highly trafficked site located in Maryland's Baltimore/Washington International Airport, all of The Greene Turtle's 33 franchise and company locations use the same menu – occasionally with slight variations – which changes once or twice annually. Four times annually, the company tries out new dishes as limited-time offers that may end up on an upcoming menu. The latest menu dropped 10 regular items and now offers a total of 66.
Multiple factors influence menu changes – determining whether a dish is the only one using a particular ingredient, for example – and balancing the amount of grilled and fried foods to prevent logjams at those stations in the kitchen during busy periods. "You have to balance those things when making menu decisions – ingredients and stations – and is there a good balance between the two?" Barry asks.
Great food and drink, though certainly a key factor in The Greene Turtle's appeal, is certainly not the only part of the dining experience that brings customers in and keeps them coming back. Each restaurant typically has some 50 or more large overhead flat-screen TVs broadcasting a variety of headline and local sporting events. Every booth in each restaurant also has its own 19- to 21-inch flat-screen that can be tuned to the customer's choice of games, or to a selection of entertainment.
Design is a key factor in what attracts franchisees to The Greene Turtle as well. The locations – which are from 5,000 to 12,000 square feet in size – have certain standard decorating elements, but each location is unique in its layout. The Greene Turtle prides itself on having a flexible format that allows it to take advantage of more available properties, with conversions of vacated restaurants often lowering the cost and the time needed to get up and running with a new site.
Barry is bullish on The Greene Turtle. "I think we do a great job," he declares. "Now as we branch out with restaurants in Virginia and New York, and look to extend down to Florida and up into New England, our challenge will be to deliver that greatness consistently across all locations. To do that, we can't be good – we've got to be great each and every day. That's what will continue to set us apart