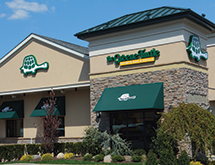 It may be best known as the place to come to put your cares aside and have some fun, but for The Greene Turtle, food is serious business. With a menu that includes soups, salads, burgers, sandwiches, wraps and a variety of other "comfort food" appetizers and entrees, and a bar list favored for its mix of craft beers and local and mainstream standards, the sports-themed full-service restaurant chain has perfected the recipe for casual dining popularity, and is now looking to replicate it in markets far beyond its Maryland base.
"Our competitors do a great job with their brands, but I think we are a little bit 'above the bar' as far as our food is concerned," President and CEO Bob Barry says.
Based in Hanover, Md., The Greene Turtle operates 38 sports bar and grille locations featuring handmade crabcakes and other crab-based dishes (evidencing its Maryland roots), as well as popular items, including hand-breaded chicken tenders and gourmet tacos. The menu undergoes regular review to keep it fresh and responsive to customer tastes and trends.
The company started in 1976 with its first location in Ocean City, Md. "From there, we grew slowly but steadily for quite a while," Barry says. Then the pace started picking up when the chain made a more concentrated effort to franchise.
The Greene Turtle added locations in downtown Baltimore and Laurel, Md., before franchising the concept in 2004. Today, "Most of our growth is via franchising," Barry says, adding that the company now has several franchisees with agreements that, once fulfilled, will place them in the double digits for total locations, plus others with multi-unit and multi-state commitments. Four more locations are scheduled to join the ranks in the next six to nine months.
The Greene Turtle is popularized by its family-friendly appeal, which it captures through its menu offerings, strong service and welcoming, neighborhood pub feel, Barry says. "We need to make sure that every guest that walks through the door has a great experience," he says.
That experience includes the friendly staff and relaxed atmosphere, the broad selection of comfort food favorites and proprietary specialties, and a sports-themed setting accented by team décor and big screen TVs broadcasting the latest in local, national and worldwide sports. These ingredients combine to make an offering that appeals equally to serious sports fans, families with young children, friends and colleagues looking for a comfortable place to meet, and others just looking for a great meal.
The restaurants add to this experience with flat-screen TVs at every booth so guests can watch their own choice of sports, cartoons and other family-friendly programming.
Creating A Unique Concept
Barry joined The Greene Turtle as chief operating officer in 2007, by which time he had already enjoyed a lengthy and successful career in the foodservice and hospitality field. He began working for Marriott Corp. in Miami in 1980, and then relocated to Washington, D.C., to serve as general manager of several concepts.
In 1987, he moved to W.R. Grace & Co.'s American Café division, and later became director of marketing for the company's culinary division. Ensuing roles included COO of retail chain The Great Cookie Ltd., and CEO of Bakery Resources Group – Ms. Desserts in Baltimore. Just before joining The Greene Turtle, he had been CEO of BMCKJ LLC, a custom food manufacturing company based in Laurel, Md.
From his earliest days with The Greene Turtle, he focused on positioning the chain for growth. "This was a long-established company with a great local following. It had all the right formulas for success but needed the capital and infrastructure in place to support growth and development of the franchise program," he recalls.
Barry's plan involved bringing in a private equity group, building the corporate team with experienced operations, marketing, training and other specialists, and refining the brand positioning to better leverage The Greene Turtle's many distinctive features.
Among the most popular of these features is The Greene Turtle's unique loyalty program, the Mug Club, in which customers pay a one-time fee to purchase their own personalized mug – identified by a unique number on the bottom – at their favorite location, and are served beverages in their mugs every time they return. Mug Club members enjoy privileges, including access to special events and discounts when they come to drink, Barry says.
Franchising Sets Up Expansion Success
The Greene Turtle continues developing new company-owned sites, and franchising is the preferred vehicle for expansion, Barry says. But the chain isn't looking to put a site on every corner. Rather, it maintains a highly selective process for identifying markets and locations in which to develop its restaurants.
Similarly, when recruiting franchisees, The Greene Turtle carefully vets candidates to make sure they're a good fit for the concept, and vice-versa. "We're generally not looking for newcomers who are unfamiliar with the restaurant business, unless they are willing and able to put an organization with that experience in place to manage their operations. Those are the top priorities for us – experience and infrastructure. We want groups who have or can readily put an organization in place that understands the ins and outs of the food business, preferably candidates who have also dealt with franchisors in the past."
For instance, Barry explains, The Greene Turtle's franchise group in New York, which is in the process of developing 10 locations on Long Island, includes two brothers who already have developed more than three-dozen Burger King sites in that market. Another group developing multiple units in Delaware and Pennsylvania already has Dunkin' Donuts locations in its portfolio. And a third group whose combined commitments in Maryland and Virginia total more than a dozen includes partners who operate other independent restaurants and are now adding Roy Rogers locations into the mix.
But The Greene Turtle does not expect its franchisees to know everything. Barry explains that the value of being part of a franchise system is gaining access to a larger, established organization that continually devotes its own time and resources to developing, testing and improving systems. "We do a really nice job putting people in a position where they have a strong potential for success," he says.
Branching Out
With its system now reaching into New York and into the southernmost reaches of Virginia, The Greene Turtle ultimately plans to be a national player, Barry says.
"We're expanding outside of the Mid-Atlantic market," he says, noting that The Greene Turtle is looking at sites for restaurants in North and South Carolina and New Jersey. "That's the future. I'd like to see us have 100 stores open by 2020."
One of the factors that will facilitate that growth is The Greene Turtle's flexible format, which allows the concept to go into a wide range of existing spaces and build them out to its design standards, often saving time needed to secure and develop new restaurants in prime locations.
"Our average size is about 7,000 square feet, however we have locations as small as 2,700 square feet. Even though those scaled-back sites are not typical, the fact that we can nicely adapt to available freestanding or inline spaces has been a real asset."
Another factor favored by food and drink purveyors and strengthening the performance of each location is the high percentage of sales of high-margin beverages as a portion of overall sales that The Greene Turtle enjoys, helping to bring more to the bottom line, Barry says.
With its long heritage, its well-maintained menu, the broad appeal of its sports-themed atmosphere, a growing list of experienced operators and a management team led by a seasoned food industry executive, The Greene Turtle has created a standout recipe for success. No doubt this is one turtle certain to travel far and wide, and gain much acclaim.