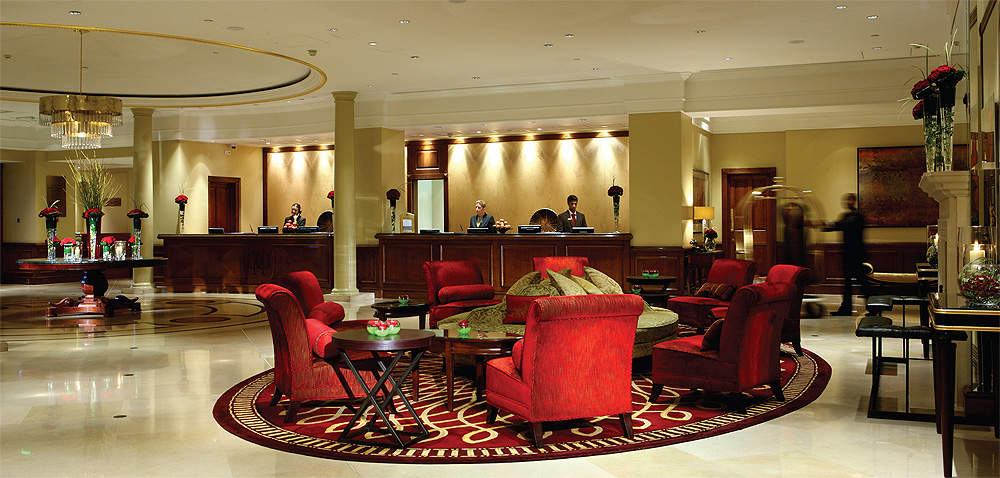 The Grosvenor House Hotel
Restoring glory
Following the recent launch of its first American steakhouse facility, The Grosvenor House Hotel continues to surpass guest expectations
Having celebrated its 80th anniversary in 2008, the Grosvenor House Hotel is now the JW Marriott flagship facility in Europe following its recent multi-million pound renovation. Having joined the international Marriott brand in 2004, the hotel has impressive and quintessentially English roots dating back to 1806 when Robert Grosvenor, who later became the first Marquess of Westminster and named the building after his family, bought it as a residency. Surviving two world wars means the hotel has maintained its imposing structure and it is now one of the most distinctive hotels in the capital. Moreover, Grosvenor House Hotel is also the largest five-star hotel in London, hosting a total of 494 bedrooms available in the three grades of Deluxe, Superior and Executive.


Having undergone the most extensive restoration of its kind, costing an investment of £120 million, the hotel now boasts some of the most cutting edge and advanced facilities in guest accommodation, while additional projects are ongoing. Funded by both JW Marriott and the Royal Bank of Scotland, 31the all-encompassing refurbishment and renovation programme, completed in 2008, has upgraded everything from pipes and boilers to the entire infrastructure of the hotel. Every single room, bathroom, piece of furniture, ballroom and restaurant has undergone a complete overhaul, bringing all facilities up to unrivalled standards. The focus of the programme has not only been on improving comfort, but also on enhancing fire safety and environmentally friendly credentials – the hotel now surpasses requirements in both areas.
Subsequent and additional projects are currently underway to complement Grosvenor House Hotel's new image and in May this year the hotel launched its first ever JW Steakhouse. Anthony Stewart-Moore, general manager of the hotel, explains: "We are very proud of the authentic steak house experience we offer which is the result of an extensive research programme that saw our chefs travelling to some of the best JW Marriott restaurants in the world including New York and Dubai. The menu is steak centric with 50 per cent of the steaks being USDA (United States Department for Agriculture) imported beef, while we also feature the best in British Aberdeen Angus beef. We also cater for a variety of tastes and appetites with an assortment of salads, soups, vegetarian dishes and pastas appearing on the menu, all of which are designed with the general public in mind and utilise the finest ingredients. We want to ensure that anyone can walk through the door and find something to eat, while enjoying a relaxed dining atmos here. Our desserts may be more on the extravagant side, but our cheesecake has received rave reviews and is considered to be quite unique in London."
Further investments also mean the hotel now offers a state-of-the-art, 1200 square foot fitness suite equipped with the latest Star Trac equipment from cardiovascular to strength building and impact apparatus. Guests are now able to choose from treadmills, benches, chest presses, Star Trac Urethane Olympic plates, a rowing machine and much more, while the location of the facility has moved from the basement to the much more convenient first floor. This also means that guests can gain access to the facility 24-hours a day by use of their room key and the response to this development has been second-to-none.


In July 2010, Grosvenor House Hotel will be launching its GoThere Virtual Meetings TelePresence studio, which is set to be one of its greatest assets. Setting the hotel ahead of the market with regards to meeting services, this facility will enable clients to hold small, virtual meetings with customers, colleagues and personal acquaintances around the world. TelePresence is a rapidly growing and increasingly popular technology that enables groups to meet and collaborate in multiple locations worldwide in real time. The combination of high-definition video, real time audio and interior design makes groups feel as if they are gathered in the same room across a virtual table and Grosvenor House Hotel's elliptical shaped studio features three screens and additional seating. Moreover, the suite of offices is triple glazed and sound proofed to offer the utmost in privacy and discretion.
"This is an incredible development for the hotel and it truly sets us apart from the competition with regard to meetings excellence. The facility has so many options and can be utilised by major international financial or consulting firms, architects wishing to share blue prints, fashion designers, for legal discussions or even personal contact. I see nothing but good in our future and our business has grown tremendously in the past year following the restoration programme that saw only half of our rooms being available at any one time. We are quite pleasantly surprised by the amount of old guests returning to the Grosvenor and our volumes in the last quarter of 2009 surpassed our predictions. Bookings for the summer are very strong and we anticipate that our meetings business will continue to grow and this autumn will be the best ever from a corporate point of view," Anthony concludes.