Demand for Hain Celestial's organic and natural products is driving company growth.
Where other businesses saw fads, Hain Celestial saw the future. The company recognized a need for organic and natural products before the movement became mainstream.
Today, eating healthier and taking care of one's body is becoming more important to an increasing amount of people. The trend is evident in sales revenue reported by companies like Hain Celestial that sell organic foods and products.
The Lake Success, N.Y.-based Hain Celestial says that it has one true purpose and passion – to create and inspire a healthier way of life. A leading marketer, manufacturer and seller of organic and natural "better-for-you" products, Hain Celestial has grown by leaps and bounds since its inception in 1993 when its annual net sales were less than $4 million.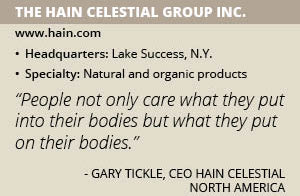 This year, Hain Celestial raked in almost $3 billion in net sales with the United States alone selling $1.2 billion. The company says that the movement towards leading healthier lives started with the Baby Boomer generation. Now the Millennials are furthering that trend, expected to become the largest buyers of natural and organic products. However, the movement is picking up speed with other age groups as well. "More consumers are interested in eating better and it's not just the Millennial," North America CEO Gary Tickle says. "Consumers across all generations are making more healthy food choices."
In the United States, Hain Celestial sells more than 2,000 different products that range from teas, baby food and soups to shampoos and other self-care products. They are sold under 30 different brands. Roughly 100 new products were introduced this year.
"I don't think there's any other company in the natural and organic arena that touches the consumer each day in as many different ways as we do," Tickle says. "They wake up and use our Alba Botanica face wash in the morning. They have a cup of our Celestial Seasonings tea in the afternoon and a healthy snack from Terra Chips in the evening. We are truly touching the consumer in many different places throughout the day."
Leading Brands
Hain Celestial's top-selling brands include Celestial Seasonings, The Greek Gods, Earth's Best, Sensible Portions, Alba Botanica, Spectrum, Terra, Imagine, Dream, Garden of Eatin' and MaraNatha. These brands represent roughly 80 percent of Hain Celestial's annual sales in the United States.
This year, the company started breaking its products into what it calls "core category platforms" in order to increase marketing and innovation around key consumer insights. They are: Better-For-You Snacking, Better-For-You Pantry, Better-For-You Baby, Fresh Living, Tea, Pure Personal Care and Cultivate Ventures.
After operating as solely a food company, Hain Celestial entered the personal care category in 2004, which has been steadily growing for the past 10 years. "People not only care what they put into their bodies but what they put on their bodies," Tickle says. "This platform is growing stronger."
For example, the Alba Botanica brand features a cruelty-free range of personal care products for skin and hair made with 100 percent vegetarian ingredients and no parabens, phthalates or harsh sulfates. This includes organic face washes, moisturizers, shampoos and conditioners, body lotions and sunscreen lotions.
Growing E-Commerce
Hain Celestial has a diversified, multi-channel customer base. Its products can be found inside major retailer stores such as Costco, Whole Foods, Wal-Mart, Sam's Club, Target, Trader Joe's, Kroger and TJ Maxx.
According to 2016 data from SPINSscan Consumer Insights powered by IRI Shopper Network, online sales of natural and organic products account for nearly 30 percent of food and beverage sales in the United States, which is three times higher than their brick and mortar share. "The demographics of the online shopper align well with the natural and organic consumer, and the convenience and wider availability of products online appeals to an increasing number of consumers, helping to expand the reach of for better-for-you product options." Tickle says.
Less than 10 percent of Hain Celestial's United States revenue is generated from online sales. "But it's the fastest growing channel in our business," Tickle adds.
Through the company's partnerships with major e-commerce retailers, its products are available on websites such as Amazon, Jet, Fresh Direct, Peapod and Boxed – along with being available on the websites of many of its brick and mortar distributors. "We have a number of dot-com players and across that landscape we are definitely strengthening our partnerships," Tickle says.
Because online activity is on the rise, Hain Celestial is also investing in digital engagement and increasing its presence on social media sites, including recent campaigns for MaraNatha, Spectrum Culinary Oils, Imagine soup and Alba Botanica personal care.
Engaging Innovation
Hain Celestial has long been an innovator in its industry. Not only did it recognize a need for organic and natural products earlier than others, the company believes it has helped transform the food and personal care industries. For example, in personal care, Hain Celestial was one of the first companies to offer facial sheet masks.
"I think we continue to bring innovative ideas to the table when it comes to snacking and you will see more innovation coming for some of our nut butter business," Tickle says. "We're always looking for interesting ideas."
Innovation comes in many different forms. Hain Celestial is using social media and the internet to educate its customers and help them understand how to use its products. "It's also about how you engage the consumer," Tickle says.
The company has partnered with celebrity chef and restaurateur Marcus Samuelsson to host pop-up cooking classes in Austin and San Francisco using Spectrum Culinary Oils. "He's helping us empower at-home chefs to cook with confidence using a variety of our oils," Tickle says. "Exposure to global cuisine has inspired Millennials and others to be more adventurous in their kitchens."
Raising Support
Hain Celestial is committed to implementing environmentally sound business practices and manufacturing processes and giving back.
The company supports organic farming, GMO labeling and climate action. It plans to work collaboratively with organic industry leaders to drive important initiatives to increase organic acreage.
Forging long-term relationships with organic farmers to increase income security ?and supporting public policy initiatives that promote the expansion of organic farming are some of the measures the company plans to use. In the past, Hain Celestial has supported GMO labeling legislation in relevant regions. In the future, it plans to advocate for legislation that tackles climate change and builds a low carbon economy.
By the end of 2018, Hain plans to donate 100 percent of its unused, safe products to those in need. In addition, by 2020, it plans to provide 10 million meals globally and empower 1 million people? in impoverished communities with nutrition education by 2025. Hain has operations in North America, Europe and India.