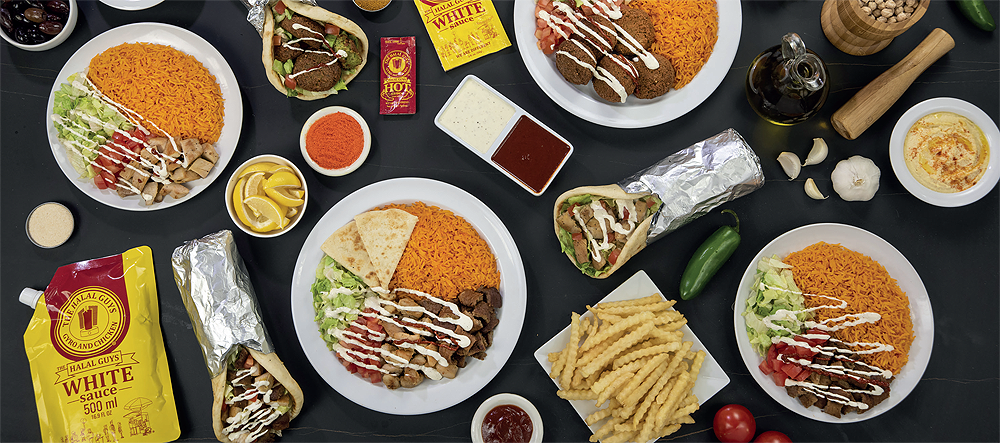 Halal heaven
From a single hot dog cart in New York City to nearly 90 fast-casual restaurants worldwide, the story of The Halal Guys has been one of tremendous success built on amazing American halal food
Pioneers of American halal food, The Halal Guys started off in 1990 as a hot dog cart at 53rd Street and 6th Avenue in midtown Manhattan. Once operational, the founders of the business quickly identified a need amongst the city's numerous Muslim cab drivers for a quick, inexpensive and convenient halal meal. In response to this, its hot dog cart was retrofitted to cook and serve the
platter (and world-famous white and fiery hot sauce) that The Halal Guys is so well known for today.
Fast forward to 2021, and those carts still operate daily on the very same corner that has been their home for 30-plus years. However, the business has also expanded into a collection of nearly 90 fast-casual restaurants across the US, and even internationally, where it has locations in Canada, the UK, South Korea and Indonesia.
"Our menu still primarily consists of the same platters and sandwiches we have been serving since 1990," explains The Halal Guys' CEO, Ahmed Abouelenein. "We do halal platters and sandwiches better than anyone else in the country. Our Combo Platter, for example, is our top selling entree because of the variety of flavors we offer. Meanwhile, both our white and hot sauces have an extremely passionate following. Since expanding into physical restaurants, we have rounded out our menu with sides (hummus, baba ghanoush and fries) as well as desserts (baklava and cookies)."
Menu innovations
Ahmed himself grew up working at the company's carts at an early age, and knows the business better than arguably any other CEO could. It is in his – and many others' – opinion, that what helps set The Halal Guys apart is its authenticity. "When our founders began serving halal platters, it wasn't because they were trying to build a brand or restaurant empire. It was about serving food they would give to their own families and making sure every platter they sold was perfect," he details. "To this day, we focus on providing quality products and a quality experience for our guests, from our food all the way to how guests interact with our brand digitally. That authenticity, along with the generous portions and inexpensive cost of our meals, has helped us to build an incredibly loyal fan base.
"The Halal Guys also continues to be an innovator in the fast-casual space. While we are well known for our platter, we regularly play with our menu and introduce limited time offers such as chicken wings, spicy lamb, and many others. We will always stay true to who we are and not lose sight of what has got us this far, but as consumer demands evolve, we know that we need to follow."
The company also constantly looks at ways to improve both the customer and employee experience. "This past year, we re-launched our mobile application, unveiled a new POS system, signed a partnership with CAA-GBG to bring our products to grocery stores, partnered with third party delivery services and more," Ahmed states. "We have also implemented new technology in our franchise kitchens to better serve our customers and use our employees' time efficiently. For instance, we have introduced the Botrista robotic beverage system, which is currently being used in both Seattle and New York City."
A major turning point in the company's history came about in 2014, when it was approached by what is now its franchise sales partner, Fransmart. While initially reluctant, the company's founders eventually agreed to team up with them to help build out a franchised system of brick and mortar restaurants that would ultimately include franchise partners in the UK, Canada, South Korea and Indonesia. "Our selection process for those locations is less about the geography and more about finding the right franchise partner," Ahmed reveals. "We are committed to providing a consistent, quality experience and product for every customer, and having a robust, diverse franchise community that shares this focus has helped to create an environment where rapid growth is not just possible, but likely."
While the restaurant industry saw its challenges in 2020, The Halal Guys continued growth and development with the opening of eight new units. "We are fortunate to have food that lends itself very well to take out and delivery, as consumers have shifted to those methods of dining," Ahmed says. "That quality, combined with our loyal, passionate fan base, has kept demand for our food up, even in these trying times."
New approaches
Throughout the pandemic, the health and safety of the company's guests and employees has been its number one priority, and it continues to take any necessary precautions, as well as following federal guidelines and regulations. "Delivery was already an important part of The Halal Guys' business, and it has become even more critical during this time of uncertainty when consumers are not dining out as often," Ahmed continues. "Ghost kitchens are proving to be more beneficial than ever, and The Halal Guys was an early adopter of this model. We were one of the first fast casual restaurants to utilize these partnerships to continue growing our business and meeting customer needs, even before the pandemic. We began operating our own ghost kitchen in Long Island City in June 2019, and we were one of the first brands to open inside DoorDash Kitchen, Kitchen United and in Cloud Kitchen.
"The expanded delivery radius from ghost kitchens, and the ability to offer delivery to customers who otherwise wouldn't have access to The Halal Guys' food, played a large role in the decision to utilize this model. In addition, because the brand got its start as a food cart in New York City preparing its food for customers to take on-the-go, the food works well for the carryout/delivery model of a ghost kitchen. Ghost kitchens have had a significant impact on market growth potential across the business. Overall, we have fared well due to our willingness to adapt and innovate, but the long-term impacts on the restaurant industry as a whole remain to be seen."
Last year, The Halal Guys launched a new, interactive and user-friendly website as a platform to continuously inform and educate customers, as well as current and prospective franchisees with the latest company news and services. The updated look and feel of the website serves as a nod to its roots as an urban food cart on the streets of New York City. The website also includes new features such as a weekly blog, individual location pages to present useful information about each restaurant, and convenient ordering links. It will soon host an online swag shop too, allowing customers to purchase branded t-shirts, hoodies, hats/caps, water bottles, laptop covers and more.
In many ways, the new website represents how The Halal Guys remain very much in growth mode as we move through 2021. "Our conservative plans are to open an additional 25-to-30 restaurants in the calendar year," Ahmed states. "Meanwhile, it is our hope that – this year and beyond – we continue our expansion as we look to realize our aim to introduce more and more people to our American halal food in countries all over the world."
www.thehalalguysny.com