The Hansen Group keeps in tune with millennial trends and tech innovations.
The Hansen Group makes a habit out of doing the right thing for its customers, including checking in after sales have been made. "It is preferred that we follow up with our end user partners to make sure they are satisfied and ask what else we can help with to enhance their businesses," Partner Wayne Jones says.
Based in Duluth, Ga., The Hansen Group represents many of the foodservice industry's largest and well-known manufacturers. Austin Hansen started the company in 1957 after working as an inside sales coordinator for one of those manufacturers and recognized the need for a presence on the street level of the marketing world.
Hansen first represented Cambro, from its inception, and grew to add more brands to its portfolio over the years. Today, The Hansen Group employs a staff of 28 and represents 30 lines. "We stand behind the products built by our world class manufacturers," Jones says.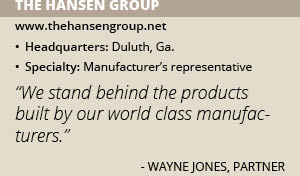 The Hansen Group recently celebrated its 60th anniversary in conjunction with the Annual School Nutrition Show, held this year in Atlanta. They hosted a cocktail party at the Georgia Aquarium Ballroom. "The company was founded on calling on school systems, and we thought, 'What better timing to celebrate than with the School Nutrition professionals that we've surrounded our business emphasis on since the beginning,'" Jones recalls.
The company also has won many awards for its work, including being named Representative Group of the Year for well over half of its impressive brands.
Chain of Demand
The Hansen Group typically creates the demand for its products in the marketplace, Jones says. "The customer pulls that demand through the dealers and distributors within our territory," he says.
The company concentrates on segments such as the K-12 and higher education market as well as chain restaurants, corrections, military, clubs, etc. "Healthcare is also a monster for us," Jones says, adding that the company has a healthcare director, Sandi Ratcliff, who regularly visits nursing homes, assisted living, rehabilitation and acute care centers.
"The Hansen Group also works with a thriving consultant market," he adds. "We work in this market by providing continuous education to an already powerful network of foodservice professionals and concentrate on large scale projects."
The Hansen Group represents many products that are within the accelerated cooking platform. "It is our job to educate the marketplace to offer smaller pieces of equipment which are more versatile, to provide an ever-expanding menu at their clients places of business."
Cambro's shelving products provide a unique, sanitary and space-saving design to any kitchen. "It's always fun to go out and sell that product; customers are always excited with the fresh designs and are very loyal to Cambro," he says. "Cambro is one of the most proactive companies in the industry with the launching of new products every year to better serve their customers."
Keeping Fresh
Jones joined The Hansen Group in 2000 after spending many years in the industry. "When I was in college, I worked for a local distributor and became very knowledgeable about every brand and product in the industry."
During his tenure at The Hansen Group, he has brought fresh perspectives to the company's staff. "Eight years ago, we decided to hire younger professionals to train within our philosophies," he recalls.
Jones also sought to change the status quo by bringing more women into what is typically a male-dominated industry. "It's paid off in great dividends for us," he says. "Understanding the dynamics between my age bracket and the millennials is always interesting and sure to bring many new ideas."
One lesson Jones has learned is how important technology is to millennials, which has made it imperative for The Hansen Group to keep up. "I believe we were the first representative group in the country to get Blackberry phones for our outside staff," he recalls.
"As soon as the new generation smart phones and tablets came out, everybody got them," Jones continues. "We try to make everything as digital now as possible."
Keeping Close
Jones is proud of The Hansen Group's dependable staff. "We're a leader in hiring," he says. "I never feel uncomfortable when I leave the office for meetings or vacation. There are always a lot of people I entrust with everything in our business and they recognize that as well."
This has created an environment where employees have autonomy, Marketing Director Alex Penn says. "There's very little micromanaging needed," she says. "They value their employees. I can't tell you how much I feel respected here."
The Hansen Group has also nurtured a collective environment where everyone is very helpful to each other. "We have an open-door policy, which I love!" she adds. "It's an amazing place to come to work every day."
The partners of the organization feel a closeness to their employees and regularly attend events together, including The North American Association of Food Equipment Manufacturers Show. "We will usually travel to Orlando, or wherever the event is held and rent several houses beside each other. We thrive on our time shared as a group," Jones says.
"I really enjoy attending all of the trade shows, conferences, or sales meetings and walking in with our whole crew," he states. "I couldn't be prouder of all of them."
But the company is selective when choosing recruits to join the team. "I don't stare at their resumes and look at just their education level," Jones says. "The first thing we pay attention to is whether or not they fit in within our family core environment."
When they make mistakes, Jones and his senior managers share the blame. "It's probably the result of something my partners or myself are not doing," he says. "It's usually because someone needs more training and direction."
The Hansen Group plans to continue its growth. "We're looking at what areas we can go to and further focus on the various segments that we sell," Jones says.
The company will adjust and hire more young associates, he predicts. "I'm a big believer in what we've done so far in trying to bring more youth to the industry," Jones says. "Whether [they are] male or female, I'm going to do what's right for us."
Changing Spaces
The Hansen Group is seeing changes in its customers' kitchen spaces, Partner Wayne Jones says. The addition of more efficient equipment that can perform multiple functions in less space has led to a trend of saving space in a shrinking retail environment. Customers are approaching the company with smaller and smaller kitchens. Even the seating spaces are designed to meet the needs of millennials who want their food quickly to maximize social experiences.