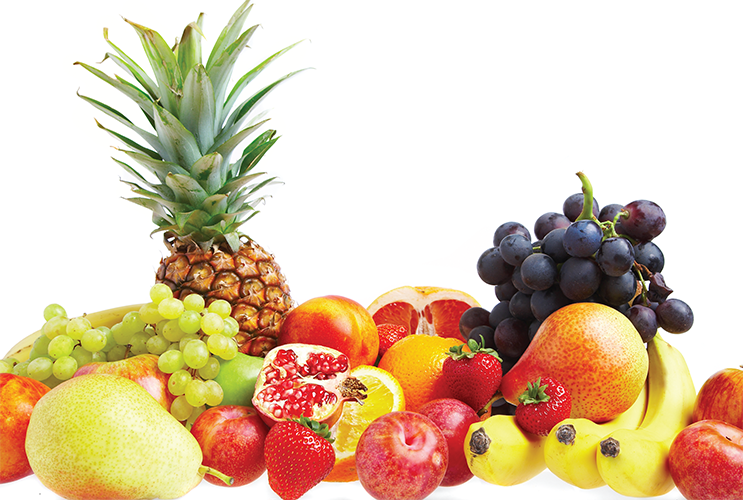 Freshness is everything
ICA is a leading importer and wholesaler of fresh fruit and vegetables in Scandinavia
The ICA Group, with its parent company ICA Ahold, part owned by Ahold of the Netherlands, is the largest retailer in Scandinavia with several subsidiaries in both Sweden, Norway, Denmark and the Baltic countries. Imports of fresh produce are handled by ICA Frukt & Gront in Helsingborg.
ICA Frukt & Gront was established in southern Sweden in 1948 and its purpose is to buy fruit and vegetables for ICA to sell in the Scandinavian market. It is the second largest importer of fresh fruit and vegetables in Sweden, where it enjoys a market share of approximately 30 per cent.
"ICA Frukt & Gront's main customers are food stores belonging to different ICA chains, as well as independent caterers," explains Per Unger, who has been involved with ICA's operations since 1989, gaining a wealth of knowledge in the sector. "We import a wide range of articles, of which the most important ones are bananas, oranges, apples, pears, potatoes, carrots, tomatoes and broccoli, which are often impossible to grow here, given the climate we experience in this region.
"I moved to become part of the Helsingborg operation in May 1st 2007 and from here we import high quality fresh produce from around the globe. The fresh fruit and
vegetables we source are then distributed throughout ICA stores in Sweden and Norway. We form a vital part of the ICA Group, but remember, our sole function is to import fruit and vegetables for the Group – we buy it, put it in a warehouse and send it to ICA supermarkets; we are not a producer, we are the importer and we work solely for ICA, one of the largest retailing groups in Scandinavia."
Helsingborg is the hub of the Swedish fruit and vegetable trade. With its geographical location, being a coastal town close to the continent, it was quite natural that Helsingborg became the hub of the fruit and vegetable trade in Sweden, and it is the ideal home for ICA Frukt. Today, all major import and producer organisations have in one way or another, got roots in the town, so ICA is ideally located.
Every day, six days a week, around four million kilos of fruit and vegetables leave Helsingborg to be distributed all over Sweden. This equates to about 225 fully loaded trucks, and considering that most importers turn over their stock once a day, this means that at least the same number of trucks must be unloaded every day. So, this is a large sector, full of opportunity, which ICA is looking to take advantage of.
ICA Frukt is a consumer-owned enterprise – its consumer being the ICA group, which sells the goods imported through a network of popular supermarkets. This enables ICA Frukt to focus on quality of supply. What's more, any savings that are a consequence of ICA Frukt's excellent work are re-invested in the business to enable it to function even better in the future and make further improvements.
ICA Frukt is always searching for opportunities to offer increased benefits to the group, striving to find and implement simple ways of improving quality as often as possible. Quality improvements allow ICA to offer customers only the best fruit and vegetables, which drives growth. Importing the food customers demand at the required quality levels, ICA Frukt works hard to keep quality high and costs low.
"Quality is the main driver for us," says Per. "We are always looking for opportunities to improve, as any improvement is hugely beneficial to our organisation. We search the world over to find products of the highest quality. However, it is also important for us to invest in our own processes and storage solutions to ensure we maintain these very high standards. After all, what is the point in sourcing the best bananas in the world, for instance, if you store or transport them poorly and impede their quality? We work hard to ensure that the product on the shelf is the best it can be and we need fast delivery to make sure the goods stay fresh. Freshness is everything in this sector."
ICA Frukt is an innovator, which means it is constantly asking itself whether things can be done cheaper, faster or simpler. Success depends on its ability to be innovative, importing the products demanded by the market: "It is very important for us to keep ahead in this market and we are continually investing to make sure we import the goods demanded by our customers. We listen to what they need and have a very fast supply chain, so the quality is always high. There are a number of trends driving the market at the moment. These trends include healthy living and exotic flavours. People want food that will be healthy for them, but they don't want bland or uninteresting food. The market is very buoyant because of this health trend and we are importing record numbers of exotic fruits."
He continues: "We are currently focusing on fresh packed food, as this is proving very popular at the moment. We try our very best to keep up with the trends of the market, which is also becoming increasingly concerned about transportation and the cost it has on the environment. We are focusing on that and ways we can reduce our environmental impact.
"It is important we continue to be a leading player in this sector and to meet the needs of our customer – ICA. Of course, we are always looking to improve and will look to increase our market share and grow our profits, as a group. That is our goal," concludes Per.