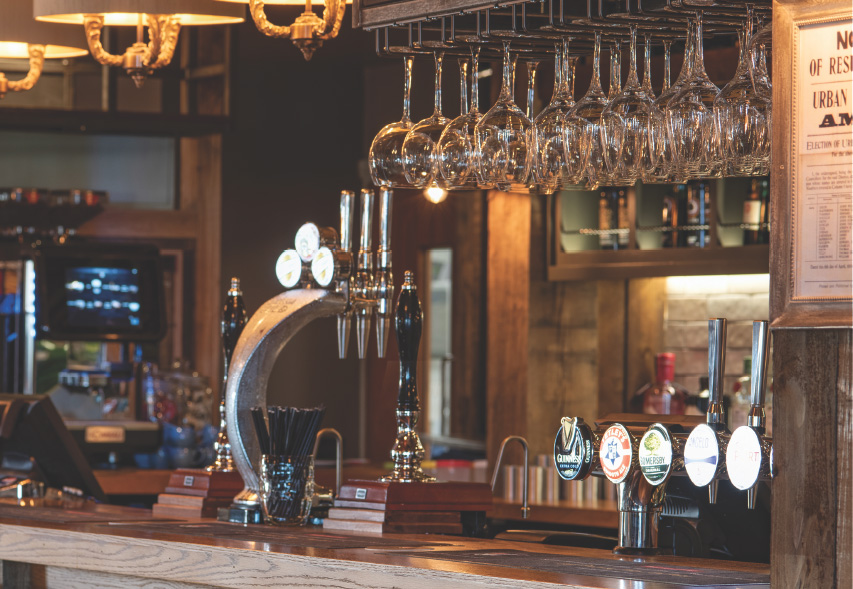 Quality is everything
Specialising in acquiring and managing high-quality, contemporary pubs with rooms across the North of England, The Inn Collection Group has secured the financial backing to embark on an exciting period of expansion over the coming years
To put it mildly, 2018 was a unique year for the hospitality and food and beverage industry. What began with the arrival of the winter storm dubbed the 'Beast from the East', with its snow drifts of
upwards of ten-feet and subsequent flooding, was followed some months later by one of the hottest summers on record. Together, these and other unconnected events created what Sean Donkin, Managing Director of The Inn Collection Group, rightly describes as a 'testing' period for the entire market.
It was most certainly not the case of 2018 being all doom and gloom however, as Sean – whose company proudly operates an expanding portfolio of inns across the North of England – goes on to detail. "As a Group, we negotiated the past year very well indeed, with one of the main reasons for that being the multiple offer we have in terms of providing high quality food, liquor and accommodation under one roof," he says. "We have also always been a business that is prepared to adapt and respond to where we see demand, ensuring that we never stand still."
Sean continues by explaining how, while market conditions do change, customers of The Inn Collection Group have retained the viewpoint that value for money is key when it comes to their choice of place to visit. "We have three core trading principles of 'offer, environment and people', by which we believe that, so long as our offer is what the customer expects, is found in the correct environment and delivered by right people, then we will never go too far wrong," he states. "At The Inn Collection Group, we understand that if a customer comes into one of our sites that they automatically expect a certain level of quality and service, and our primary focus always has to be about matching those expectations. Be it the food we serve or the accommodation we provide, we are consistently looking to achieve best-in-class designation in our chosen geographies."
Target sites
Behind the scenes at The Inn Collection Group, 2018 was also a year of important developments, firstly in June when it was announced that it had successfully bought out its previous investors, Kings Park Capital, and secured the support of a larger private equity firm, Alchemy Partners. This was followed by the news that the business had secured funding from UK challenger bank OakNorth to enable it to open new sites, which has since been followed by additional capital to support its long-term expansion plans.
"In the case of Alchemy Partners, the sale of the business to them has been absolutely pivotal in allowing us to accelerate our growth and expansion to the levels that we want to achieve, at the right speed and with the very best support possible," Sean enthuses. "In the last six months alone this, as well as the funding from OakNorth, has allowed The Inn Collection Group to purchase new locations and make several existing estate enhancements."
In September 2018, for instance, the Group unveiled the stunning, 24-bedroom, lake-side Waterhead Hotel, situated near Coniston Village in the Lake District, as a new addition to its collection. "Set in four-acres of landscaped grounds, the Waterhead Hotel is a perfect example of what 39we call our 'target sites'," Sean adds. "Already recognised as a landmark destination in the Lake District, it also has great potential for expansion, and as we speak we are awaiting a decision of a planning application which will allow us to grow the hotel to 42 rooms and complete the process of bringing the site into The Inn Collection Group model."
More recently, the doors to the newest addition to the Group's portfolio – The Amble Inn in Northumberland, have officially opened, with guests now being able to enjoy its 30 bedrooms, which is made up of a mix of family and twin rooms, its 150-seated restaurant and bar, and external terrace. "As we speak, The Amble Inn is currently in only its third week of trading, and has got off to a flying start, turning over around £40,000 per week on food and beverages, which for this time of year is very solid indeed. Needless to say, then that, like the rest of our portfolio, we have very high expectations for The Amble Inn going forward."
Central to the Group's expansion plans for its portfolio is the aforementioned funding package of £10 million from OakNorth, which it intends to use to more than double its portfolio from nine to 21 sites by 2022. "As we look towards the future and how we intend to not only take on existing locations, but also bring new sites out of the ground, it is all the more important that we have a funder in place that is attune to the demands of our industry and what we need in terms of investment," Sean says. "With the backing of Alchemy Partners and OakNorth, we can pursue potential new sites in the North East, as well as across the North West and down along the southern corridor of the Yorkshire Dales, as they arise."
Meeting expectations
Moving into 2019, Sean believes that the year ahead will see discretionary spend amongst customers remain restricted, and therefore it is all the more important that the Group's locations are best positioned to take advantage of the opportunities that do occur. "At times, I think people can get a little hung up on concentrating on the weaker trading period, rather than focusing on the busiest ones. Our take on things is that if people decide they are going to go out on a Friday evening or for a Sunday Lunch, then we want to be there and ready to meet their requirements," he points out. "This means making sure that our facilities meet the capacity needs this calls for, which is why we are committed to adding additional covers at our sites, but without compromising one bit on quality, service or the customer experience."
In the eyes of many, 2019 does have the potential to be another tricky year ahead, with several unknowns to navigate, however Sean and his teams are prepared for most, if not all, eventualities. "Our job is meet whatever 41comes at us head-on, innovating, changing and adapting accordingly in order to meet the expectations that our customers have of The Inn Collection Group. This is the approach that has helped us to thrive up until now, and I am positive that this will remain the case in the years to come."