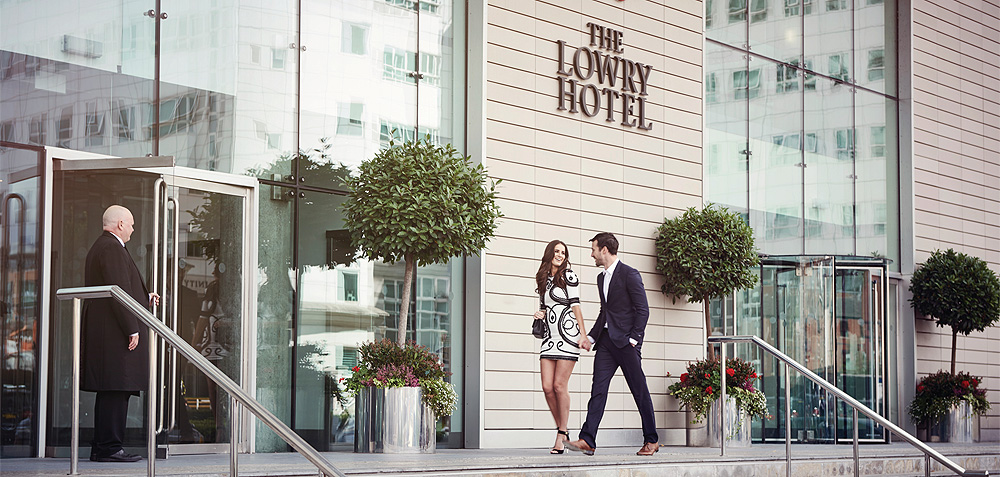 The Greater Manchester hotel
The Lowry Hotel is a five-star, luxury hotel in Salford, Greater Manchester. Named after artist LS Lowry, it has proved popular with celebrities and local people alike, due to its stylish accommodation and award-winning fine dining
The Lowry Hotel was initially established in 2001 as part of Rocco Forte's chain of hotels in Europe. Based in the Salford area of Manchester, it has been operating for a relatively short time compared to other iconic chains, but it can already boast some impressive celebrity guests, including Beyoncé, the Chinese president Xi Jinping and high profile football teams such as Manchester United, AC Milan and Barcelona.
General Manager Adrian Ellis, originally from Norwich, discusses why it has proven so attractive: "It provides a particular northern welcome, that comes from the team who have worked here for years. Many regular guests have stayed here, and it is one of our trademarks that each one will be welcomed by name." Adrian then gives some behind-the-scenes insight: "An extraordinary amount of work goes into preparing for these visits, and everyone on board is well versed in the contracts and requirements necessary. The attitude is to exceed expectations where possible, in addition to handling last minute and unusual requests." He then details the kind of treatment that someone staying in one of its stylish, contemporary-style suites can expect: "This includes 24-hour room service, an amazing spa experience, champagne and strawberries on the riverside terrace, and celebratory packages designed to suit every occasion."
Recognition
One area that the leisure industry depends on is the burgeoning fine dining trade. The Lowry Hotel has a number of eateries, including the River Restaurant, and Adrian is keen to emphasise the importance of being an attractive venue for foodies seeking the best cuisine: "Local provenance is important, with produce and ingredients from the region being a big part of the menu, and this was recognised earlier in the year with 2 AA Rosettes. This is a credit to the kitchen brigade, overseen by Executive Chef Andy Green, who ensures the highest possible quality, day-in, day-out," he beams.
It can also function as a venue for various invests including fundraising, with Adrian recalling an excellent recent example: "In 2017 The Lowry Hotel hosted a unique costume ball, in partnership with Maggie's Trust, a centre that offers support to people with cancer, their friends and family. It was a lot of fun, with some fantastic period costumes, and this managed to raise a significant amount for the charity."
In addition to celebrities, fundraisers and diners, it has also proved desirable for investors, as Adrian explains: "In 2014, the company was purchased by Westmont Hotels, who invested approximately £5 million into refurbishing the bedrooms, conference area and spa. After that in 2017, the CDL Group took over. As part of the takeover agreement, CDL have promised to begin additional refurbishment in early 2018. This will cover the lobby, dining and bar area, the Presidential Suite and a vacant unit at the back of the building that will also be utilised." On top of spending more on facilities, more funds are being spent on the people that will keep everything running: "There will be investment in additional, training, recruitment and benefits. This is
important, as it will help bring in more recruits, but also retain the team that has served The Lowry Hotel's guests so well in all its years of operation." One of the reasons that organisations like Westmont and CDL have been keen to put money into this project, is an increased interest in the local area: "Conditions have been relatively strong in 2017, largely down to Manchester's ongoing strength, both in attracting business and tourism across the board."
Culture
As well as a hotel, the area is also home to a theatre and shopping centre, all dedicated to locally born artist LS (Laurence Stephen) Lowry. In addition, there is also a gallery in Salford Quays, that showcases his iconic style of artwork. His paintings are most well known for depicting urban landscapes, and shadowy human figures that are often referred to as 'matchstick men'. It is perhaps appropriate then, that he leaves behind a creative and cultural legacy, something that the hotelier has built on: "A number of ideas have been inspired by the building's namesake artist, including tours and afternoon teas, that have been very well received," Adrian recalls.
As an area, the artist himself would probably struggle to recognise Salford, though it is likely an emphasis on culture would prove to be inspirational. It has become a massive cosmopolitan district, and it seems that England's second city is not finished growing yet, and Adrian is excited by the prospect: "It is in place to continue prospering for the foreseeable future. High levels of development are going to bring in more business. Furthermore, if more houses and apartments are built, it will attract additional demand for the bars, restaurants and spa."
More building work is also planned, that is sure to attract people from further afield: "Plans are in place to extend the local airline, so that could mean a bigger influx of international visitors." This may be very exciting but Adrian is realistic, and is experienced enough to know that more demand tends to be in conjunction with the arrival of increased competition: "Any positive growth has to be measured against new chains and independent accommodation coming in, and it is to be expected that the range of options available to tourists and other guests will expand substantially over the next few years. However, there is a general feeling of optimism that everyone can keep pace, and it will ensure more positive years for the area to come."
The building work is also in conjunction with a larger national economic project, with HS2 poised to provide better connections to London, and Manchester earmarked to be the central hub of the 'Northern Powerhouse'. While this sounds very exciting, it is difficult to predict what the results of this long-term infrastructure project will be, as well as the exact benefits it will bring. As stated before, The Lowry Hotel itself is relatively new in terms of how long it has spent serving people. What is clear is that in terms of facilities and determination to serve, it has already carved an impressive reputation, and it is likely that if anyone is best poised to handle great expectations from Greater Manchester, it is this impressive five star establishment.