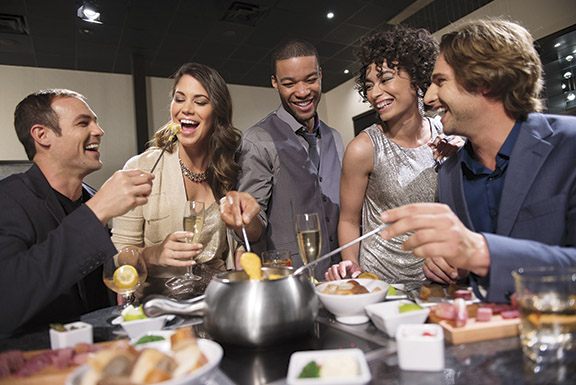 The Melting Pot Restaurants Inc.
Knowing its guests and franchisees' needs keeps fondue innovator The Melting Pot Restaurants Inc. ahead of the polished casual dining pack.
The Melting Pot Restaurants Inc.'s recognizable brand and 126 locations in North America and internationally make it easy to use the term "chain" when describing the company.
However, when it comes to the experience the restaurant offers to its guests and the menu items available in its locations, Melting Pot believes that it transcends such categorization.
"We are almost an anti-chain chain," says Mike Lester, president of the Tampa, Fla.-based company. "Because we understand that taste profiles and preferences are largely local, we allow our local franchises great latitude in choosing the items on their menu."
Franchisees can choose six of the nine styles of cheese fondue served at their individual restaurant. "We want to let our restaurants customize their own menu while having core elements that people across the country have come to know and love from our brand," he adds. "Our central organization supports and sources hundreds of menu options so our franchisees can choose the menu items that meet their guest's preferences."
The Melting Pot's guests are also given the opportunity to customize what their meal will be, as restaurants offer individual fondues and other menu items in addition to complete four-course meals. "We want to be 'uniquely yours' to every guest. It is our goal to provide guests the best experience that suits them," Lester says. "
Universal Appeal
Each Melting Pot location's unique offerings help to make the brand extremely popular among consumers. The brand has been voted among the best casual-dining brands in the country in industry polls. The brand is particularly popular among millennials, a generation that was not yet born when the first Melting Pot opened its doors in 1975.
"We like to say that we're a 40-year-old brand at the top of its game," Lester says. "We are embracing the evolving generational preferences and attract all guests regardless of generation."
The atmosphere of Melting Pot's restaurants is a large part of its appeal. "We deliver a unique interactive dining experience that reaches our guests on an emotional level and allows them to connect not only with our brand, but the people they are dining with," he adds. "At most restaurants, when the food arrives, everyone looks down at the food or is on their smartphones – when our food arrives, everyone is looking up and are engaged with each other, as well as with the meal itself."
World's Best
Distributors and suppliers are critical to The Melting Pot's ability to please its guests. For more than 20 years, the company's cheese fondues have been made with cheese from Emmi Roth USA, a leading provider of specialty cheeses, based in Monroe, Wis.
The Melting Pot is now featuring Emmi Roth's Grand Cru® Surchoix cheese in its fondue. The Gruyere cheese – which is aged nine months and available in limited batches – was named World Champion at the 2016 World Championship Cheese Contest. Several of Emmi Roth USA's other cheeses were also honored during the contest.
Grand Cru® Surchoix is the first U.S.-made cheese to win the contest since 1988. The company planned to start featuring the cheese on National Cheese Fondue Day on April 11, and will serve it while supplies last. "We are pleased to be able to offer the world's best cheese to our guests," Lester says.
Emmi Roth USA and The Melting Pot's other food providers are assisting with food traceability and transparency efforts. The Melting Pot in March added calorie counts and nutritional information to its menu. The company last year launched its Exceptional Food Initiative, which identifies 12 additives and preservatives The Melting Pot wants its food to be free of before 2020. Six of those additives and preservatives have already been eliminated.
"We are working with producers to make sure we are getting the best products we can," Lester adds. "We are proud of the fact that our proteins are all-natural and antibiotic free, and are working to make our supply more sustainable overall."
Franchising the Future
The Melting Pot's approach to interacting with franchisees is similar to the way it treats its customers. "We want to be 'uniquely yours' for our franchisees as well, and connect with them on a deep and emotional level while providing them a rich and rewarding experience interacting with our brand," Lester adds. "We want to be not only guest-centric, but also a franchisee-centric organization."
The company provides opportunities for managers and other longtime employees to become franchise owners, and encourages existing franchisees to take on additional locations. The Melting Pot's "Path to Growth" program offers financial assistance to potential operators looking to purchase an existing location, the company says.
The Melting Pot provides extensive support to its franchisees including training and construction and design assistance at its Restaurant Support Center, located in Tampa. The company also provides local business and marketing consultants who visit franchises and provide support and strategic counsel.
Franchisees are playing a role in helping the company develop a new store prototype. A new store design could potentially open later this year or next; successful elements from that design would then be rolled out through the rest of the brand in a manner that support local "look and feel." "We want our franchisees to help to determine how The Melting Pot of the future will look and feel to our consumers," Lester says. "We want to stay on trend without being trendy, and appeal to everyone. We want to match our facilities up with the dining experience that everyone loves us for."
Although The Melting Pot already has a significant presence in the United States, Canada and Mexico – as well as in the Middle Eastern countries of Saudi Arabia, Qatar and United Arab Emirates – the company has plenty of room to grow. "We have 30 markets in the United States still available, as well as the rest of the world," Lester says. "We want to select the right franchise partners who can lovingly care for our brand."