Do it all with cheese
The Melting Pot, a gourmet fondue restaurant, is the place to be. Recently, the business invested in menu innovation and dining renovations to offer a memorable experience that guests keep returning to, as FoodChain learns
Falling under Front Burner Brands' umbrella, The Melting Pot is the fondue restaurant passionate about cheese. Guests can enjoy several fondue cooking styles and a variety of entrees, salads, and delectable desserts in a unique dining environment, making the fondue restaurant perfect for every occasion.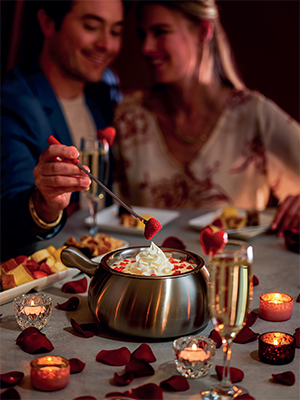 The concept for The Melting Pot came about when the founders decided to add a unique twist to what they considered to be the ultimate dining experience. "We are part of a category that some people refer to as 'eatertainment'. With us, our customers can expect to receive more than just a meal, because eating at The Melting Pot is equally about what's happening around the fondue pot, as it is about what's happening in the fondue pot," shares Bob Johnston, the company's CEO, and CHB of Front Burner Brands. He shares with us how the company has pushed itself to thrive in spite of the pandemic's challenges, as well as the innovation currently underway to ensure its customers keep coming back for more.
To create a dining experience that facilitates memorable moments, a number of initiatives are taking place within the business, including plans to grow. "It's encouraging to see that more people are choosing to dine with us than ever before. Our ambition is to develop 25 new franchise locations over the course of the next four-to-five years, which is growth that we have seen in the past," says Bob. In the early 2000s, the company experienced similar growth, so he is confident that this is an achievable goal.
Menu innovation
This leads us to the topic of franchising, an aspect of the business that is largely responsible for its continued success. "The founders of the concept began franchising after they opened the first restaurant. When I got involved, approximately six years ago, as one of the initial franchisees of The Melting Pot, the founders and I had a decision to make; we could either grow through the expansion of company-owned restaurants, franchise, or incorporate a combination of both. We chose to bring the two together. Although most of our locations are franchises, we are also opening a number of company restaurants. This has allowed us to create strategic partnerships with our franchisees, and we believe it accounts for much of our success over the course of the last few years. Each location is operated by a business owner who has a vested interest in the success of the brand, and we love that."
While growth is a significant slice of the company's success, for Bob, innovation is just as important. He talks us through some of the ways in which the business is investing in bringing about an exciting and fun menu to its diners. "The concept of the meal is that it's cooked in a fondue pot. So, in keeping with that, we offer appetizers, entrées and desserts. Our entrée course is cooked in a bergonion-style fondue, and we've introduced a new addition, which is the fondue grill. We use a cast iron grill to cook the protein items, and then they can be dipped into our various sauces. The concept of grilling is very popular in the States, and something that guests do all the time. We introduced this as an extra boost for some of our restaurants that go through quiet seasons in terms of visitors. We wanted a style of cooking that our guests really enjoy for that time of the year when revenues tend to dip in most markets," Bob expresses.
Interior redesign
Taking this one step further, The Melting Pot then blended food and experience by introducing two new promotions designed to increase weekday sales just a little further. 'Thursdate', for example, allows customers to celebrate Valentine's Day any Thursday of the year. Another one is 'Best Fondue Friends Forever', which revolves around the idea of coming together with close friends and celebrating the smaller moments.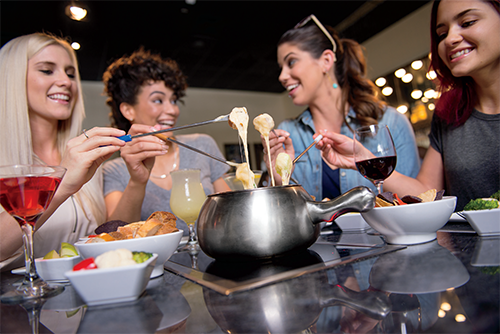 Bob continues to tell us about a new launch taking place later this year that the company is particularly excited about: Oktoberfest. "We'll be launching the Oktoberfest programme that we've been testing for two years now, and we're taking it across our chains. For years, our guests have been saying that it would be great to have these meats and sausages that are usually associated with the food and drink festival covered in cheese fondue. That's a very exciting programme that has performed well throughout our trials," he expresses.
Our next topic is more to do with the interiors of the restaurant, which Bob describes as "The Melting Pot evolution". The company is in the middle of a system wide update of the physical plan in which its interiors are being renovated, and a large amount of effort is going into collating customer feedback to ensure that the company maintains its intimate atmosphere. "In addition to that, we are undergoing training programmes for our franchisees to teach them how to boost revenues through interior enhancements that will provide a return of investment. I'm happy to report that we've got nearly 20 of the 100 restaurants updated so far; the rest are in progress and will be updated within the next year. We're seeing about a 22-percentage point increase in traffic above stores that have not yet been updated," Bob expresses.
He continues to share that there are two reasons for this difference. "Firstly, the customers are loving what they're seeing, and secondly, we're reengineering the dining room to find ways for the experience to still hold on to that dining privacy that we're associated with. The challenge at the moment is to maintain that, while we continue to yield more seats per square foot than before to improve sales as well, but I think we've managed to hit that balance," he says.
For the remainder of this year, Bob is confident that the increase in visitation will continue to rise. Beyond that, considering what the world has been through over the last two years, he feels it may be tricky to predict. However, he anticipates that additional locations will be added to the company's name through The Melting Pot's franchise programme. "We do aspire to open more company-owned locations. I expect that at least six of those 25 are going to come from franchising, and we'll have to see where the rest takes us," he concludes.
www.meltingpot.com