The Muffin Mam embraces its responsibility as a jobs creator in its community as it transitions to a growth-oriented business.
For more than 25 years, South Carolinian bakery The Muffin Mam has operated under a simple code: Bake with integrity. It's a straightforward philosophy that informs not only its quality and how the company interacts with its customers, but its role in its community. "Baking with integrity is doing what's right when nobody's looking," owner and President Jade LaFreniere says.
The Muffin Mam supports its community through the people it hires. In addition to the company's 75 full-time workers, it runs a temporary employee program that provides work opportunities for about 25 people with challenging backgrounds that make it difficult to move forward and become productive members of society.
Illiteracy or lack of a high school degree can be devastating in the workforce pool. LaFreniere believes businesses must cultivate work opportunities for those people. By providing a job, The Muffin Mam is creating a system that grows people and adds depth back into the local workforce.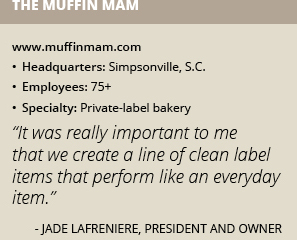 Many locals have benefited from the program since LaFreniere's mother, Muffin Mam founder Stephanie Croley, started it two decades ago. One of the many success stories is employee T'yada Vega, who began working for The Muffin Mam to make extra money during Christmas so she could afford a gift for her daughter.
Vega's first job was making boxes on a two-week assignment but her attitude and drive soon earned her a permanent position and she remains with the company 20 years later. Vega has worn many hats for The Muffin Mam, leading to her promotion to the production manager several years ago. This year, The Muffin Mam paid for Vega to attend school to learn human resources so that she can grow her career. . "She loves helping others grow so we put her in a position where she could expand her ability," LaFreniere says. As a part of our commitment to "growing leader who grow leaders", Vega has moved into a new human resources role designed to support and invest in the personal development of our team members.
Shonya Heyward and Marquestes Barton, who started on a temporary assignment more than 18 years ago, recently graduated from a lean Six Sigma source with green belts in lean manufacturing. The training prepared them for their recent promotion to production department manager. "We are so proud of our current leadership team and look forward to seeing the next generation of leaders they will mentor," LaFreniere says.
Through the temporary work program, The Muffin Mam wants to show other companies how they can accept responsibility to grow their communities. "I want other businesses to see you can really work with everybody," LaFreniere says.
Home-Style Quality
Stephanie Croley had no college education and was a mother to two young girls when she took out a small loan in 1990 to open a café in Greenville, S.C. Grocery store owners from the area would stop in to eat breakfast and enjoyed Croley's muffins, and soon began to ask if she would make goods for their own stores.
In 1992, Croley opened a wholesale bakery in a strip mall. Business took off and by 1994 The Muffin Mam had moved to a 20,000-square-foot facility, and expanded again to a 55,000-square-foot plant five years later.
Today, The Muffin Mam produces private-label products and offers co-packing services to some of the largest retailers in the country. The company specializes in co-product development, concentrating on the manufacturing side of the product while its clients focus on retail.
Many customers have been with the Muffin Mam since it went into wholesale. "It's kind of a slow dating process, but once we date them it's a life match that turns into a marriage," LaFreniere says.
Vendors share customers' loyalty to The Muffin Mam. In turn, the company depends on its suppliers for support when market issues arise. During the egg shortage of 2015, for example, The Muffin Mam was able to secure eggs at minimal pricing impact to its customers. "Although not comfortable, we were pleased with the position we were in and it was thanks to our vendors," LaFreniere says.
The Muffin Mam started with its namesake muffins but over the years expanded its profile to include crème cakes, pound cakes and angel foods cakes. As it grew, the company learned to maximize its space, focus on efficiencies that customers would benefit from and improve shelf stability.
What separates The Muffin Mam's goods from other bakeries is how its products still taste as if they were made in a home kitchen, LaFreniere claims. LaFreniere's aunt, Terri Jermon, the company's quality assurance and R&D manager, developed many of the recipes. "Terri has a unique [ability] where she can take a home recipe and bring it to life on a 600-pound scale," LaFreniere says.
The company is constantly developing new products to boost its home-style flavors. In July, The Muffin Mam launched a line of clean label products free of 155 unwanted additives and preservatives, creating a more wholesome alternative to the baked treats found on many store shelves.
LaFreniere says the clean label products are something moms can feel comfortable feeding their children. "It was really important to me that we create a line of clean label items that perform like an everyday item. We don't think consumers or customers should have to sacrifice shelf stability and cost in order to make more sustainable choices," she explains.
Enhancing Production
The standard lead time for an order is two weeks, but co-developed products may take more time depending on scope. The Muffin Mam's manufacturing facility operates 24 hours a day, in two 12-hour shifts. Despite a tight production schedule, increased demand means the company is in the process of figuring out how to expand its facility in the most economical way while minimizing disruption to its workers, community and customers. "Our leadership team is focused on making sure we are positioned to grow with our customers and industry needs," LaFreniere says.
Its building's limitations require The Muffin Mam to be inventive in how it utilizes its space. The company does not use continual mixers and continual ovens. Instead, it has a modular setup that allows it to replicate at-home baking while moving components in and out of the production line.
LaFreniere says the process allows the company to switch the item it is making without having to change out the entire production line. "That's one of the things we're most known for in the industry, our nimbleness and adaptability," she says.
That reputation for nimbleness extends to what happens to the product after it leaves the factory. The Muffin Mam has always worked to maximize shelf life, but this year it is taking the next step forward with a new type of packaging that will keep most goods fresh for up to 30 days. Even clean label products lacking preservatives will stay good for longer than any other competing item on the market, LaFreniere says.
Traditional packaging for a group of four muffins, for example, uses a clamshell design where all the muffins are bunch together. With the new packaging system, each muffin will have its own separate seal so that when one muffin is removed the rest are not exposed to elements that can cause molding. Additionally, the new packaging process can remove oxygen from the inside of the container to further extend shelf life.
Transitioning to Growth
As a woman-owned business, The Muffin Mam can help its customers diversify their supply chains and qualify for Women's Business Enterprise benefits. The designation has become increasingly impactful for the company.
When LaFreniere started working with The Muffin Mam leadership team two years ago she had to recertify with the Women's Business Enterprise National Council (WBENC). Through the WBENC, LaFreniere has made many connections with new customers and other Women Business Enterprises (WBE). She now gives back to the organization by mentoring other women business leaders, participates in South Carolina's Greater Women's Business Council, and partners with other WBE's in her own supply chain.
LaFreniere is dedicated to mentorship within the company as well. When her mother passed away in 2014, LaFreniere and her two sisters took control of the company and realized they needed to grow leaders from within its ranks. The Muffin Mam hired consulting firm Innolect to perform a needs analysis and help the company understand the personalities it was hiring and how to turn them into the next generation of management.
Those efforts signaled a shift in direction for the company. Croley had worked hard to turn her small company into a well-respected private-label manufacturer but was content with the growth it had achieved. Her daughters, however, are eager for the family business to reach the next level. "Because we're in earlier parts of our careers we do want to see it grow," LaFreniere says.
The Muffin Mam is transitioning into a growth-oriented company with the goal of becoming a lasting multigenerational business. "We are incredibly grateful for our dedicated leadership team, many of whom worked for our mother for over a decade," LaFreniere explains. "Without their integrity and loyalty throughout the transitional past two years, none of our growth would have been possible." Last year, the company rebranded with a new logo, a sleek cartoon caricature of Croley that honors her role as the founder while having a modern style that embraces the future. "There's a definite legacy vision for the company now," LaFreniere says.