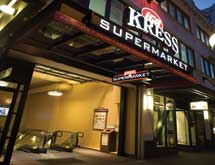 The Myers Group opens grocery stores with long-term goals in mind. Whether they're in the heart of downtown Seattle or in a tourist community, the company's owner, Tyler Myers, says he wants his stores to be around for the next 40 or 50 years.
"With every store that we open, we go in with a long-term approach," he says. "We're not looking to get into a town and build a business up and then sell a store a few years later." The company has been aggressive in product placement, marketing and community outreach to retain business during an economic climate where customers' budgets are tight.
"People always say, 'That's a great business because people have to eat,'" Myers says. "But I can tell you they go from top sirloin to Top Ramen pretty quickly." While customer count has remained strong, the average customer spending has decreased by $1; when multiplied by thousands of customers that $1 counts for big losses. So, at the beginning of this year, the company began a 52-week-plan to raise total store sales. Each week, the stores hold an "extra effort event" where employees hustle to increase sales by 10 percent. The stores haven't reached 10 percent yet but have reached 6 and 7 percent sale increases.
"It's more than we had before and it's what gives us the extra sales," says Myers. "Our store directors are out there promoting in a big, big way and it's our way of getting back that one dollar per customer." It's innovative ideas coupled with sound business practices like these that helped earn The Myers Group the award for Washington state's 2009 Food Industry Retailer of the Year.
Myers is a second-generation independent grocer. His father, Kent Myers, opened his first grocery store in 1978. His father is retired but is still involved, and Tyler Myers runs The Myers Group, which has a diversified portfolio of trades including retailing, real estate and management. The retailing division includes four grocery stores, three TrueValue hardware stores and three gas stations, two Texaco gas stations and one Shell gas station, each with accompanying convenience stores. The company lends out its expertise in the food industry arena by managing grocery stores for other entities. It manages a store for Goosefoot, which is a non-profit organization providing low-income housing. Myers sees store management as a crucial growth strategy for his business.
Myers Group says it has resources in all facets of real estate development, including finance, construction and project management. Through this team, Myers Group offers site location and building cost analysis to construction and property management on ground up projects, as well as handle store renovations, it says.
"All three of the businesses are important to us," Myers says. "But we've certainly grown up in the food grocery business."
Another aspect important to Myers is how the company approaches each store. All four stores the company owns have common guiding principles such as playing an active role in the community. Each store supports local sports teams and academics. Recently, the chain sponsored a drive for local pet adoption agencies where customers donated money, pet food and pet supplies. These are events each store participates in — even Kress which sits in a major United States metropolis where 12,000 people walk by every day. "We're there to sell groceries and to help feed the community and be there for them from a grocery store point-of-view," says Myers. "But we absolutely go into every city with the idea of being a big part of the community."
Other community events include truckload sales where wholesalers provide trailers of products for sale to the community. The stores also host ice cream socials and children's festival, where the community's children enjoy bouncers, face paint and water-balloon contests. Myers says these events are not organized for promotion but to say thank you to the community. "It's not necessarily going to drive sales," says Myers. "But it is going to drive traffic and it's definitely going to drive good will."
While each store is aligned in its commitment to the community, not every store feature is the same; each one is geared to the area's specific needs. The Ocean Shores store is in a beach town with a large tourist population and about 5,000 residents. It sells organic and mainstream foods but also carries a stock of beach toys that you won't find at the Camano Plaza, which is the largest store and only full-service supermarket on Camano Island. It's a rural community with about 15,000 residents and the store has a TrueValue hardware store, Texaco gas store, video store and pharmacy on the same site.
The Seattle Kress Store is in a historic building and incorporates eco-friendly practices in its product and the building itself. The store managers at Kress market the beer and wine selection much more differently than the managers at the Snoqualmie Ridge Supermarket which is in a family community with large average households.
Employee Empowerment
Myer's employees are encouraged to take risks in marketing and product placement. Many managers have been at the stores for 20 and 30 years, and the company has a very low turnover rate — about 10 percent. "We have terrific store mangers who manage the business," says Myers. "What we do as administrative staff is support them and give them all the tools they need to be successful."
Another outlet the company uses for marketing and other resources is the Independent Grocer's Alliance (IGA). This year the Kress IGA was nominated as 2010 finalist for IGA Retailer of the Year and Camano Plaza received the award for IGA's International Retailer of the Year in 1999. As members, The Myers Group has access to marketing and training materials that it otherwise would not have time or money to create itself. Many Myers employees have participated in week-long training programs and taken online courses through IGA to increase their knowledge and skills in the food retailing industry. Myers sees IGA as a tool to help grow his business and brand well into the future.
"Our marketing strategy is completely different in every store," Myers says. "We are not a one cookie cutter sort of a program. All of our stores market specifically for what that market needs." That philosophy applies to the marketing inside and outside of the stores.
All the stores run weekly promotional advertisements; even Kress runs an ad though it is not mailed out to customers. That store relies more heavily on social media such as e-mail blasts and social networking websites to spread messages than the other stores. In Kress' first year of operation, the company advertised on the backs and inside of downtown Seattle buses. This year, the company plans to promote around the cruise ship and tourist trades that come into downtown Seattle all summer long.
It's a future that Myers says is bright. He plans to grow the company's management services division with a focus on independent grocer retailers. "We are a company that's continually looking for opportunities for new stores for ourselves and for opportunities in our other are of growth, management services," Myers says. The Myers Group can hire-out resources such as personnel and back-office needs like accounting, payroll, wholesale buying or even managing the entire store's operations, like it does for Goosefoot. "It's a component that I see as necessary for industry's grocers to survive," he says. "If we can work together to promote merchandise and share in cost controls, I think it's the answer to a successful future to independent retailers."
And while the company grows in services it will grow in physical size as well. The Camano location just went through an extensive renovation and will add a fuel rewards program through the stores wholesaler, Supervalu. Plans are underway to expand the Ocean Shore location from 18,000 square feet to 40,000 square feet. "As a company we've gone through quite a bit of planning to ensure we have a business that is going to be successful for several generations to come," Myers says.