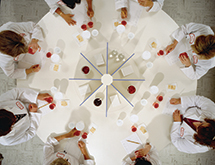 The National Food Lab LLC
When people eat, they like to do it with the comforting knowledge that their food has been tested thoroughly for safety and quality before it reaches their plates. The National Food Lab (The NFL) provides that sense of security, President and CEO Kevin Waters says.
Based in Livermore, Calif., the consulting and testing firm provides creative, practical and science-based insights for food and beverage companies in the areas of food safety and quality, product and process development, and consumer and sensory research. A group of veterans in the food safety and canning industry started the company in 1976 as The Technical Service Corp., which served manufacturers with their processing needs. "That is really the genesis of the company," Waters says.
In 1985, as part of an acquisition, the company relocated to Dublin, Calif., and changed its name to The NFL. It also extended its services beyond process development and microbiology into product development, food and beverage testing, and chemistry/lab services. "That's really where the company formed the breadth of service we offer now," he says.
Today, The NFL operates from two state-of-the-art facilities in Livermore that house its technology center and product design center. Its clients include "any food and beverage brand that you would find on a grocery store shelf," Waters says.
The NFL's range of services – which also include food contaminant testing, process development and validations, culinary services, and sensory and consumer research – sets it apart in the market. "There's not a lot of companies that offer the full A-to-Z approach," Waters says. "Clients come to us and say, 'We need you to help develop it, test it, and keep it safe.' We can do that all under one roof; there is not another independent contract resource with this breadth and depth of expertise. This is really the background around our mission of enabling the development of commercially safe, high-quality and great-tasting foods and beverages."
Fitting In
Waters is a longtime veteran of The NFL. "This is actually my second stint here," he says, noting that he worked for the company from the late 1980s through the early 1990s. He rejoined The NFL in March 2011 after an 18-year career in the fields of brand consulting and global market research.
Waters loves working at the company today, particularly because of the talented staff he is fortunate to manage and the diverse set of clients the company supports.
"Our employees are the ones that make the difference and are responsible for the results of The NFL's efforts, such as when products we work on hit the shelf," he explains. "It's exciting to be involved with such talent and to bring these talents to our expanding client base."
He credits The NFL's success to its entrepreneurial spirit. "We've been smart expanding our services in areas that are in line with the key trends that we're seeing and the services that clients are requesting," he says. "We'll make investments in people or capital if we think it fits in our DNA and allows us to deliver better solutions."
The NFL recently invested in equipment that uses the high-pressure pasteurization (HPP) process – a method to preserve food products that "has gained commercial importance in recent years," Waters says.
Rather than using heat, HPP uses pressure to kill pathogens and microorganisms in foods and is less destructive to elements such as vitamins, flavor compounds and pigments. "Thus, HPP not only improves the safety of foods, but also extends the shelf life of foods while maintaining food attributes normally associated with minimally processed foods," he says.
"As consumer demand for minimally processed fresh food – which also meets the ever-increasing food safety standards enacted by the FDA and USDA – grows, food manufacturers are under increasing pressure to find alternate processes that provide a safe product, but utilize less-destructive methods to achieve this goal," he says. "HPP is a means to accomplish this."
Accelerated Results
The NFL's customers are asking it to deliver services faster than ever before, Waters notes. "Client timelines, especially the development of products for market introduction, continue to compress," he observes.
However, the company can keep pace with the new demands. "Many of the fast-track requests we receive benefit from our structure of an integrated team, plus the breadth and depth of our service offering," he says.
"Thus, a client does not have to worry about partnering with and managing several firms or consultants," Waters says. "The NFL provides project management support, focus and dedication, so that clients get a holistic solution under one roof which accelerates results."
To help work under tight deadlines, "We developed innovative tools – consumer discovery and co-creation sessions, for example – that rely on consumer input early and often and include early stage culinary prototypes to make the concept more tangible and easier to assess," he says.
"Feedback from target consumers allows for rapid and on-the-fly development adjustments in a very iterative manner," he explains. "A process such as this can reduce the old testing paradigm – which had various hurdles or stage gates – by the order of weeks or months in some situations."
In Alignment
The NFL regularly adjusts to changes in food safety regulations, Waters says. A recent regulation that has created a "buzz" in the industry is the Food Safety Modernization Act (FSMA) of 2011, he says.
"This act gives the FDA a mandate for regulatory oversight of food safety systems that scientifically address hazards, and that puts great emphasis on preventing – rather than reacting to – food-borne illnesses," Waters explains. "The goal of the act is to further ensure the safety in the U.S. food supply chain."
He adds that developing commercially safe foods has long been a part of The NFL's mission, led by Chief Research Officer of Food Safety Dr. Wilfredo Ocasio. "As a result, well before FSMA, The NFL had been providing consulting services and solutions in this realm," Waters says.
Since the Act, The NFL expanded its risk assessment services offerings, particularly its chemical hazard analyses of a product's incoming ingredients. "These consulting assignments prioritize where a manufacturer should focus attention on the overall ingredient supply chain by identifying potential hazards and characterizing the likelihood of risks, which allows the customer to focus on the most risk-prone areas and develop prevention strategies," Waters explains.
NFL's Winning Team
The NFL has nurtured a flexible work environment that promotes teamwork, Waters says. "It's very collaborative," he says, "and it really has to be in order for us to provide our integrated solutions."
The company also employs associates who are enthusiastic about the business, including Senior Vice President of Consulting Services Debbie Lohmeyer, Waters says. "Debbie is an excellent example of what any client is looking for when they come to The NFL," he says.
"She displays our core values of passion, and she also brings in a huge amount of technical expertise," Waters continues. "She is a great example of what I would consider the DNA of The NFL."
He also praises Ocasio, who has been with the company for 25 years. "He is one of the industry's go-to resources for food safety and related consultation needs," Waters says. "[Others] cannot bring the level of food safety that we can."
Senior Vice President of Lab Services Julie Hill also is a longtime, more than 25-year veteran of the firm. "Julie has a fantastic reputation in our industry and leads our Food Contaminants [heavy metal and pesticide residue analyses] and Food Quality divisions," Waters says.
"She really helps our clients with their chemistry and microbiology needs to make sure their products meet the requirements of the market in terms of quality and safety," Waters adds.
Ready to Grow
"We're excited about our future," Waters says, noting that the company's plans include more growth. "Beyond our organic growth plans, we see ourselves growing through acquisitions or partnerships related to mutual goals and objectives of our parent company – Safe Foods International Holdings. These actions will increase our footprint and bolster some of the areas we'd like to branch out on."