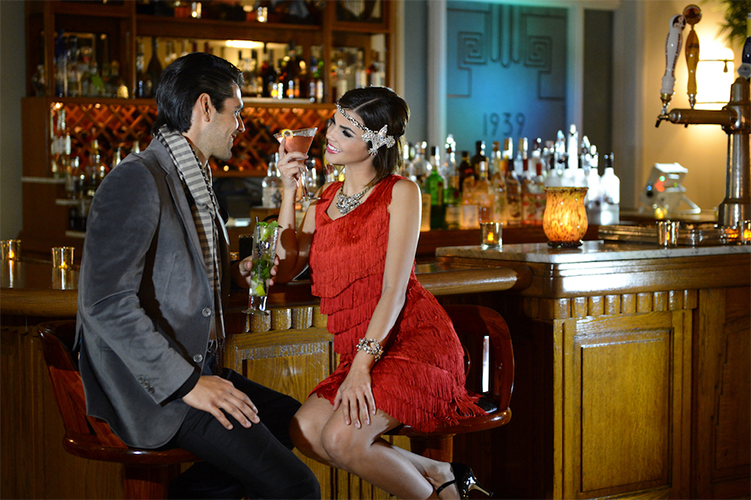 The National Hotel's live music programs have made it one of the hottest spots on South Beach for visitors and locals alike.
When Van Dyke Café closed in early 2014, Miami's South Beach lost one of its last vestiges of live jazz. For two decades, the corner café's red awnings and jazz club made it one of the most recognizable and hottest spots along the Lincoln Road pedestrian mall. Its closing left a vacuum in the area – and created an opportunity for another location to pick up its mantle.
After three years, Jazz has returned to South Beach through two programs at The National Hotel: Jazz Nightlife and Jazz Brunch. Both programs feature live jazz music from local musicians. Jazz Nightlife begins at 8:30 p.m. Thursdays through Sundays at The Blues Bar, a cocktail lounge and tapas restaurant that evokes the vibe of 1940s Miami. "People are loving it," hotel General Manager Yaser Mohamad says. "We hand-pick the musicians with lots of auditions."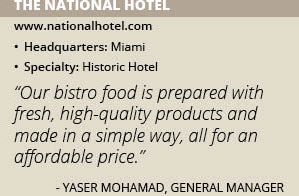 The hotel's musical director, David Attelan, auditions each potential performer and then schedules the music each night to create a formula of differing sounds and styles that gives guests a fresh experience every time they come. "It's becoming a dinner with a show," Mohamad says.
Attelan himself performs every Sunday during Jazz Brunch at Tamara's Bistro, a Mediterranean countryside-inspired restaurant. Unlike the nighttime program, which blends jazz and blues music, the brunch is pure jazz. Tamara's Bistro pairs the music with a buffet featuring classic French and America cuisine such as charcuterie and cheese, waffles, salads and a trio of desserts: mango sorbet, crème brulee and candied pecan cheesecake.
The live music programs have helped the legendary hotel become not only a place to stay, but also an attraction for locals and travelers alike. Fewer guests venture off property to satisfy their dining needs, improving the hotel's retention and bolstering its food and beverage sales. For local guests who come to the hotel not to stay but to enjoy the atmosphere and dining, musicians are scheduled on a weekly basis so that popular acts will return on the same nights. "We try to maintain the program so the locals can come back and see their favorite performers," Mohamad says.
The National's ultimate goal is to become known as the premier jazz spot in Miami. The live jazz programs debuted last summer, but they are already generating a lot of buzz and visitors. "We're getting great reviews and we're getting great press," Mohamad says.
Drink Options
The positive word of mouth around The National's live jazz shows has been supported by its reputation for excellent dining. The hotel's restaurant takes a modern approach to traditional French cuisine, making classic dishes accessible to a wide range of customers and tastes. "The National Hotel distinguishes itself because of its very family-oriented approach toward guests and that also goes to our food and beverage offerings," Mohamad says. "Our bistro food is prepared with fresh, high-quality products and made in a simple way, all for an affordable price."
The hotel's beverage offerings have received the bulk of attention in the past year. The National's beverage program is powered by Alambique, a local mixology company. Alambique helped the hotel's bar team create a lineup of classic drinks with a modern twist, such as a mojito that uses basil instead of mint.
"It took the mojito to a different level and a different flair," Mohamad says. All of the mixers are made from scratch using ingredients such as mangoes and berries. Nothing comes out of a can. "We're doing things more natural," Mohamad says.
Aside from refreshing its drink lineup, Alambique has helped The National introduce new beverage options for visitors. This fall, the hotel opened a juice bar adjacent to the Aqua Club restaurant, a poolside cocktail bar. The juice bar is located near the hotel's pool and yoga classroom and serves drinks made from fruits native to Miami.
The juice bar gives a spark of energy to the fitness-inclined guests. For guests who need something stronger to get moving in the morning, The National has partnered with its coffee supplier, Lavazza, to introduce an in-room espresso program in the cabana section of the hotel, which is separate from the main iconic tower. A coffee shop was also added to the front porch of the hotel, enabling guests to grab a cappuccino or parfait cup as they wait for an Uber.
Social Media Boost
With so many changes going on at the hotel, The National has upped its social media presence to better reach local customers. Earlier this year, the company added a dedicated social media person and graphic designer to its marketing team, and has grown its followers on Twitter and Instagram by 20 percent. "We're constantly activating and reinventing ourselves with new graphics and images," Mohamad explains. "We're going in the right direction."
Many of those local guests have become regular customers. The live music has been a way to break the perception that South Beach was inaccessible to them – that it was a place reserved for tourists. They now see The National as their spot, a place where they are welcomed and encouraged to experience their city's cultural offerings. "There's a lot of resources out there that we're utilizing as a platform to get the locals to know we're here and this is what we are doing," Mohamad says.