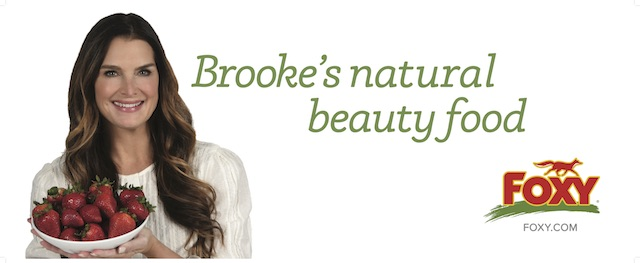 With its dedication to quality production and sustainability, The Nunes Company helps ensure the health of its business and employees.
The Nunes family has been farming vegetables in California's Salinas Valley for four generations. The Nunes Company was established in 1976 by brothers Bob and Tom Nunes, who were part of the second generation of the Nunes family to be involved in agriculture. The brothers started by growing, packing, selling and shipping iceberg lettuce.
Having been in operation since 1976 and with a heritage that dates to 1930, The Nunes Company Inc. innovated ways to distinguish its brand with wholesalers and in front of the consumer. And while the company is known for its "Foxy" brand, its produce is known for its quality, freshness and taste.
"Bob had a goal because of his experience – he saw the power of a brand," says Tom Nunes, vice president of operations, known as T5 and grandson of founder Tom Nunes. "Bob brought his marketing expertise, and Tom was on the farming side. To support Bob's vision, the company needed to provide a year-round, consistent supply of high-quality vegetables. That is what The Nunes Company became."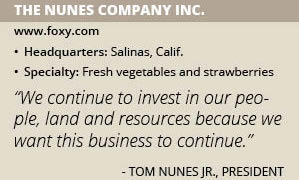 "It was 1976 and Bob looked at a lot of different brand names before choosing 'Foxy.' Foxy to Bob represented something that was smart, healthy and of high quality," says President Tom Nunes Jr., who is known as T4. In 1976, most produce was sold in terminal markets and a consistent quality carton of product helped create the Foxy brand. As the demand for Foxy grew in the marketplace, it differentiated us from our competition and helped to create a premium price for our product. This is how Foxy became our brand."
"In 1988, Bob decided he wanted to put a label and the brand on each head of iceberg lettuce," he continues. "We used a cellophane bag with the Foxy brand on it, and to help with this, he hired Brooke Shields. She was our spokesperson for two years in the Northeast. Fast forward 30 years, and we have rehired Brooke Shields to be our spokesperson. We have her photo on billboards under the 'Brooke Loves Foxy' tagline and on our products in 15 markets in the Northeast, Southeast and Midwest. She was very eager to help us again, and we wanted her because of the healthy lifestyle she projects."
Today, The Nunes Company offers 40 different commodities of conventional produce items, as well as 35 different organic commodities. To provide quality produce 52 weeks a year, the company added growing areas in Yuma, Arizona, Yerington, Nevada, Oxnard, Calif., and different areas of Mexico, providing it with approximately 25,000 acres of farmland. This growth is the result of the company's desire to offer its customers consistent quality produce year-round.
Social Responsibility
The Nunes Company is dedicated to the cultivation and production of healthy food items, both conventionally and organically. It also aims to help ensure the health of its workers. The company just completed a 600-bed farm worker housing project in Salinas, CA. The new facility is a state-of-the-art development with two-bedroom, two-bath apartments that are fully furnished and equipped with flat-screen TVs and free Wi-Fi. There are also laundry rooms, two recreation rooms with ping pong and foosball tables, outdoor sports courts, barbecue pits, walking paths, shaded benches and seating, and a large multi-sport grass field. Additionally, it is a gated campus, making it very secure.
"It is very well documented that there is a labor shortage in agriculture, so this really helps retain and attract workers," T5 says. "The work that is done is very skilled, and a project of this magnitude allows us to attract the best and brightest to our companies. It's a real asset to have a more rested and efficient worker, as well as a happier worker and an environment in which they can rest peacefully. We may bring in people on the H2A visa program or they may have to commute from Fresno or Yuma. We want them to be comfortable."
Quality and Food Safety Practices
This project also reflects The Nunes Company's dedication to quality practices. The company owns a lot of land, but also owns the harvesting, cooling, sales and marketing aspects of the business. Additionally, it's not just the Nunes family who have been involved for generations – the company also has many long-term employees and families who have worked alongside the Nunes'. The Nunes Company's focus on sustainability, food safety and quality are key in ensuring the operation remains strong for future generations.
"We continue to invest in our people, land and resources because we want this business to continue," T4 says. "We are being conservative with all of our resources, especially in regard to soil health, water supply, water quality, housing and all of it. Overall, it's a mindset and culture to strive to make sure what's here today will exist for the next generation. Not just for the Nunes family but all the families who work here."