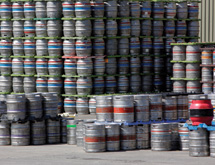 For more than 75 years, The Odom Corporation has carried forth the legacy of Milt Odom, who founded the company in Alaska in 1934. Today, the company is still a family owned business and one of the largest privately held companies in the Northwest.
"We're in the second generation of Odom family ownership, and the third generation is now actively involved in the company, as well," President and CEO John Odom says.
A premier distributor of wholesale beverages, The Odom Corporation operates in Alaska, Washington, Idaho and Oregon. It represents numerous suppliers, including MillerCoors, Coca-Cola and Rockstar. Its selection includes national, import and local brands.
In the past two decades, the company has grown its portfolio and territory through acquisitions, expansions and joint ventures with other beverage distribution companies. But Odom's divisions and subsidiaries still adhere to the same core values that have been the foundation for success.
"We do a lot of business in rural market areas," Chief Revenue Officer Adam Hilpert states. "We have excelled at servicing rural markets because we've been doing it for years."
Building Ties
The key to the company's success is its belief in building relationships. Some of its supplier relations extend for more than 70 years. In fact, Milt Odom first acquired Coca-Cola franchise rights in 1936. The Odom Corporation works hard to make sure its supplier partners view it as a stable company with a long-term vision.
"We've been fortunate to have relationships with many large suppliers," Hilpert says. "We spend a lot of time investing in those relationships."
The focus on relationships extends from customers to suppliers and employees. On the supplier front, Odom strives to provide its retail customers with the ability to fully serve their end-consumers. Working in rural markets, it can provide logistics arrangements that benefit retailers. In addition, it has an arrangement with Southern Wine and Spirits of America that allows Odom to provide shared services in several states.
"That way, we can increase our scale and the frequency of services we provide to our customers," Hilpert says.
With employees, Odom's recruitment and retention strategies have allowed it to retain many long-time employees. In addition, it utilizes a combination of in-house training and external training with consultants and suppliers. The company also has a robust succession planning process that provides management advancement training.
The company also seeks to build ties with its partners. These include companies like Velocitor Solutions, a software solutions firm specializing in mobile and wireless applications.
Keenly Aware
The Odom Corporation's longevity is supported by its understanding of beverage trends and continued reinvestment in the company. The company tries to stay ahead of its peers in technology, working with software and hardware providers and occasionally getting involved with pilot programs. Odom implemented Retalix Warehouse in 2008, a warehouse management system used by foodservice distributors accustomed to handling thousands of SKUs.
"Retalix Warehouse increased service levels and reduced operating costs by automating location and task management utilizing RF and voice-activated technology," says Randy Halter, executive vice president of finance, operations and administration. "In addition, Odom utilizes Roadnet software to efficiently route and coordinate delivery, sales and merchandising."
Odom is also in the midst of a facility project, building a 200,000-square-foot facility in Spokane that should be completed in mid-2014. In addition, the company entered into a full-service fleet lease arrangement with Ryder Logistics.
As for understanding consumer tastes, Odom is tuned into where the markets are heading. The craft beer market is a perfect example. In the last decade, the craft beer sector has grown, and the Pacific Northwest has arguably been the epicenter of that growth. Odom has gone to great lengths to establish ties to small and emerging craft breweries while also working with larger suppliers as they established their craft beer programs.
Outside of craft beer, another area of growth has been the energy drink market. The Odom Corporation's relationship with Rockstar has been extremely beneficial in that regard. "The energy category is an area where we keep seeing double-digit growth," Hilpert says.
The Odom Corporation is confident that it will see many more decades of success. By taking a long-term view of its strategies and striving to be a positive member of its communities, The Odom Corporation believes it will continue to be a leading distributor of wholesale beverages in the Northwest.
"The family heritage of The Odom Corporation is part of our culture," Hilpert says. "We believe it provides us with a competitive edge."