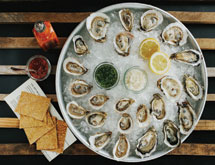 Stand aside pork; there is a new favorite food in town – fish. Atlanta-based chef and entrepreneur Ford Fry has opened a new restaurant in the city's west side with a decisive nautical theme, serving fresh seafood and oysters. This is Fry's third venture into the restaurant scene in Atlanta following the success of his previous venues, JCT. Kitchen & Bar and No. 246. The name "The Optimist" refers to a small dinghy used by children as well as Fry's positive disposition.
Even though The Optimist opened its doors at the beginning of this summer in what used to be Talmadge Country Hams business, the restaurant's focus is not pork, but fish. Fry wanted to offer high-quality seafood without pretentiousness to Atlanta diners, something he felt was lacking in the area.
"I told myself, 'Enough with the pig; let's do some fish,'" he says.
The Space
Ford immediately was attracted to the space available for the restaurant. The old ham-curing warehouse has the feeling of a capsized large boat, an ample space with a barrel roof, which falls in line with the nautical feeling Fry wanted to impart the space. "It looks like the setting for a movie," Fry says.
Fry has divided the space into two distinctive areas – a large dining room with capacity to seat 160 people plus a large bar for 24, and an oyster bar adjacent to the main restaurant area.
The oyster bar seats 60 inside and has a courtyard area with capacity for another 45 people. The outdoor area also has a putting green where guests can test their mini-golfing abilities while savoring fresh oysters from the east and west coasts of the United States, as well as fried oysters from the Gulf of Mexico.
Sustainable Food
Fry wanted a menu focused on fresh sustainable seafood cooked in an eclectic style, combining influences from New England and New Orleans. Traditional dishes from those areas, like gumbo and lobster rolls, are among the guests' favorites, and they are executed respecting the original spirit of the plates, according to Fry.
"I didn't want a traditional corporate restaurant," Fry explains. "I wanted to create an experience similar to when you are on vacation at the shore and eat freshly caught fish prepared to enhance the flavor of the fish – super high-quality seafood, plain and simple."
Fry did not want to have the typical menu that lets people pick a fish and a cooking method. "Every fish benefits from being cooked a specific way," he explains. "Not all fish are best grilled."
To bring out the best flavors in every dish, Fry hired Adam Evans as executive chef. Evans has experience in a variety of cuisines with a focus on sustainable, fresh food and wood-fire cooking, the main cooking method employed at The Optimist.
Evans and Fry have come up with dishes as varied as frothy she-crab soup; spicy glazed Spanish octopus with watermelon and coriander; and duck fat poached swordfish with green papaya, crispy country ham and peanuts. The food is accompanied by a variety of a la carte side dishes and soft rolls. "We decided to return to traditional soft, hot buttered yeast rolls," Fry says.
The oyster bar offers a variety of east and west coast oysters served with fresh horseradish and mignonette, peel-and-eat Georgia shrimp, and some small plates cooked in the wood-fire oven. "You can order our raw items, or go with one of our cooked dishes," Fry explains. "Our charred octopus with kimchee puree and candied coriander is very popular. It's roasted and then seared, so it is crispy on the outside and soft on the inside."
Giving Back
Esquire magazine named The Optimist "Restaurant of the Year" in 2012, but Fry is not resting on his laurels. He already has several projects lined up for the near future.
Fry wants to share his good luck with the community, and he is considering launching a food truck with a community outreach focus. "The truck would sell food at the business district in the morning and afternoon, and the proceeds would go to buy more food to feed inner city hungry people in the evening," he explains.
Fry's restaurants are involved in different community service programs. In July, JCT. Kitchen & Bar hosted its fourth-annual "Attack of the Killer Tomato Festival."
"Proceeds of this event went to Georgia Organics, a nonprofit working to integrate healthy, sustainable and locally grown food into the lives of all Georgians," Fry says.
Fry also has worked with City of Refuge, an organization for single mothers with no jobs or skills where they are housed for a year until they can gain skills to find a job.
"We've thrown a Christmas event at JCT. where we invite all the moms and kids from that organization [City of Refuge] for dinner," Fry adds.
Fry plans to open more restaurants that focus on offering fare that is not available in the Atlanta area, or that he considers could be done in a more innovative and creative way.