Piantedosi Baking is ready for its fourth generation of family leadership.
People are more than a number at The Piantedosi Baking Co. "People matter here," Vice President of Human Resources Lauren Fazio declares. "You always see smiles on a lot of employees' faces."
Based in Malden, Mass., the bakery's products include hearth-baked subs and french bread, baguettes, loaf breads, rolls and specialty products. Adam Piantedosi, operations and compliance analyst, explains that his great-grandfather, Salvatore Piantedosi, started the company in 1916.
He began by delivering bread and pasta to customers with a horse and wagon. This earned him the nickname of the "Midnight Baker," since he delivered anytime day or night. Together with his wife, Mary, Piantedosi worked to build a business that would endure.
"After some time, he and his wife decided, 'Why don't we make the bread and get a bakery ourselves?'" Adam Piantedosi explains. Their first facility was located in Everett, Mass., next to their home.
This allowed the couple to host employees, customers and vendors for dinner. Their three children – Carmen, John and Joseph – began working with their parents at the company before and after school, allowing them to learn the business.
Over time, Adam Piantedosi says, the company grew beyond bread and into pastries, which proved to be a successful venture for years. "Eventually we were having a hard time getting good pastry bakers," he says. "The demand for bread was increasing."
But the company also thrived as it began introducing new sandwich rolls and breads. "We like to think as ourselves as the first to make sub rolls and grinders," he says. Piantedosi Baking ultimately shut down its pastry shop but purchased a new facility in Malden.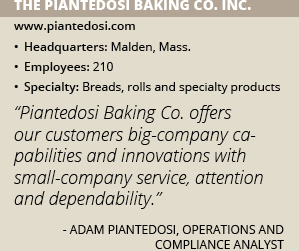 When the third generation of Piantedosi family leadership joined the company, they took it national. "They started to flash freeze the bread, and we started to ship it out all over the country," Adam Piantedosi says.
Today, Piantedosi Baking's customer base ranges from pizza shops to national restaurant chains to five-star eateries. "Our frozen business is an important part of our business." he says.
The company's level of quality also has grown. "What we're really focusing on is using high-quality ingredients," he says, noting that Piantedosi Baking uses the best-quality, chemical-free ingredients.
Piantedosi Pride
Piantedosi Baking employs a staff of 210 comprised of people from around the world. "It's really the American dream," Fazio says, noting that this reflects the company's roots, as Salvatore Piantedosi was an immigrant from Avellino, Italy.
As reported by SAMPAN, the company employs workers from 38 countries, and 95 percent of its work force consists of immigrants. Piantedosi Baking's employees primarily speak Spanish, as well as Chinese, Vietnamese and Cambodian.
"Piantedosi prides itself on starting with Italian immigrants," she says. "People come new to the country and we educate them and train them. They can make a great life for themselves and their families."
The company's employees also share enthusiasm for their work. "Every employee takes pride coming in here as they walk in," Business Process Analyst Arthur Piantedosi adds. "They treat it as their own company."
Piantedosi Baking enjoys longevity among its staff, which it has nurtured with competitive salaries, gift certificates and employee events. Last year, the company held multiple celebrations that commemorated its 100-year anniversary.
"Every month we would provide food and celebrate with employees," Fazio says, noting that the company held Super Bowl- and St. Patrick's Day-themed parties. "We also had a couple different employee functions with our vendors."
Piantedosi Baking also celebrated with its longtime customers in an event that showcased its bread. "We had customers there that have been purchasing our products for over 60 years," General Sales Manager Domenic Savino says.
The key to earning this loyalty has been the company's approach of staying in touch with them through phone calls and visits, Arthur Piantedosi says. "That's the beautiful thing about what we do," he says.
The Next Generation
The fourth generation of Piantedosi family leadership has joined the company, Fazio says. "We're bringing [them] in to lead for the next 100 years and look at changing the way we're doing things," she says.
This may include implementing new ways to reach out to customers, including social media. "The way people order [food] and the way they eat is changing," Fazio says.
"Every generation has made their mark, and now the fourth generation will be figuring out what it's going to be for them," Savino says, noting that this may lead to the adoption of more efficient equipment.
However, Adam Piantedosi asserts, adding new machines is nothing new for the company. "We reinvest into the equipment every single year," he says, noting that the company looks at such elements as safety and speed.
In Compliance
Piantedosi Baking encounters "a new challenge every day," Savino says. Regularly, the company strives to comply with changing health regulations.
"These are issues that the 3rd generation my parents never had to deal with then they first came to the business," Adam Piantedosi says. "You didn't have a compliance team when the third generation came into the business."
Part of the challenge is to understanding new regulations, Arthur Piantedosi says. These include policies for whole-wheat products, or items that are ultimately served in schools.
The company also has updated its workers with the latest technology and equipment. "Now they're using touch screens on things similar to laptops in order to drive the equipment," Fazio says.
But some workers have needed to learn the right language to operate and service that equipment. As reported by SAMPAN, the company partnered with the Asian American Civic Association to teach its workers English, math and baker's math to help break the language barrier.
Machine Operator Sokna Tak, a native of Cambodia, has benefited from this training. "Now I know how to talk in English and I am very proud and thankful for this opportunity," she told SAMPAN, adding that it helped her earn her current role.
Looking to Grow
Piantedosi Baking plans to continue growing and keeping up with demand. "[We also want] to stay innovative and stay on top of all the changes that seem to happen every year," Adam Piantedosi says, "whether they be ingredient changes or it could be different shapes of bread.
"Staying on top of that is a big challenge," he admits. "Another challenge will be to find the right people for the right positions, [but] we try to grow from within the company so they can [move up]."
Piantedosi Baking also wants to evolve in all of its departments. "[We're also] always looking to add new products and new equipment," Adam Piantedosi says. "The fourth generation is pretty aggressive and they'll be making their mark on the company."
Extra Steps
Piantedosi Baking Co. specializes in serving clients with respect and professionalism. "Our company has hired both qualified and creative professionals of the baking industry to run its production, quality assurance and research and development departments," it says.
"Whether [customers] are interested in having a custom-made item done for [them] or just looking for the best bread in town, [they] will find that our Piantedosi production staff and employees are always eager and willing to take that extra step," it says. "We at Piantedosi Baking company offer our customers big company capabilities and innovations with small company service, attention and dependability."