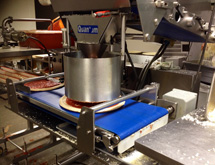 There are many companies that manufacture pizza, but few offer the level of customization that The Pizza Co. does. "Working one-on-one with our customers ensures the highest level of customer satisfaction and confidence," co-founder and Executive Vice President Louis Weinkle explains with pride.
"We specialize in producing private-label products and custom formulations," he says. "We work directly with executive chefs and food and beverage professionals in developing signature crusts for their unique programs."
Weinkle co-founded The Pizza Co. with his family in 1995. In addition to being an accomplished lawyer for more than 50 years, his father owned and operated hotels and restaurants.
Growing up in the hospitality industry, Weinkle gained extensive management experience and knowledge. After completion of his MBA, Weinkle and his brother, Steven opened a chain of successful pizza restaurants in Austin, Texas.
While living in Austin in the 1970s, brother Steven came up with the design idea for mobile pizza carts. This was the beginning of Pizza Ala Cart. "Our carts provided many with a hot slice of pizza on college campuses, in convention centers, stadiums and at airports," Louis Weinkle proudly remembers. "Our most memorable cart was at the foot of the Statue of Liberty on Liberty Island for the prestigious bicentennial celebration."
After enjoying success in the Lone Star state, the brothers owned and operated bakeries, which produced handmade par-baked crusts and complete pizzas. It was the bakeries' success and the many opportunities that sparked the creation of The Pizza Co. The Pizza Co. now produces products in Florida, South Carolina, Georgia, New York, Minnesota and California.
In addition to pizza, The Pizza Co. produces a full line of Italian and other specialty products that include calzones, strombolis, dough balls and custom crust formulations. "We produce a wide variety of different-style pizza crusts from ultra-thin, Northern Italian through thicker styles like pan, deep dish and Sicilian," Weinkle notes. "Some of The Pizza Co.'s specialty crusts are focaccia, honey whole wheat, multigrain, certified-organic and gluten free.
"Our gluten-free crusts are made in dedicated gluten-free facilities," he adds. "We also produce kosher pizzas and a line of Mediterranean lavash flat breads that make an excellent base for pizza and wraps. Our products are shipped nationwide and exported internationally."
Pride in Pizza
Weinkle says that he is proud of his company's commitment to the Old World baking traditions. "Allowing several hours for the dough to proof ensures the optimal flavor and dough characteristics that our customers have come to expect," Weinkle reports. "Through years of working together, you get to know your customers and what your customers' needs are; we know most of our customers on a first-name basis.
"Thankful for the growth of our business, The Pizza Co. has committed itself to paying forward," Weinkle points out. "We give regularly to Miami Rescue and to the community. We proudly donate every year to The Harris Rosen Foundation, which provides relief to the earthquake victims of Haiti and Japan and education scholarships to those in need."
"In addition to The Pizza Co.'s full line of foodservice pizza products, we also develop custom formulations and produce private-label products," Weinkle continues.
These items include signature crusts for executive chefs, Take & Bake pizzas for in-store delis, private-label pizzas, freshly made pizzas sold by-the-slice or whole pies to-go, and shelf-stable modified atmosphere packaged pizza crusts.
At this time, Weinkle foresees a bright future for The Pizza Co. According to the Pizza Facts web site and Pizza.com, pizza has become one of the healthiest and most popular fast foods, with approximately 3 billion pizzas sold annually in the United States. Its new popularity has inspired the continued growth and worldwide expansion of pizza, and The Pizza Co. and Weinkle are excited to be part of it.