Upper crust
The Sandwich Factory has established itself as one of the fastest growing independent specialist sandwich producers in the UK
When John Montagu, the fourth Earl of Sandwich, first invented the sandwich as we know it today way back in 1762, he could scarcely have imagined how popular the snack would become in both in terms of choice and consumption. Amazingly, this king of inventions was stumbled upon when the Earl ordered his meat to be served between two slices of bread to avoid leaving the table during a 24-hour gambling spree.
With an average of seven million prepacked sandwiches consumed in the UK every single day, this sector of the food industry represents big business. In fact the commercial segment of this market has continually expanded over recent years and is now worth in excess of £3.3 billion per annum – even the Queen gives her staff at Buckingham Palace prepacked sandwiches for their lunch.
The first retailer to identify the massive potential in the pre-packed sandwich market was Marks & Spencer, when it began stocking six varieties of the product in two of its stores in 1980. In the ensuing years, numerous other companies have followed this lead and benefited from the continual growth of the market.
To satisfy the demand of these retailers, sandwich producers have had to emerge and expand in line with the sector. One particularly successful example is The Sandwich Factory Ltd (TSFL). Established in 1995, this business has grown to become one of the fastest growing independent specialist sandwich producers in the UK, supplying an exciting range of products to blue-chip customers covering road, rail, sea, retail and the food service sectors. Operating from a state-of-the-art 35,000 square feet site in Atherstone in the West Midlands, TSFL employs over 500 people who currently produce in excess of one million sandwiches per week. TSFL opened its second plant, Cranford Site, in January 1998. In 2001, this 4000 square feet production facility was fully refurbished to include the most modern multi-purpose steam cooker in Europe, offering consumers a sandwich that contains top quality bacon or chicken on an excellent value for money basis.
In such a competitive sector, choice and diversity are key factors for all manufacturers and retailers, and TSFL is no different with a product portfolio encompassing 450 different specifications. In its core retail sandwiches area of work, the company's offering is split into five key areas – standard, exotic, premium, healthy options and vegetarian. Beyond this, TSFL provides for the travel, leisure and retail market with a massive array of related options including ciabattas, naans, bagel, tortilla wraps and croissants as well as salads, hot dogs and paninis. Hot and cold snacks such as burgers, pizzas and melts are also produced by the business. TSFL keeps a keen eye on the market, delivering continuous innovation across its range by travelling to different cities in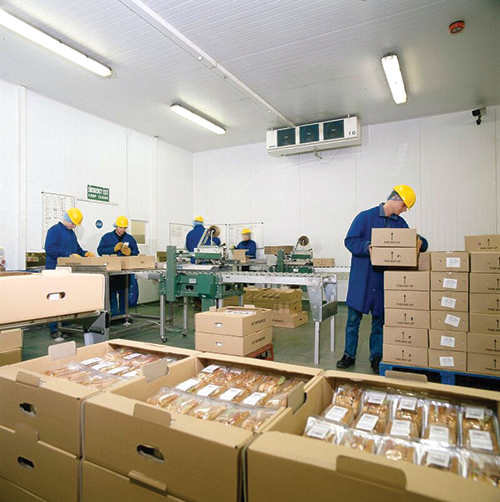 the world and identifying new food trends.
If every piece of bread used by TSFL in a week were laid end to end, the business would be able to reach the doors of Buckingham Palace from its Atherstone premises. In a year, TSFL could get to the White House in the US. This underlines the size and scope of TSFL's operations and emphasises the importance of its production facilities and processes. In total TSFL operates nine production lines, all equipped with the very latest technology including butter collators, line depositors, multivac, label applicators and metal detectors. In March 2003, TSFL was awarded the higher level of the BRC accreditation, reflecting the excellent technical standards within the business.
Operational control are applied by the business through constant monitoring of key performance indicators, which drive:
Improvements in productivity
Competitive purchase price
Reduced waste levels
Stringent hygiene and quality monitoring
First class microbiological history
Blue chip audit approvals
The company supports its excellence in manufacture with a national distribution service made possible by its own dedicated fleet of temperature-controlled vehicles ranging from 7.5 tonne to articulated vehicles for chilled and frozen products. TSFL's workforce plays an integral part in the company's prosperity and these employees deliver impressive technical skills and experience along with innovative development facilities. Their uncomprising attitude towards food hygiene as well as health and safety enables the business to combine a strong customer service philosophy with the ability to achieve consistent quality, high volume, competitively priced products.
The business runs for 24 hours a day, seven days a week and provides a wide range of employee incentives from performance bonus scheme to generous subsidised canteen facilities. Employee development is fundamental to the continuous improvement of the business, and all TSFL's staff undergo food hygiene induction training prior to employment and become eligible to complete Society of Food Hygiene training.
In May 2003, TSFL was acquired by Cranswick plc, an East Yorkshire based food producer quoted on the London Stock Exchange. A well respected, progressive and growing company with an annual turnover in excess of £400 million, Cranswick's products include gourmet sausages, premium cooked meats, fresh pork and continental foods.
This company was formed in the early 1970s by farmers to manufacture pig feed and, soon afterwards, began to market pigs. In 1988, the board embarked on a strategy to broaden the base of the company's activities so as to minimise the impact on the company of fluctuations in agricultural commodity prices. Activities have since been extended from this agricultural base into the pet and food manufacturing sectors.
Cranswick's stated aim, since the acquisition, is to work with TSFL to continue to grow and develop the business, and consequently it has big plans to invest in the company's production facilities. Approximately £3.25 million has already been spent since 2001, predominantly upgrading production facilities at TSFL and Cranford Foods.
After major customer gains in each of the last two years, sales have continued to grow for TSFL, and its current turnover stands at over £34 million. Another key contributor to its success are sandwiches that are endorsed by celebrity chefs – the licences acquired from Brian Turner and Antony Worrall Thompson over the last couple of years have only further reassured customers of TSFL's exceptional product quality. This kind of growth, combined with the backing of Cranswick, means The Sandwich Factory possesses the right ingredients to continue expanding in line with this massive sector of the food industry.