The very first account we got wanted two dozen cookies," Mike Blasko opens, recounting the earlier days of Cookies-n-Milk (C&M). "And I remember having to write a cheque for $7.21 to buy the ingredients. Now the problem was, I didn't have $7.21 in my bank account, so I literally had to buy what I needed, run home to make the cookies, get them over to the customer to collect the money, and be back in time to bank it. However, in that first year the business grew by $70,000, which, for a couple of poor college kids in the 1980s, was a ton of money."
C&M was founded in 1987 by Mike and his wife Cindy Blasko. Fascinatingly, the original motivation behind the business was to help keep Mike in college, as his basketball scholarship went wayward, and he couldn't afford to pay his tuition fees alone. The couple started to bake cookies and sell them through local convenience stores, but within three months, Mike decided to drop out to focus on C&M's unexpected growth. "We just kept reinvesting and growing and in the following year we grew to six figures. The company fell on harder times initially when we moved it out to Maryland, where we stayed for almost 25 years, but by the time we moved to McKinney, Texas, we had sales of $3 million per year.
"Upgrading to the 41,000 square-foot facility in Texas provided us with the opportunity to implement a concept I had developed maybe 12 or 15 years earlier, and in 2017 we started making our edible cookie dough," Mike explains. "In four years, this catapulted us to annual sales of over $16 million. When I think about the journey, there have been hard times when we haven't had two nickels to rub together, but we just kept on fighting and persevering, and look where we are now. We're nationwide across the US and looking at some international opportunities too. I was either too stubborn or stupid to quit, even though there were times when I really thought I should. We're a prime example of how sheer persistence and tenacity will eventually pay off."
Shell-out success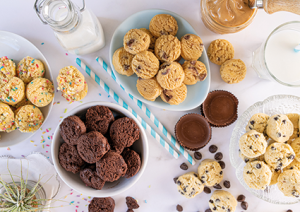 The first trial runs of Mike's concept for edible cookie dough were during the 2014 avian flu pandemic in the US. Throughout this period, egg prices soared across the country, with C&M seeing its $16,000 bill for eggs rocket to almost $140,000. Unwilling to let this affect production, Mike picked up the concept where he'd left off and started figuring out how the business could continue manufacturing if the egg market refused to dip. To avoid charging customers five dollars per cookie, he successfully rewrote and recreated the company's recipes without the use of eggs, whilst managing to maintain the original taste, smell, texture and 'bakeability'. As the trials came to a close, however, the pandemic eased, and egg prices began to drop once more.
"We halted the egg-free recipes, as you don't want to risk any cross-contamination, and in our 7000-square-foot Maryland facility we were super short on space; imagine taking everything in your house and fitting it into your bathroom, that's how cramped we were. But now, our edible cookie dough is really the biggest product line that we have. It's the best on the market, it tastes like you made it at home in your kitchen and I believe that we were the first to develop cookie dough pieces that can be baked or eaten as-is. That's another factor that sets it apart, no spoon required, and the packaging is cupholder friendly, so it's more shareable."
Rewarding relationships
Despite C&M being a corporation, Mike refuses to tolerate the quote-on-quote corporate atmosphere in which people climb upon others to further their own positions. In discussing the palpable effect that the organization's family-owned status has on day-to-day proceedings, he states: "We really try to maintain the family-business feel by appreciating everyone and rewarding them when they do well. I have told people, sometimes it's like having an extra 70 kids because everyone here is a member of the C&M family. In running a successful company, your product has to come first, but right next to it is the human element of the operation.
"We treat everybody here with respect and make sure that they feel valued. We have a friendly, approachable atmosphere and I love to wander around the production floor, catching up with everyone, whether it's about their kids, vacation or just the game from the night before. A rising tide raises all boats, so as the company gets bigger and more successful, we try to share it with everybody fairly, instead of them all working towards making me rich. We apply a similar approach to our external relationships within our supply chain, and specifically with our vendors; you need them to trust you.
"We have had many situations arise as a result of the ongoing supply chain issues that we have been suffering from in the states," Mike details. "Luckily, I feel that we are generally prone to preferential treatment from our partners and vendors, because we're always honest and upfront with them. We pay our bills on time and once in a while like to send out boxes of cookies to show our appreciation for everything they do. You know the old saying: you catch more flies with honey than vinegar, that's the way we work. My wife and I have ten children and we have always impressed upon them that it's not always what you say that counts, it's how you say it.
"As I say: when it comes to business, your product has to be good, and ours is great," Mike concludes. "If it isn't, it doesn't matter if you're the best salesman in the world, it's not going to work. I am the one who has done the research and development here, I own the company so anything going out of the door has my name on it, and I want our products to be better than anybody else's. I don't want to sound arrogant, because I'm not, but I think my gift is just knowing what people will like and what's going to be popular. Judging by how many happy customers contact us to share their love for C&M products, I'd say it's all worked out."