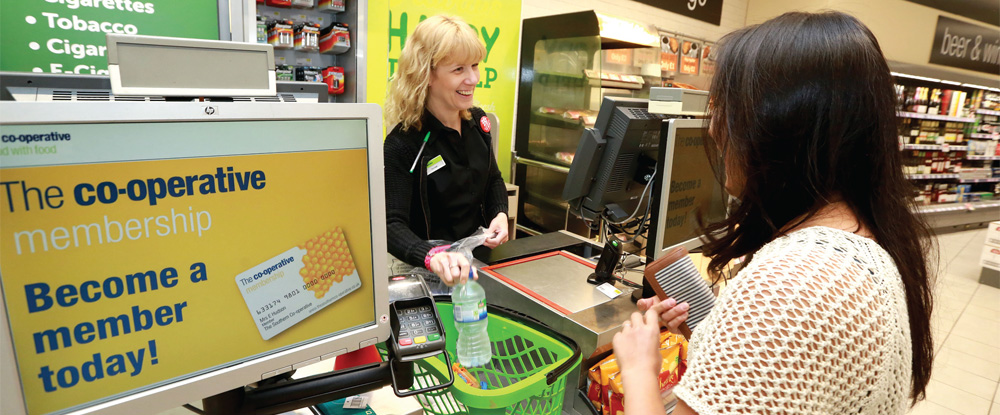 The Southern Co-operative Ltd
Making a difference
With a genuine passion for its local area, The Southern Co-operative Ltd is a successful independent regional business owned by its members
Established in Portsmouth (Hampshire) over a century ago, the business now runs community food stores and funeral homes across 11 counties in southern England, and can trace a continuous line of unbroken ownership by local people over the past 143 years.
This impressive heritage is something of which The Southern Co-operative Chief Executive Mark Smith is very proud. "We were formed in 1873 in the centre of Portsmouth by a group of dockworkers who wanted to set up something in the city they had seen operating elsewhere in the country. They started small with one shop, but as success grew, the number of shops spread out. And that is very much the model we have established, we aren't the result of a number of reasonably sized Co-operatives coming together and merging, we have grown organically. Our footprint now stretches from the eastern tip of Kent to the middle of Devon so it is generally a south of England proposition," he began.
From that one humble shop, The Southern Co-operative has successfully grown its stable to 199 food retail stores throughout the region, including 25 franchised operations. "It is tantalising at the moment, as we are so close to getting to 200 managed stores!" said Mark. "Then like many societies we have a funeral related business, which is a part of our historic background as well. That runs to 53 funeral homes, two crematoriums, a natural burial ground, masonary and florist. That side is a very important part of our business, but is relatively separate from the food operation."
The growth in the number of food stores is the result of an ambitious investment programme, with 11 added in the last financial year, and around 100 in the previous seven. Mark highlighted how this has been achieved: "We have been growing quite ambitiously and that programme continues and we are aiming at the region of another ten to 20 stores this year, 2016. We aim to put
ourselves down in areas where we are not currently represented but we feel we can put a good service in front of local people. There are some places where we have already ventured into, such as the Greater Bristol area and east Sussex, where we also see more opportunities going forward, along with parts of Devon, Kent and around the M25. The expansion is very well researched, as we always want our offering to be a good match for the local community and for what is currently there."
He added: "I think what we have been able to do is establish a model that is regionally focused that works for the south. Therefore it has been replicated and scaled up from within. There has been a degree of careful business management over a number of years to make sure that there is the resourcing in place to accomplish that growth. Furthermore, we have been able to fund that growth, through financial prudence and taking a long-term view on opportunities, which is part of the model."
Local flavours
As a local food retailer, the customer service offered by The Southern Co-operative stores extends beyond its customers to the communities it serves. This dedication to ensuring that what it offers is going to benefit the local community is a huge part of The Southern Co-operative's business success and that in-depth knowledge of its market brings benefits to the table that perhaps a big multiple can't offer. But this approach does require a genuine focus on the local community's needs and one way in which the organisation has addressed this is by establishing close working relationships with regional producers. "'Local Flavours' has been an important area of focus for us for probably about ten years now," explained Mark. "We have been able to establish a range of local products that sits alongside our nationally sourced items through the Co-operative joint venture. We have taken an approach that focuses on a county or adjacent county for the definition of 'local' and it has reached a serious scale now, in terms of the range, with about 2000 lines of local products, and these are represented in around three quarters of the stores.
"What is stocked in each store is carefully selected as one size doesn't fit all. We are always keen to meet the needs of the local area, and we find out which products work best in certain demographics and in certain types of areas." Mark also explained that this approach originated on the Isle of Wight, and then, using its strong retail presence, the business was able to build the concept and extend it across from Hampshire. The suppliers that it works with become close partners and The Southern Co-operative is keen to build a long-term relationship with them. "We do try to behave quite differently with small suppliers, and some of them have grown with us, like The Tomato Stall and The Garlic Farm on the Isle of Wight, who have been with us for about ten years.
"This is where our medium-size and flexible approach are beneficial, as we can adapt our logistics procedures if necessary, even at the very small scale, where someone brings their products in the boot of their car! We've built a bit of a local hub model that has enabled us to receive those deliveries in and start distributing them on to our network."
The support for suppliers extends further than logistics though, as The Southern Co-operative also helps the smallest suppliers with advice, in areas such as writing business plans, getting funding, complying with rules and regulations and so forth. "If our local sourcing staff are out there in the field, then they are more than happy to have a conversation and offer advice, which also helps to put a bit of added value into something like a business plan. We have even done some work with that in Chichester College, to further a more formal training approach for start-up SMEs in the food production side in Sussex. There's loads more potential to develop on the local side."
Support options
This support for local products works in harmony with another of The Southern Co-operative's programmes called Love Your Neighbourhood. This is a refreshed community programme, which builds upon its history of supporting local groups and replaced a previous community support scheme that had been running for ten years. It is designed to reinforce all three of the company's sustainability priorities to share, protect and support. The new programme will include in-kind donations, cash donations, local fundraising partnerships, local volunteering, foodbank collection points and even community defibrillators.
"This is a community focused scheme, that we are able to drive through the store footprints," explained Mark. "The great thing with convenience retail, and with funeral, is that your locations tend to be in neighbourhoods, 31small high streets, and so forth. So the touch points with the community are more obvious and easier to create, though obviously they need to do something with it.
"Love your Neighbourhood is putting a framework together that is pretty flexible, depending on where you are and what the local catchment is and wants. But stores are then able to offer a range of different support options, whether that be volunteering, or help with donations, or work with mentoring, apprentice opportunities, those sorts of things, tailored to the specifics of their catchment.
"We are trying to get to a place where in some respects our store managers are like the old traditional shopkeepers, that they are an integral part of the community, they are able to take part in the activities that are going on there, whether that is being active in the local trade association, or good works that are being done for a good cause, to provide that local focus, and Love your Neighbourhood is a part of that."
Relevant and modern
Love your Neighbourhood perfectly complements the Local Flavours initiative, as customers can see how a store supports local growers, and that narrative helps to highlight The Southern Co-operative's aim to create long-term partnerships with its local communities to the benefit of everyone.
As the second half of 2016 unfolds, the food retail sector is facing the new challenges that have been born as a result of the UK's referendum decision. But Mark is confident that The Southern Co-operative will weather any storms that may be on the horizon: "Our business model has dealt with many things over 143 years, and long-term it will deal with this as well. I think there will be a little short term uncertainty, on how consumers are going to behave, and perhaps more importantly how bigger retailers are going to behave.
"But we are in some ways in the best place to handle that, because our food retail isn't big ticket, it is convenience pop-up rather than big spend. Of course there are still a lot of unknowns, and bigger picture, we have to consider what it means particularly for currency and devaluation and how that flows, and will it go on to put further pressure on margins – all these questions are still unanswered.
"But we are carrying on with our strategy. There is always more to do, finishing the job that we have been doing for the last six or seven years, which is to further replicate this model into areas that don't yet benefit from it. We are trying to target areas that are new and growing communities, putting down stores in brand new housing developments where we can, that is a long-term play."
He concluded: "We still are very much following that approach, playing into what we think is a long-term desire of people to support local businesses, and to see local people employed, and where possible local products sold in there as well. That holds good whatever. There are clearly some near term pressures, which we have to keep an eye on like everyone else, and some cost base pressures around, like the national living wage, and business rates, which are obviously the two big ones for all retailers. But we think we are in a good place to deal with those, and that with these plans that we have, we can continue to be even better."
The story of The Southern Co-operative is one of longevity, experience and steady, continual growth. Thanks to its attention to detail and genuine care for every community where it has a shop, the company has been able to recently report a 4.7 per cent increase in total income, and a profit increase of 4.4 per cent. By staying relevant and modern, and maintaining its successful growth strategies, there is every reason to think there will be another 140 years of success for the business as it goes forward into the future.