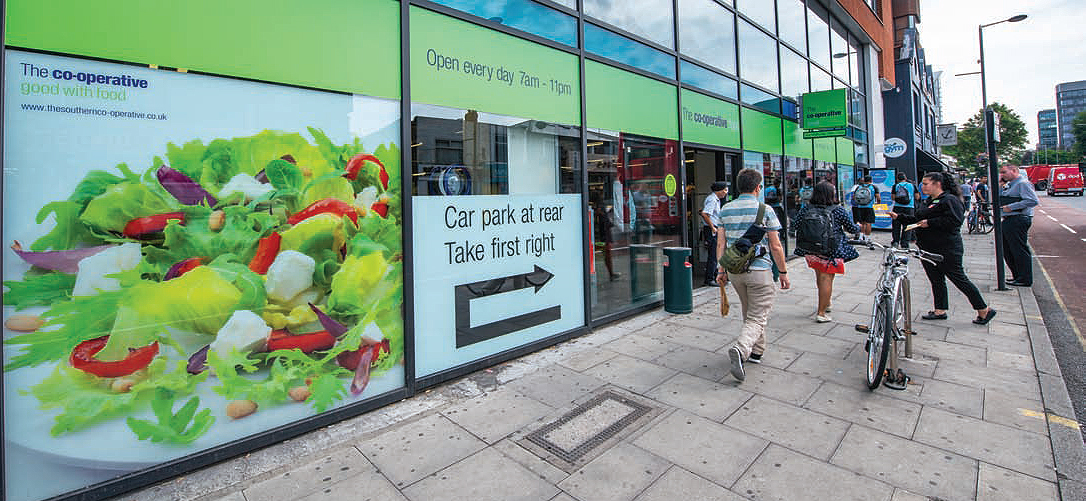 The Southern Co-operative
Community spirit
With a genuine passion for its local area, The Southern Co-operative is a successful independent regional business owned by its members
From its humble beginnings in 1873 when a group of dockworkers in Portsmouth decided to establish a shop, The Southern Co-operative has grown organically over the years to become a business
that runs community food stores and funeral homes across 11 counties in southern England. With a continuous line of unbroken ownership by local people traced back 143 years,the company's footprint stretches from the eastern tip of Kent to the middle of Devon where more than 200 food retail stores are in operation. Like many societies, the company also has a funeral related business, which is comprised of more than 50 funeral homes, two crematoriums, a natural burial ground, masonry and florist.
When previously featured in FoodChain magazine in August 2016, The Southern Co-operative was continuing with an ambitious investment programme, with 11 food stores added in the previous financial year and approximately 100 in the previous seven. Explaining to FoodChain how this growth was achieved, The Southern Cooperative Chief Executive Mark Smith commented: "We have been growing quite ambitiously and that programme continues and we are aiming at the region of another ten to 20 stores this year, 2016. We aim to put ourselves down in areas where we are not currently represented but we feel we can put a good service in front of local people. There are some places where we have already ventured into, such as the Greater Bristol area and east Sussex, where we also see more opportunities going forward, along with parts of Devon, Kent and around the M25. The expansion is very well researched, as we always want our offering to be a good match for the local community and for what is currently there."
He added: "I think what we have been able to do is establish a model that is regionally focused that works for the south. Therefore it has been replicated and scaled up from within. There has been a degree of careful business management over a number of years to make sure that there is the resourcing in place to accomplish that growth. Furthermore, we have been able to fund that growth, through financial prudence and taking a long-term view on opportunities, which is part of the model."
Since August 2016, the company has added a further 18 stores, bringing its total retail estate to 212 stores as it continues to expand across the south in areas that include priority target areas inside the M25 and greater Bristol. "We reached a major milestone in 2016 when we opened our 200th retail store in Purbrook, Hampshire. This was a particular cause for celebration as the new store is close to where Southern Co-operative began more than 140 years ago," enthuses Mark."Overall, in 2016 we opened 22 new stores, we also opened two petrol forecourt stores at Haywards Heath, West Sussex and Wimborne, Dorset, as part of our strategy to add good quality convenience with petrol sites where they become available. Moreover, we were able to add four new stores in the Bristol area; this brings our total in this rapidly growing city to 14, all opened since 2009. We also opened our first store in London, Ealing, in July 2016, alongside further additions elsewhere inside the M25," says Mark.
Profit sharing
During 2016 the company achieved total sales of £394 million, which is up seven per cent on 2017, and shared£2.8 million profits with its 166,000 plus members. Other developments include food like for like increasing by 3.3 per cent, the company adding 27 new producers to its local flavours range supply base and contributing more than £1 million it its communities across the south.
The Southern Co-operative also completed a roll-out of LED lighting across its entire store portfolio, which is anticipated to make savings of more than £375,000 per year. Costing more than £2 million, this project included upgrades to all stores' main lighting, chiller cabinets, sales areas and fascia signage; all new stores are expected to be completed with LEDs too. "We began introducing LED lighting four years ago into new stores. Given the considerable improvements with the technology in terms of output, energy efficiency and equipment costs since then, we felt the timing was right in 2016 to complete the conversion of our whole retail business alongside our Lakeside office. This brings benefits such as lower energy consumption costs, improvements to in-store environment and customer experience and better external lighting, which helps our colleagues feel safe and secure. We have also kept the project local by employing regional contractors and technology suppliers where possible," says Mark.
He continues: "In 2016 we completed the installation of LED lighting across 124 food stores including lighting in our sales area,chiller cabinets and fascia signage;this means that virtually the whole ofour retail estate now benefits from LED lighting. We are now rolling this out in our End of Life Services business and have been exploring other energy saving technologies. For example, we have
employed doors on chiller units for some years and are trialling aerofoils on open fronted chiller cabinets, which provide similar energy savings to glass doors at a lower cost with the added benefits of improving customer comfort while also reducing store heating requirements. We have also fitted movement sensors to automatically control lighting in back-of-house areas."
Brand refresh
Looking at other notable developments that have taken place over the last nine months, Mark highlights: "We have launched new Southern Co-op entity branding, which complements the national Co-operative branding that we remain proud to use in our stores and funeral homes and that is known to our customers. Our brand refresh has been about creating a more compelling story about our Society: our purpose,who we are, what we stand for and what makes us different. Our new visual identity, which supports this, gives a fresh look and feel to all of our business communications, which in turn, helps to bring our brand story to life."
In line with this branding, the company has strived to enhance its reputation as an employer so new and existing colleagues see The Southern Co-operative as a company that offers rewarding work, good training and opportunities for career progression. "In response to this, we launched new training and development programmes and new roles to support our business goals. An example of this was our new retail duty manager role, supported by an eight-week training programme to equip them with the skills to run a safe, legal and successful store. We trained more than 900 duty managers for these new positions across our food stores and invested in talent through our future leaders programme and Aspire programme, which is aimed at senior and middle managers with the goal of developing their management and leadership skills in a range of ways for the long-term," explains Mark.
"Other notable investments include our Right Range Store programme,which introduced new layouts and product ranges in each store that better reflect local customers' shopping habits. Our store colleagues worked incredibly hard to make more than 5000 sets of changes, including new ways to clear end of line stock and free up warehouse space. Meanwhile, our Right Store programme is seeking to allow colleagues more time to look after customers through the best possible procedures, covering everything from stock management to customer service; store safety and legality and cleanliness to effective resource planning."
A proud supporter of the communities that it trades in for more than 140 years, The Southern Co-operative views itself not only as a business, but a part of every community. Because of this, the company is committed to making a positive difference to its communities through active and genuine involvement by working in partnership with organisations that share its values and goals. In 2016, The Southern Co-operative launched a refreshed new community programme, 'Love your Neighborhood', which builds upon its history of supporting local groups and aims to increase the positive impact and difference that the company makes to communities and reinforce all three of its sustainability priorities: share, protect and support.
"Love your Neighbourhood, our refreshed community programme, aims to create greener, safer, healthier, more inclusive neighbourhoods," confirms Mark. "Each of our stores and funeral homes and other locations such as our Lakeside office are empowered to build their own neighbourhoodnetwork, supporting issues that matter most locally through cash donations, volunteering, fundraising and support for local community events. In 2016 we invested or otherwise facilitated over £1 million to local communities across the south of England."
Business leader
During 2016 Mark, a member of the Business in the Community (BITC) Advisory Board for the South East, was appointed by HRH The Prince of Wales to be BITC's Responsible Business Ambassador. Aware that responsible businesses contribute towards more resilient communities, create skilled and healthy workforces and also stimulate local economies, Mark elaborates on his aims while in this role: "HRH annually appoints a business leader in each of the UK's regions to represent the responsible business movement and inspire and lead other businesses in the region to take action and address key issues. I was fortunate enough to be selected for the two years beginning July 2016. My plan is to use my responsible business role to focus on engaging with young people, particularly those from more challenging backgrounds to encourage aspiration and the achievement of personal potential, irrespective of their circumstances and help break down the barriers to work that many young people face."
Having achieved major success over the last nine months, the future looks positive for The Southern Cooperative,despite market uncertainty caused by Brexit and an evolving retail industry. Moving forward Mark anticipates more of the same from the company that cares, as he concludes: "Looking ahead, our key priorities include the implementation of our Right Store programme, the evolution of our local flavours range and a renewed focus on recruitment, induction and management development."