The story of how Slutty Vegan is changing the plant-based game for good
What's in a name? Jason Crain, President at Slutty Vegan, a plant-based, fast-food burger chain taking the US by storm, breaks it down for FoodChain. "When we speak about Slutty Vegan, you have to understand where the legend comes from," he begins. "Our founder, Pinky Cole, struggled to find food late at night as a newly turned vegan. There were very limited options, and not much to choose from: salads, maybe; at a push, French fries. So, the origin of Slutty Vegan is about having access to vegan food, which tastes great, no matter what time it is. We are open until one in the morning, and offer incredible late-night options for those following a vegan lifestyle."
As Jason goes on to explain, the name – as Shakespeare once suggested – is an arbitrary label. The proof is in the proverbial pudding – or burger, for that matter. "In our book, being a slut is not about sex," he notes. "It is not about being promiscuous or anything like that; rather, it is about choosing to indulge in things that are positive, feel-good, and good for you. If you have experienced our food, then you will realize that these big, sloppy burgers are about recognizing you can indulge in good food while still sticking to your plant-based philosophies and ideals. We were intent on building a vegan brand with some vibes; something very opposite from the typical grass and greenery. We built an experience that feels more like an amusement park than a vegan restaurant with food that's fun to eat, flavour-filled, and 100 percent plant- based. That's the Slutty Vegan way.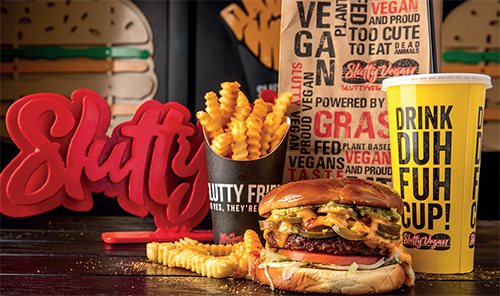 "From those origins, we have curated a menu that is a little edgy but still tasteful," Jason details. "In that, I mean we use names people will immediately recognize; however, because of that, we can then change the narrative. For instance, we call all our customers sluts when they walk in. We might ask you to dance before you get your food. We might give you a birthday chant, or shout out which city you are from, we might even ask you if you are a Slutty Vegan virgin, and if so encourage you to get #SLUTTIFIED! At Slutty Vegan, being a slut isn't sexual, it is about being part of a community that understands that even plants can taste good and you can have fun eating them! We are truly a family-friendly establishment."
Landmark store
In order to prove that, Slutty Vegan recently launched a kids menu, including the 'Eat Plants Kids Cheeseburger' and 'Chik'n Tenders', and it is proving incredibly popular already. Originally established in Atlanta, Georgia, Slutty Vegan is rolling with the (good) times, and growing with them, too. What started in a home kitchen and the back of a food truck has since snowballed.
With its attention-grabbing name, engaging marketing, and innovative menu, the fast-food chain now has six different restaurants across Georgia and Alabama. It has also recently opened a landmark store in Brooklyn, New York, and a further location in Columbus, Georgia.
Indulgent alternatives
No meat? No problem. Partnering with Impossible, a frontrunner in the meat-free alternatives market, the chain offers over a dozen different burger and hot dog options. For example, the Ménage á Trois is a plant-based patty loaded with vegan bacon, shrimp, and cheese, plus caramelized onions, lettuce, tomato, and a healthy serving of the brand's signature Slut Sauce – all topped with a vegan Hawaiian bun. Other options include the Big Dawg, a plant-based bratwurst with toppings of sauerkraut and sauce in a pretzel bun; and the innovative PLT: several sweet jerk plantains complemented with lettuce, tomato, and Slut Sauce. All of which come with golden crunchy-fluffy fries.
"We try and make an ordinary burger have some life and become more vibrant," Jason reveals. "A big part of that is our secret sauce and seasoning: Slut Sauce and Slut Dust. Together, they bring everything up to a whole new level. Additionally, we serve food like vegan banana pudding, coleslaw, and sweet potato pie. It all tastes incredible and people recognize that, though they are vegan, they can still indulge in the nostalgia of traditional foods because we are offering a meat- and dairy-free alternative.
"Everything we do leads with taste," he goes on. "If it does not taste good, then it will not reach the menu – let alone our customers. We operate between two pillars: food that tastes great because it is cooked with love and seasoned well; and a unique experience that makes our customers want to come again and again. People walk in our doors and they are instantly met with energy, love, and a plate of food that will turn a bad day into a good one. That is what really brings people back. We also cater to a variety of customers: we launched a non-soy burger and gluten-free option for those with intolerances, and we continue to push limited-time offers to keep things fresh and exciting."
With a background in technology, Jason is also keen to point towards the importance of data and analytics for any growing business. For Slutty Vegan, technology has been at the core since it was first launched and initially sold its burgers via Instagram. Today, things are slightly different; people no longer need convincing that plant-based alternatives are a viable option.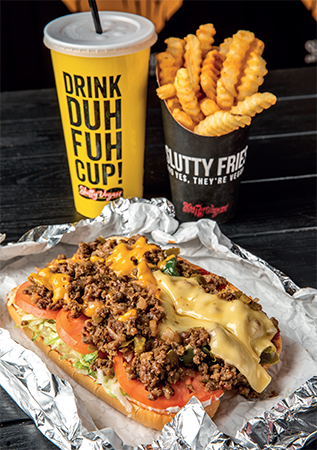 As Jason explains: "The plant-based market in Atlanta is very vibrant. There are tons of entrepreneurs and restaurateurs that have opened successful vegan and vegetarian places in the city. One of the reasons we chose our initial opening site was because it is in the heart of the west end in downtown Atlanta, which is home to some of the city's most popular vegan places. We wanted to build on top of that, adding more options for the plant-based community by freshly mixing the old with the new.
"Undoubtedly, the vegan market is growing, and we consider ourselves a leader in that space," he asserts. "We recently launched a retail division in partnership with Costco to bring our brand from the streets into the family home, bringing us closer to being a household name. The range is doing really well, and includes Pinky's special dips: spinach and artichoke, hotlanta cheese, and buffalo cheese. We have just launched the range in about 250 Target stores across the South and New York. This is just the start; in the future, we envisage ourselves as a brand that can bring a host of high-quality vegan products like bacon and our signature Slut Dust to grocery stores nationwide."
Things are certainly looking up. Slutty Vegan expects at least three new openings before the close of 2022, and is planning a further ten along the East Coast next year. Founder and CEO, Pinky, is also releasing her much-anticipated cookbook in November, which will be widely available across the US. "It is a busy time!" laughs Jason. "But that is what makes it so exciting. Going forward, we intend to become a more familiar brand that offers plant-based foods across the country, whether that means in a restaurant or a grocery store.
"In the next few years, we are also excited to see the rise of Bar Vegan, our upscale cocktail lounge, which will be popping up in additional cities across the country," he concludes. "Another brand of ours, Dinkies, is leading the way with its vegan cheese steaks and tater tots, and consumers can expect to see more of that name in a range of settings like commercial airports. But we are also keen to continue building ourselves as a lifestyle brand outside of the food space; recent collaborations with Steve Madden and The Lip Bar attest to that. Put simply, you will be seeing, hearing, and tasting a lot more from us in the future!"